Lam offers bold view for the future: China Daily editorial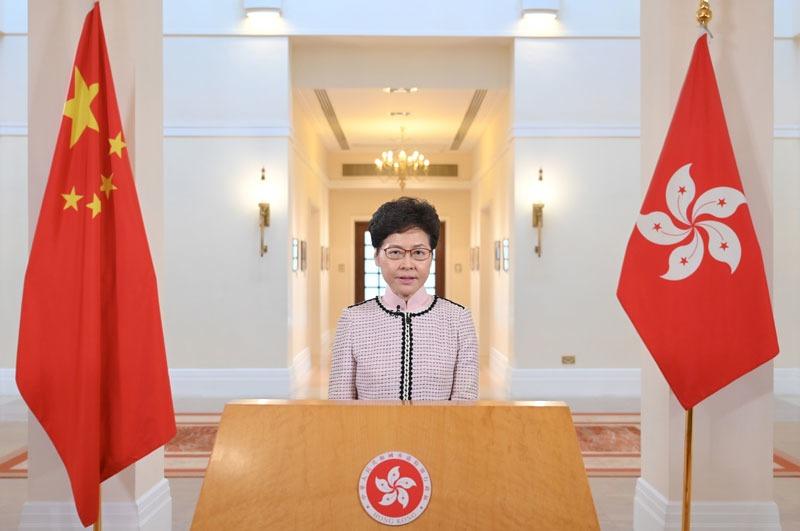 As the Hong Kong Special Administrative Region is striving to overcome its biggest challenge since its return to the motherland, all eyes were on Chief Executive Carrie Lam Cheng Yuet-ngor's third Policy Address on Wednesday, specifically on how the policy blueprint can help end the current turmoil.
What is happening in Hong Kong is an amalgam of past and present woes acerbated by local, regional, even international factors. It involves longstanding difficulties and dissatisfactions at individual and community levels, which entail careful, comprehensive assessment and handling.
By demonstrating a strong commitment to the betterment of society and taking a proactive approach to tackling the city's pressing problems, the chief executive has reassured people that Hong Kong can address the issues that are at the root of the unrest and usher in a better future for the city.
While the chief executive unveiled as many as 220 new policy initiatives, covering a broad range of areas in livelihood enhancement and economic development, she focused on addressing the key issue of public concern, namely housing.
She has rightly made housing and land supply the linchpin of her new policy blueprint, giving the issue a weight commensurate with its severity and urgency. After all, the housing shortage has been the key cause of the public anger that has fomented the city's current social turmoil.
It is safe to say that land scarcity is the mother of all problems in the SAR; and land development is the thorniest challenge for the government, given the nearly insurmountable obstruction of vested interests, particularly the big land owners.
Lam knows this very well, but she is still ready to proceed with the option of land resumption from private owners. By grasping the nettle, the chief executive has demonstrated the political courage necessary to set Hong Kong on the road to the future.
The key thread that loops through the whole host of policy initiatives proposed in the new policy blueprint is the practice of a people-oriented governing philosophy, underpinned by a proactive governance style and responsibility.
But for the chief executive's vision of a better society to become a reality, Hong Kong people must demonstrate similar astuteness by prioritizing common interests over individual interest. Something that was sadly lacking in the Legislative Council, where the antics of opposition lawmakers finally forced Lam to deliver her address by video.
Political differences will need to be put aside if a consensus is to be reached on pushing through the initiatives Lam has put forward.
That calls for everyone in Hong Kong to cherish the city's core values and the rule of law, so it can return to normality and set its sights on the future.
Most Viewed in 24 Hours
China Views