New focus for climate change protesters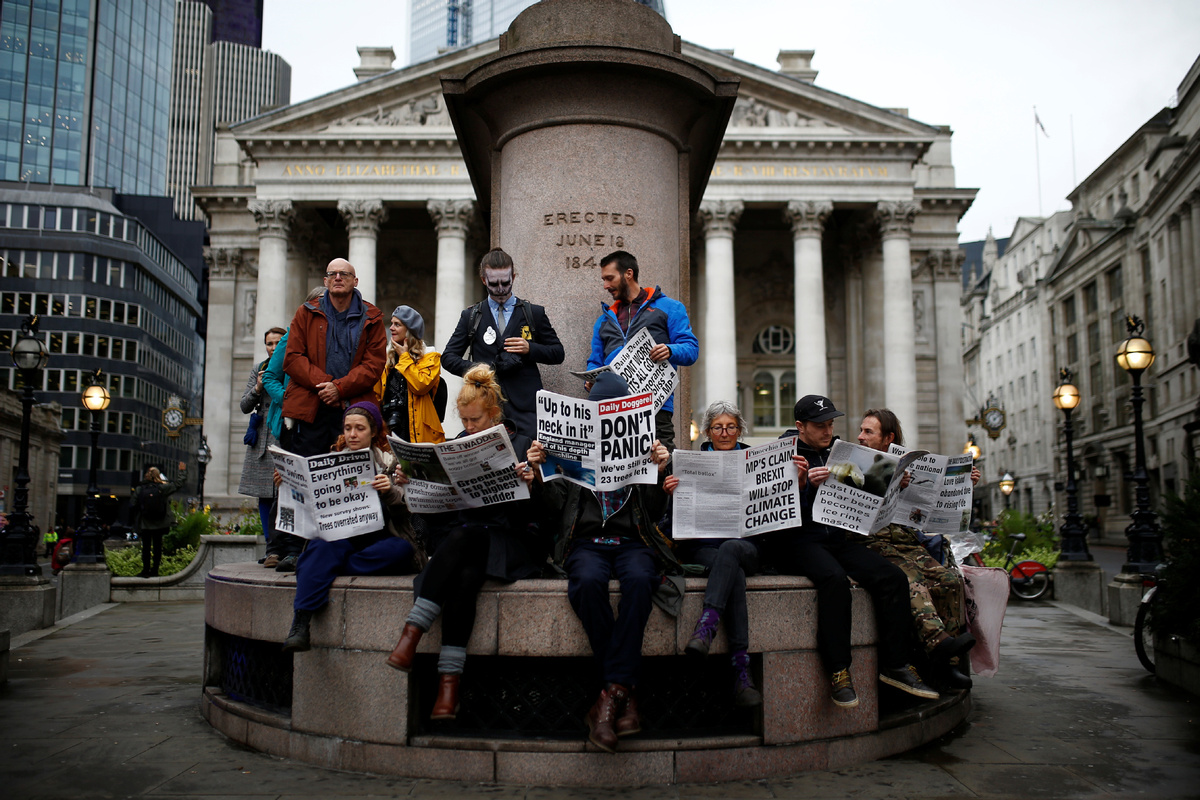 The Extinction Rebellion movement on Monday switched its focus toward companies funding and profiting from the climate emergency with a day of disruption in London's financial district.
Hundreds of protesters formed roadblocks in the City of London, bringing rush-hour traffic to a standstill, and several were arrested as police continued to clear the area.
In a statement, the group said: "The day of disruption, which aims to target financial institutions, seeks to highlight the far greater disruption faced by those living in the environments systematically being destroyed by British-backed companies.
"Extinction Rebellion this morning are disrupting the system bankrolling the environmental crisis.
"The ecological damage is global, and it is hitting the global South now."
According to Extinction Rebellion, also known as XR, coal, gas and mineral extraction, intensive farming and logging are all supported by investment from the City of London.
It states an analysis by Rainforest Action Network that shows that 33 big banks provided $654 billion to 1,800 fossil fuel companies last year-equivalent to 70 percent of the total capital expenditure of the entire fossil fuel industry last year, as calculated by the International Energy Agency.
Nine of the world's top fossil fuel investors of the last three years have major headquarters in the City, according to XR. The activists say "trillions of pounds" flow through the markets to generate profits for corporations "which fund ecocide and syphon those profits into offshore accounts, where no tax is paid.
"Much of the destruction being wrought against our world can be traced back to financial institutions rooted in the City," it said.
Carolina Rosa, an XR spokesperson said: "Financial institutions cannot indefinitely flout their obligations to our planet and its people without consequence.
"The biggest US banks are particularly active, we found, including JPMorgan Chase, Wells Fargo, Citi and Bank of America."
"City banks and oil corporations are pouring billions into new fossil fuel exploration and infrastructure, despite knowing that this will destroy any remaining hope of avoiding the United Nations target of 1.5 C rise in global temperatures," Rosa said.
XR claims that the total value of loans, bonds and shares underwritten by these banks has increased every year since the 2015 Paris Agreement on Climate Change.
Andrew Medhurst, a former Citytrader-turned full-time activist, told the Guardian that the financial industry needed to realize that some of the projects it was financing were "essentially leading us to destruction".
On Monday morning, London's Metropolitan Police announced there had been 1,336 arrests linked to the protests since they began.
XR describes itself as "an international movement that uses non-violent civil disobedience in an attempt to halt mass extinction and minimize the risk of social collapse".
It was launched in October 2018 when activists gathered on Parliament Square to announce a "declaration of rebellion against the UK government".
The group has planned two weeks of action in cities including Dublin, Berlin, Amsterdam and New York.