China's pollution curbs set example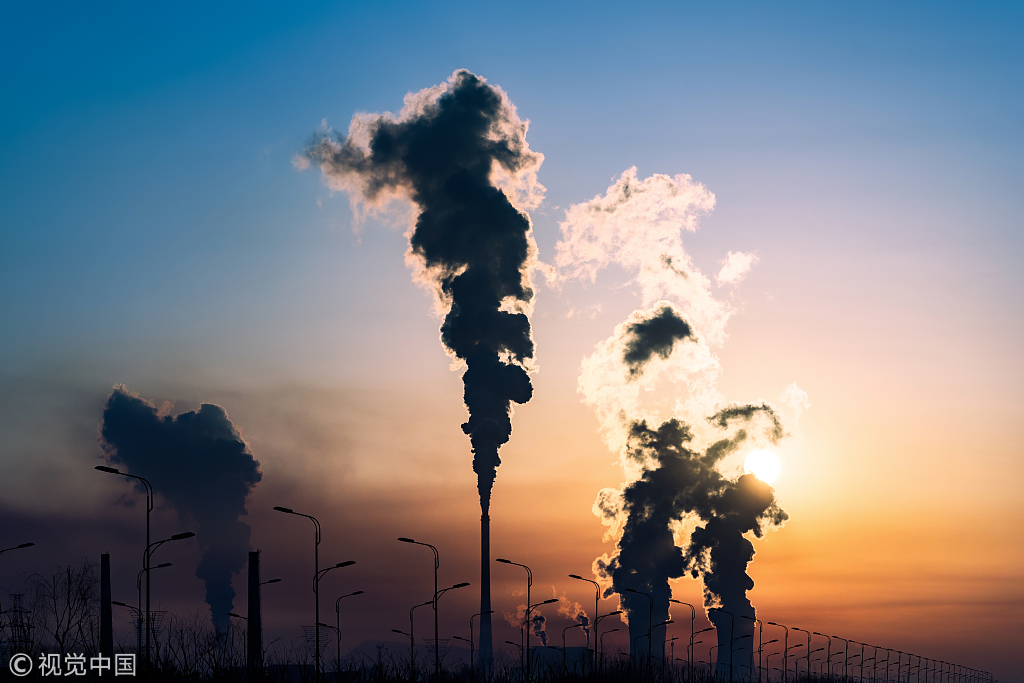 Air pollution should be a much bigger political issue than it is in the world. According to the World Health Organization, outdoor air pollution results in 4.2 million premature deaths worldwide each year, and indoor air pollution results in 3.8 million premature deaths.
China and India together account for the largest portion of world population affected by air pollution. Recent studies estimate that in China, the number of premature deaths annually could range from 1.6 million to 1.8 million. Studies also found that in India, the number could be well over 1.24 million and will likely rise as India's levels of air pollution are far from under control.
In China, fighting air pollution is a major political priority. While the country still has a long way to go to meet national standards, it has made aggressive efforts since 2013 to reduce air pollutants from coal plants, vehicles and factories in key regions. China's mandates, set in 2016 for achievement in 2020, target reduction of pollutants including lung-damaging ozone (a rising concern) in 338 cities.
China has invested substantially in understanding air quality science. Experts at academies, universities and environmental protection agencies have sizable budgets for their work. They collaborate with each other and with universities in Hong Kong, as well as with international partners.
In India, home to seven of the world's 10 most polluted cities, air pollution has finally crept up in political importance. For the first time, fighting air pollution made it to the manifestoes of India's political parties in the 2019 general election, although it cannot be said that it was a top priority. Nevertheless, it was an acknowledgment that air pollution cannot be ignored. India's ruling party's plan is to reduce the levels of particulate matter PM10 and fine particles PM2.5 in 102 cities by the end of five years. PM10 is particulate matter that is 10 micrometers or less in diameter, while PM2.5 is particulate matter whose diameter is 2.5 micrometers or less.
India's air pollution trajectory has similarities to China's. Pollution levels rose quickly because of rapid industrialization, an increase in fossil fuel-powered vehicles, construction activity in cities, a lack of adequate laws, and weak enforcement.
China's experience is a lesson for India and other developing economies. Unless national authorities make it a big deal for which they will be held accountable, there won't likely be enough drive to turn things around. The political leadership in China put environmental protection on par with economic development, and the promotion of officials is aligned with whether they meet environmental targets.
India needs to find its own way to make the environment a real priority. Considerable funds have to be dedicated to the cause, and capacity has to be built to address the problem, from air science to air quality management to industrial policies to urban planning on a significant scale.
China shut down its most polluting factories and improved vehicle emission standards, which contributed to early successes. India has to be prepared to deal with vested interests with new laws and a war chest to provide subsidies and compensation where necessary.
China is embarking on harder tasks, but it is more ready to deal with them because it has amassed a lot of knowledge on what the authorities need to target on an ongoing basis. That's why China is now focusing on ozone, which is caused in part by urban traffic, and it is right that air pollution and decarbonization planning should go hand-in-hand.
On the technology front, China is a leader in electric buses and taxis. Since India has targeted electric vehicles as part of its future, this is an area in which the two countries can cooperate.
An important outcome of cleaner air is longer and healthier lives. The United States was a pioneer in its Clean Air Act of 1970. It required the country's Environmental Protection Agency to use the best available science to set and enforce limits on air pollutants.
Today, air pollution causes more than 100,000 premature deaths annually in the US, according to a 2018 National Academy of Sciences study. At a time when China is stepping up in air quality science and health studies to inform its policies, the US appears to be stepping back, as the US expert community and the administration of President Donald Trump are arguing over what should be considered settled evidence.
China must continue with evidence-based policymaking, as should India and other developing economies.
The author is chief development strategist at the Institute for the Environment at Hong Kong University of Science and Technology. The views do not necessarily reflect those of China Daily.