A champion of innovation in caregiving for the elderly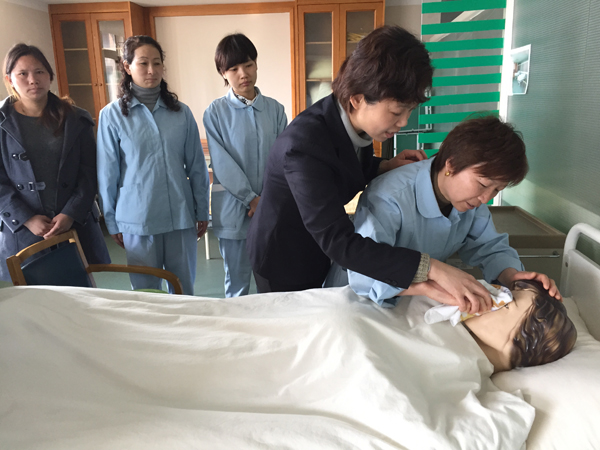 To Huang Qin, a caregiver for the elderly in Shanghai, having a mastery of skills is not enough to become a good caregiver-one also needs to have a passion for the job and the ability to innovate.
It is this philosophy, to which Huang has stayed true for the past 27 years, that helped her to win the May 1st Labor Medal and the title of Shanghai Craftsman in 2018.
Huang started her career as a caregiver at the No 2 Shanghai Social Welfare House in 1992 when she was an 18-year-old graduate in administrative management. From the start, she found it difficult to have to bathe the elderly residents and deal with their emotions.
She recalled an instance where a resident suffered from epileptic seizures and hit his head against the corner of a table. It was only her second day at work.
"I was so frightened that I just froze," she says."Our team leader later told me about some of the early warning signs that led to the occurrence of the seizure. It was at that moment that I understood that being a caregiver is not just about caring for the residents, but also about having professional skills."
In 2003, Huang was reassigned to the No 3 Social Welfare House where most of the population are aged over 80 years old. Nine in 10 of the residents there also suffer from Alzheimer's disease and other degenerative conditions. Driven by a thirst for knowledge of the profession, Huang quickly mastered the basic skills needed to be a caregiver and started exploring new ways of dealing with problems.
Her curiosity soon led her to invent caregiving tools that have made the lives of the elderly in her care better. One of the first people she helped was an 89-year-old resident who was frequently getting skin infections on the palm of her hand, because she was not able to extend her fingers after suffering a stroke.
Inspired by a claw-like weapon she came across while watching a film about swordsmen, Huang used elastic cotton cloth to create a contraption comprising several rings that were connected to a central handle, allowing the patient to keep her hands unclenched.
Other tools she has invented include special underpants that the elderly can wear in bed.
"These innovations facilitate caregiving work and greatly improve the quality of life for the seniors," she says.
In 2014, Huang set up an innovation studio to help improve caregiving practices. Thanks to a team of 25 caregivers, the studio developed upgrades to 18 existing operating procedures being employed in senior care homes. These enhanced procedures have since been incorporated into the guidelines at the Shanghai Social Welfare Center.
One of these procedures is related to how residents need to be turned over in bed.
"There are generally three types of people in this context-paraplegics, those who are obese and those who have difficulty moving. Each of them needs to be handled differently," she explains.
Huang's dedication to the cause has earned her praise from peers.
"She is a responsible caregiver and patient teacher," says Jiang Lei, a team member at the studio and one of Huang's apprentices.
"I felt like a robot who couldn't talk to the elderly at the start of the job, but Huang helped me through with sincere guidance and practical techniques."