Cities of the future
Share - WeChat A provocative new exhibition in Manchester examines how the impact of the digital revolution will affect our urban spaces.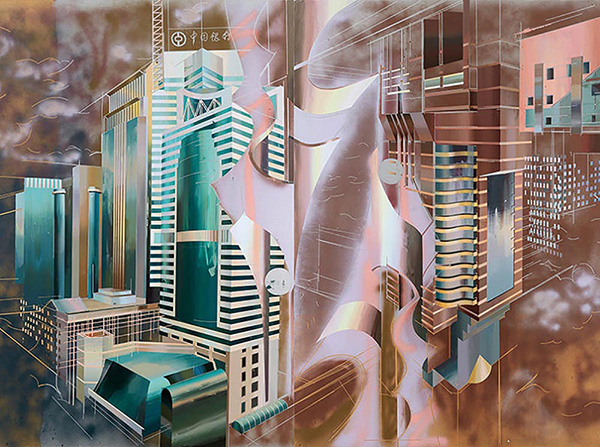 The concept of a utopian, digitised future is difficult to imagine in this era of diminishing natural resources, climate change, social and economic turmoil, and rapid technological advancements; while opening up the possibility of humans migrating to the moon or Mars, these may also be progressing beyond the bounds of our control. As such, the task of mapping and producing calculated projections of present societies within a global context has become the new challenge in art and architecture.
Our imaginings of the "future" are most fully realised in our cities, as epitomised in Fritz Lang's 1927 silent film masterpiece Metropolis, which was considered so futuristic in its day. Times have changed at breakneck speed since, and contemporary cities have become vibrant, multidimensional spaces full of buildings and people, increasingly distinguished by the digital infrastructures that characterise contemporary living. In the same way that futurism was inspired by the technological innovations of the early 20th century and embraced futuristic aesthetics, today we conceptualise our ideas of "the city" as a "smart environment" built around automated vehicles, screens and systems.
On until October 19 at the Centre for Chinese Contemporary Art in Manchester, England, the exhibition Future Cities: Technopolis & Everyday Life examines how these evolving technologies have affected our interactions with the physical geography of cities, natural resources and domestic environments. Future Cities comprises artistic and architectural practices within an inspired setting designed by Lu Andong, a professor at Nanjing University. As such, it sits somewhere between speculation and reality, unfolding the impact of digital revolution on our perception of everyday life and defining the terrains of a global urban future. It also stimulates urgent issues within metropolitan development.
The project comprises a handful of artists and collectives – Lawrence Lek, Hsu Chia-wei, Liam Young, Zheng Mahler and CineMuseSpace – who consider all aspects of our urban environments through a new lens, including the current discourse around the ways and rate at which cities are changing, and its potential impact on the future.