Portugal's Socialist Party claim electoral triumph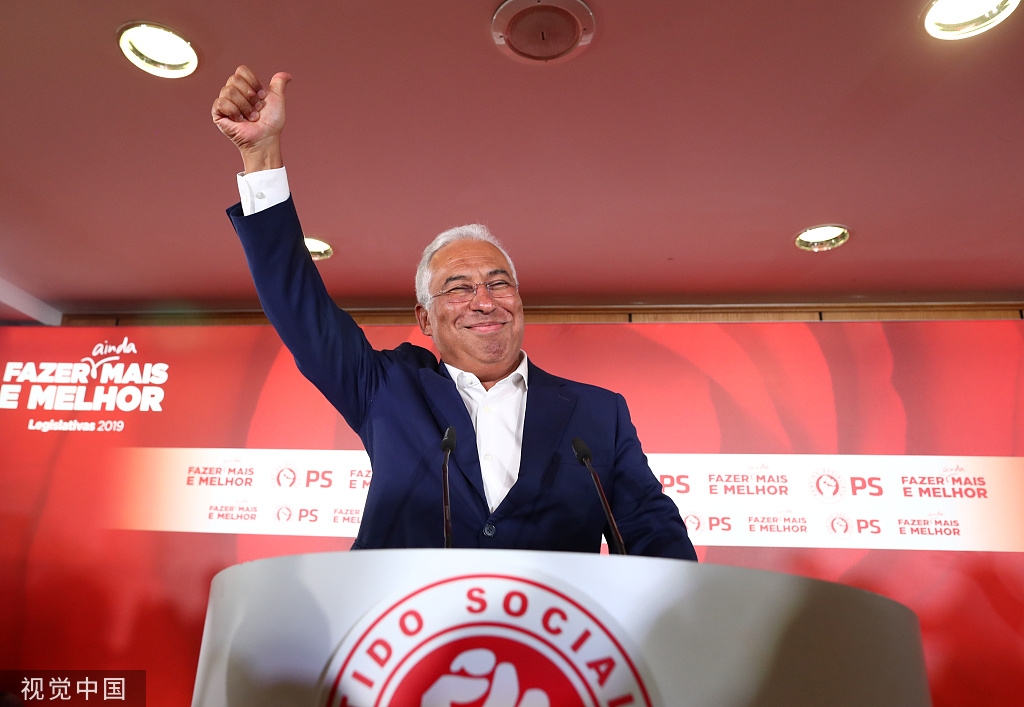 Portugal's Socialist Party, known as PS, has won the country's general election but looks set to have fallen just short of an overall majority.
Prime Minister Antonio Costa's party, which has governed for the last four years with the support of two smaller left-wing parties, increased its share of the vote from four years ago to take 106 seats in the 230-seat legislative chamber, a significant increase from the 86 it won in 2015. Negotiations over the formation of the next government were scheduled start on Monday evening.
The center-right Social Democrats, or PSD, are PS's nearest rivals with 27.9 percent of the vote, as opposed to PS's 36.65 percent.
PS Deputy General Secretary Ana Catarina Mendes called the result "a great victory" and said her party "will seek to have a stable four-year government solution for Portugal".
Four years ago, PS won fewer seats than PSD but secured power through an unexpected alliance with the Left Bloc and Communist party, but recently divisions have emerged, with Costa being accused of drifting to the right, while his hard-left partners favor major public spending increases.
Costa has ruled out a formalized coalition government, but said he may be willing to find common ground with his former partners, adding that "The Portuguese liked our arrangement… we will see if it's possible to continue." The newly formed People-Animals-Nature party, who won four seats, is another potential partner, if Costa can meet their environmental concerns.
Turnout at the polls was at its lowest level since the toppling of the country's military dictatorship in 1974, at 54.5 percent.
The result continues a pattern of improved fortunes for center-left parties in Europe after a period of decline, coming as it does on the back of similarly encouraging results in Sweden, Finland and Denmark.
There could be some disappointment, however, at the failure of PS to win an outright majority, as in the run-up to the election, opinion polls suggested it would secure one.
But a scandal involving the theft of weapons from a military base, and the alleged involvement of a criminal gang in their recovery, caused embarrassment to the party.
In his first stint as prime minister, Costa won friends at home and abroad for reversing some of the austerity measures introduced under the former PSD government as a reaction to the Eurozone crisis, and has combined this with managing to reduce Portugal's budget deficit to almost zero.
As a result of his economic management, Portugal's economy is growing faster than the average rate for European Union countries, and last year the country, where tourism is so important, welcomed more visitors than it has inhabitants.