Legal pundits voice support for Hong Kong anti-mask law
Share - WeChat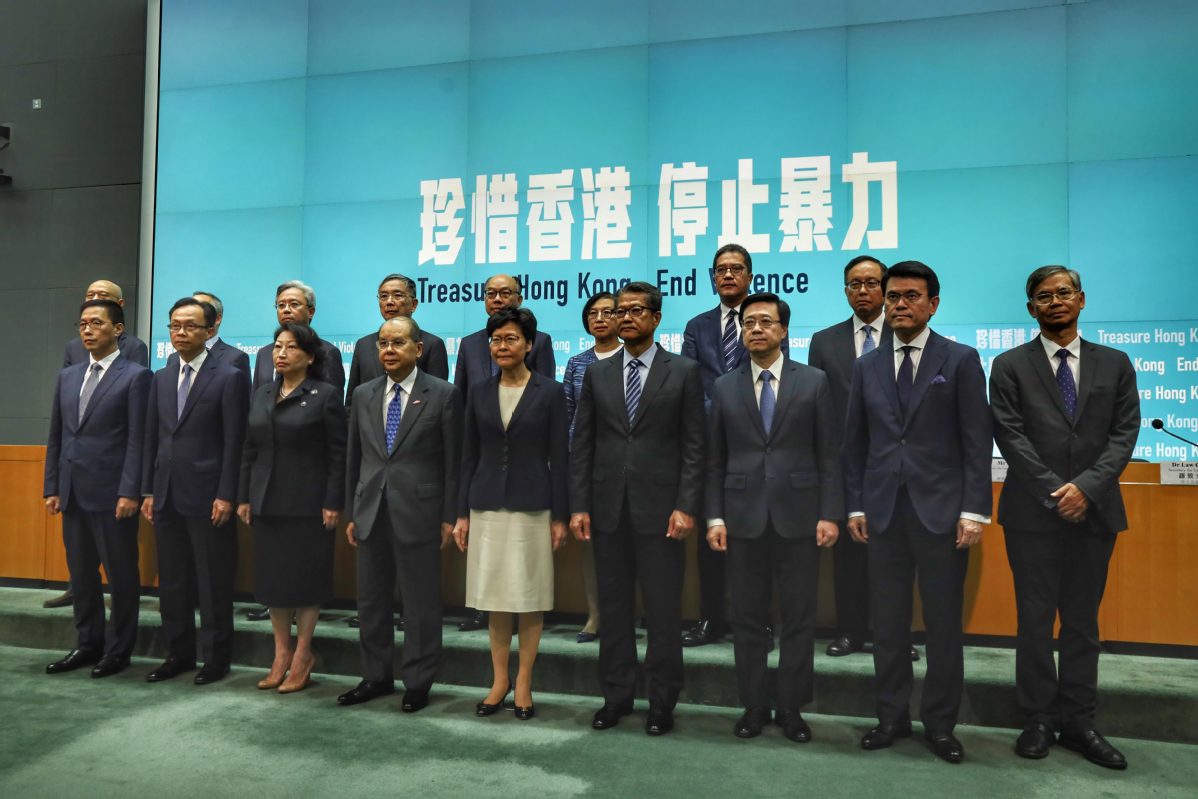 Experts from the city's legal sector voiced their support for the anti-mask law announced on Friday, saying it is a much-needed solution for Hong Kong to quell escalating violence and an effective way to bring law-breakers to justice.
Grenville Cross, Hong Kong's former director of public prosecutions, described the law as "an important step in the right direction to deter such people from indulging in wanton criminality on streets".
During a one-on-one interview with China Daily right after the special administrative region government announced the law, Cross said the nonstop violence in the past four months has shown that the traditional means of law enforcement haven't always been successful in deterring troublemakers.
"So this (the anti-mask law) is a welcome addition to the armory of laws which the police have at their disposal in seeking to maintain law and order in society and dealing with those people who are seeking to disrupt our lives and cause mayhem on our streets," he said.
"It will show to law-breakers they can't simply cover their faces and go out and commit grave crimes," he added.
According to the anti-mask law, which takes effect on Oct 5, those who wear a facial covering to hide their identity during a public meeting, public procession or illegal assembly will be held accountable for violating the ban, and subject to imprisonment of up to one year and a fine of HK$25,000.
Former president of the Legislative Council Rita Fan Hsu Lai-tai said the law is needed as the masked rioters are not only assaulting police officers, but also attacking anyone who does not agree with them or does not submit to their pressure.
Fan stressed that it is in line with the Basic Law for the city's chief executive to invoke the Emergency Regulations Ordinance, which allows the enactment of the anti-mask law.
"One of the major features of the basic law is that all those common laws, which existed in our law book, which do not contradict the basic law, will remain in effect. And the common laws, which remain in effect, included this emergency law, which grant or empower the chief executive to take actions and when necessary," Fan explained.
Upon welcoming the law, Hong Kong former Secretary for Justice Elsie Leung Oi-sie dismissed claims that argue that the law would violate basic human rights.
"The ordinance is a reasonable restriction of the freedom of speech, freedom of demonstration and of assembly. These kinds of freedom are not unrestricted. They could be restricted for the purposes of national security, public security, public order," Leung told China Daily during a phone interview on Friday
"It is very reasonable. And it does not affect your rights of freedom of speech or demonstration, so long as you do not wear the mask," she concluded.
Barrister Ronny Tong Ka-wah, who is an unofficial member of the chief executive's think tank, the Executive Council, said there is a need for the government to urgently deal with the situation by introducing some laws that may hopefully reduce the level of violence in the streets.
"Although the city's police force have been extremely restrained, with the escalation of violence from the rioters, there is always the possibility that eventually such a situation may lead to some fatalities, which I believe nobody want to see," he told China Daily during a phone interview on Friday.
Lawrence Ma Yan-kwok, a barrister and chairman of the Hong Kong Legal Exchange Foundation, told China Daily that the anti-mask law is not an invention of the Hong Kong government, it is actually a law borrowed from other countries, such as the United States and Australia.
"It would be feasible to have those effective laws borrowed from other countries and implemented in Hong Kong so as to deter any further violent protests in Hong Kong," he said.