Nanzhang county set to showcase stilt culture with high-speed rail link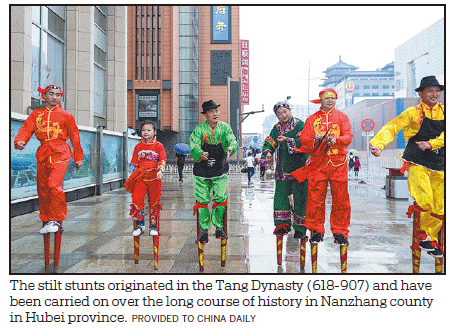 Performers nimbly danced using two tall wooden sticks that were strapped to their feet, taking the audience's breath away in Beijing in late August.
They were doing stilt stunts which originated in the Tang Dynasty (618-907) and have been carried on over the long course of history in Nanzhang county in Hubei province.
The county's Donggong town was named the home of stilts in October 2008 by the then Ministry of Culture (the predecessor of the Ministry of Culture and Tourism).
With the Zhengzhou-Wangzhou high speed rail getting a stop at Nanzhang later this year, the county has prepared a tourism feast for potential travelers, says Wang Peng, the Party secretary of Nanzhang.
The rail service will shorten travel time between Nanzhang and the capital to just a few hours.
Nanzhang abounds in natural and cultural resources with more than 100 tourist attractions.
The county packed in 5 million traveler visits in 2018 and raked in 2.38 billion yuan ($335.6 million) in tourism revenue.
Nanzhang is one of the nation's biggest organic agriculture facilities and offers visitors a pristine farming experience and gourmet food.
The county has fully tapped its culture and natural resources to boost tourism over the years.
With a long history in silk dating back to the Eastern Zhou Dynasty (770-256 BC), the county opened a park featuring silk elements in August 2017. There, travelers can get a glimpse of the silk history of Nanzhang and modern silk production too.
At the park, mulberry tea, wine and noodles are also available for tasting.
The park received about 1,200 travelers daily since its opening, according to Jin Kun, a tourism manager with the park.
Tourism has also boosted the local silk textile industry, Jin says.
Every year the local government stages various cultural programs at major scenic spots.
At the peach garden in Nanzhang's Shuxiangwan village, a peach picking festival has been held since 2015, drawing in visitors from far and wide.
The garden has 15 hectares of peach trees and made 210,000 yuan last year, says Yang Guojun, the founder of the garden.
The county has also produced songs, books and films to introduce the distinctive local culture and folk customs of the area to the public.
Efforts have also gone into giving the villages a facelift while preserving their traditions, says Chen Zhongwu, the head of Nanzhang county's culture and tourism bureau.