'I am witness to the tremendous development of China,' says former French PM
Share - WeChat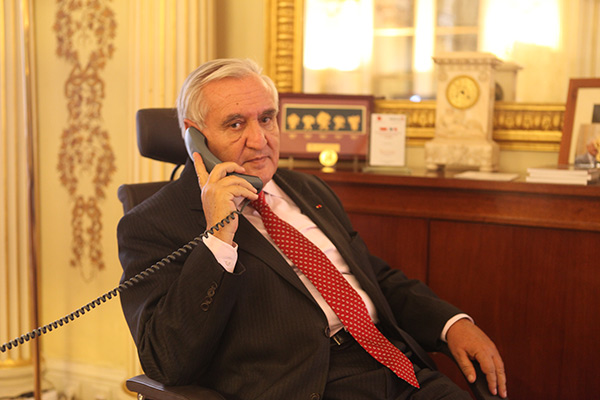 PARIS - As a leading figure among French politicians familiar and friendly with China, former French Prime Minister Jean-Pierre Raffarin has been promoting cooperation between the two countries in the past decades.
"I am witness to the tremendous development of China," said Raffarin in a recent interview with Xinhua. "I saw China becoming proud of herself."
Raffarin said he first came to China in 1970, and his frequent trips to China since then have given him an insight into China's progress.
He recalled that in the past, he saw families of four to five people, sometimes more, living in one room. "Nowadays, comforts of modern housing are present everywhere," he said. "You feel a major change -- people, especially young people, look confident."
"I think innovation is the key to the future in China," he said, adding that "in this match for tomorrow, the Chinese youth seems well armed."
On Sept 17, Raffarin, together with five other foreigners, was awarded the Friendship Medal by China for his great contributions.
The former French leader said that he has a relationship of trust with the Chinese people.
"I understand them and my link is very emotional," he said.
"China follows its own path," he said, referring to socialism with Chinese characteristics.
Raffarin said that for him, the most essential one of these characteristics is the leadership of the Communist Party of China (CPC), adding that it is obvious to attentive observers that the CPC is the real backbone of the People's Republic of China.
He noted that China's global influence has considerably increased in the past 70 years, and that now as the second largest economy in the world, China is present across the world with its products and culture, which influence people in many countries.
"In France, the Chinese New Year is almost a national event," he said.
Besides, in such major international institutions as the United Nations Educational, Scientific and Cultural Organization, the International Monetary Fund, and the Food and Agriculture Organization of the United Nations, China has been given positions of great responsibility, which shows "its influence in global multilateralism is growing," he added.
"It seems to me that Chinese diplomacy is inspired by a belief deeply rooted in Chinese culture -- cooperation is better than tensions," said Raffarin.
"The Belt and Road Initiative is a great project of international cooperation," he said. "Gradually, investments are put in place."
As the international community is troubled by the return of unilateralism promoted mainly by the United States, "China is participating in the mobilization for a renewal of multilateralism," he said.
The former French leader also praised China's "global role in this battle against pollution since it is committed to the Paris Agreement on climate change."
"In this world of interdependence, we must expand our thinking beyond all forms of nationalism to assume our common destiny. For all this, China will remain useful to the world," he said.