Lawsuits seek to block Trump's immigration policies
Court actions underscore battle between federal and state authority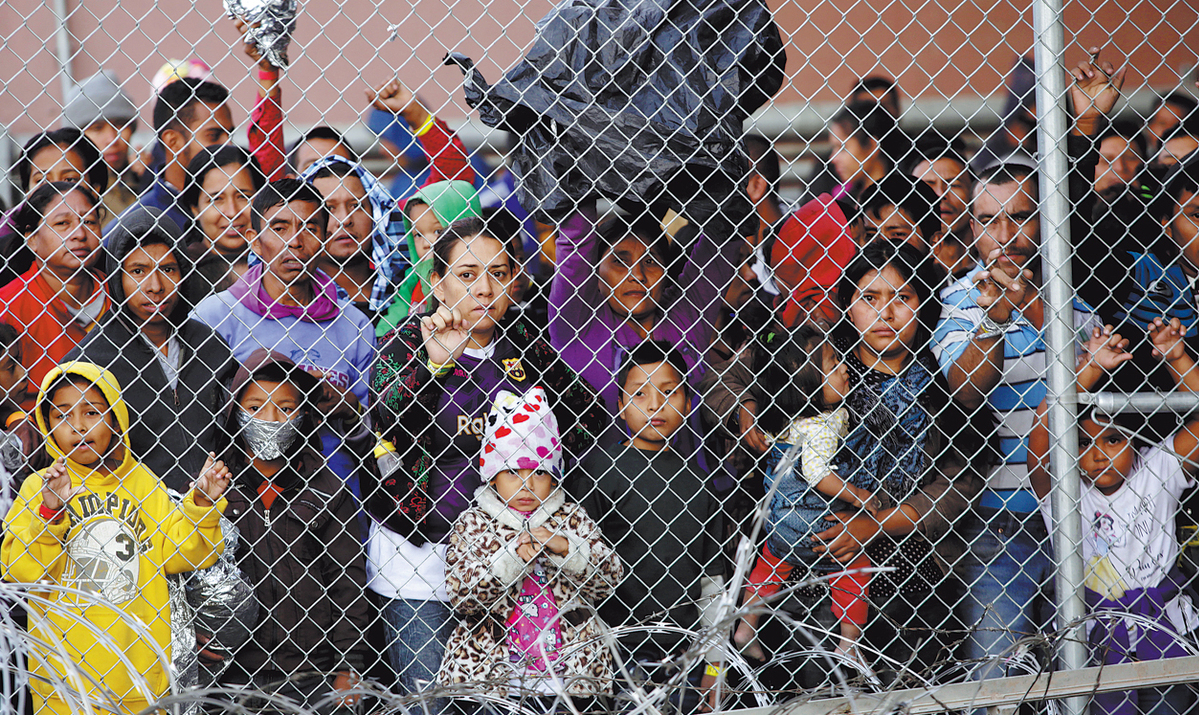 United States President Donald Trump's pledge to secure his country's southern border and end illegal immigration has been met with scores of lawsuits filed by attorneys general in states largely governed by Democrats.
At least 47 multistate lawsuits have been filed against the administration since Trump became president in January 2017, including seven related to illegal immigration. Other lawsuits have challenged Trump on state and local tax deductions, vehicle emission standards, the Affordable Care Act, the Clean Air Act and net neutrality.
The latter refers to the principle that internet service providers should enable access to all content and applications regardless of the source, and without favoring or blocking particular products or websites.
However, illegal immigration is the main flashpoint.
The lawsuits underscore the continuing battle between federal and state authority in the US constitutional system. Immigration is a federal issue and regulated under rules established in 1952 with the passage of the Immigration and Nationality Act. The US Supreme Court has consistently upheld federal jurisdiction of immigration and overturned attempts by the states to intercede, according to FindLaw, a legal information provider owned by Thomson Reuters.
Nineteen states, including California, New York and Massachusetts, plus the District of Columbia, filed suit last month to block a rule due to take effect next month that would permit the indefinite detention of families who enter the US illegally.
This rule would set aside the Flores Settlement, a 1997 agreement that imposed a 20-day limit on the detention of unaccompanied children. In 2015, this was expanded to include children traveling with their parents.
When announcing the lawsuit filed in Los Angeles Federal Court last month, Xavier Becerra, California's attorney general, said: "This new Trump rule callously puts at risk the safety and well-being of children. It undermines a decades-old agreement reached in court by the federal government to prevent the unlawful detention of immigrant children."
Massachusetts' Attorney General Maura Healey said in a statement, "This most recent attack on immigrant children is cruel, immoral and illegal, and we're suing to stop it."
Backlog of cases
Trump argues that the Flores Settlement creates an incentive for people and their children to cross the US-Mexico border illegally and ask for asylum.
Many people are allowed to enter the US pending a court hearing, but there is a backlog of about 850,000 cases, and about 450 judges to hear them. Few people show up in court when their case is called, creating what Trump calls "catch-and-release" enforcement.
In a research paper, John Daniel Davidson, a senior fellow at the Texas Public Policy Foundation in Austin, said the Flores Settlement has resulted in a massive surge in the number of families crossing the border to claim asylum - from fewer than 15,000 in 2013 to nearly half a million so far this year, a nearly 30-fold increase, according to US Customs and Border Protection.
"Nearly all these families - most of them from Guatemala, Honduras or El Salvador - have been released pending the outcome of their immigration hearings, a process that can take years," the paper said.
About 42,000 families, mostly from Central America, were arrested in July - about half the number caught in May.
The crush of people crossing into the US in search of a better life has overwhelmed immigration facilities.
If Trump wins in court and the new rule takes effect, he will face what appears to be the insurmountable problem of housing those detained.
Immigration and Customs Enforcement, or ICE, has two family detention centers in Texas and one in Pennsylvania, with a total of 2,500 beds, Kevin McAleenan, acting secretary of homeland security, said this month when he announced the proposed rule change.
The US Congress has allocated $2.8 billion to cover the cost of 49,500 beds for single adults. ICE currently holds about 55,000 illegal immigrants, with about 4.5 percent of them housed in family units, according to the agency.
Deal with Mexico
On Sept 11, the US Supreme Court granted a request by the Trump administration to fully enforce the new rule that would curtail asylum applications by immigrants at the US-Mexico border.
The court said the rule, which requires most immigrants who want asylum to first seek safe haven in a third country through which they traveled on their way to the US, could take effect as litigation challenging its legality continues. The rule would bar almost all immigrants from applying for asylum at the southern border.
The US Supreme Court has consistently upheld federal jurisdiction of immigration and overturned attempts by the states to intercede, according to FindLaw.
A federal judge blocked enforcement of a 2010 law in Arizona that required local police to check the immigration status of anyone suspected of being in the state illegally. The federal government argues that a "patchwork" of different state immigration laws would create chaos and undercut existing legislation.
The Constitution's Supremacy Clause, found in Article VI, establishes federal law as the "supreme law of the land". The division of federal and state jurisdictions is balanced by the Tenth Amendment, which states," The powers not delegated to the United States by the Constitution, nor prohibited by it to the States, are reserved to the States, respectively, or to the people."
Public opinion polls
Efforts to control illegal immigration play out in this legal framework. Polling underscores the nation's divergence of opinion and shows the issue is far from settled.
In June, a Gallup poll asked, "In your view, should immigration be kept at its present level, increased or decreased?"
Thirty-seven percent of respondents wanted immigration kept at its current level, 35 percent called for a reduction and 27 percent wanted the level increased. Compared with a poll asking the same questions in January, the results showed a 3 percentage point drop in the number of those who want immigration increased and a 4 percentage point rise in the number calling for a cut, while the proportion of those who wanted it kept at the current level remained unchanged.
The Gallup survey did not ask about illegal immigration, but a poll conducted from April 22 to 25 by ABC News and The Washington Post did. Thirty-five percent of respondents termed illegal entry into the US "a crisis", 45 percent said it was a "serious problem, but not a crisis", while 18 percent said it was "not a serious problem".
When pollsters at Quinnipiac University in Hamden, Connecticut, asked in April if people arrested for illegally entering the US should be held in detention centers, 62 percent of Republicans agreed, compared with only 5 percent of Democrats.
The nation's views on illegal immigration are sometimes contradicted by separate polls.
In May, a poll by CBS and The New York Times found that 69 percent of respondents wanted to see illegal immigrants prosecuted and deported. But in June, a poll by NBC and The Wall Street Journal found that 85 percent of respondents believed that deporting 10 million to 20 million illegal immigrants was not realistic.
'Pathway to citizenship'
Creating a so-called pathway to citizenship is hotly debated. Proponents argue that doing so would recognize that many people who entered the country illegally have set up homes and then had children, who automatically became citizens because they were born in the US. But according to opponents, such a program would reward illegal behavior and encourage others to break the law.
The Immigration Reform and Control Act, or IRCA, signed into law by President Ronald Reagan in 1986, was intended to strengthen border enforcement, increase sanctions on employers who hired unauthorized workers, while creating legalization provisions for those who entered the country illegally.
At the time, IRCA was hailed as the most significant revision of immigration law since the 1965 Immigration and Nationality Act, which abolished a quota system based on national origin and created a policy centered on reuniting immigrant families and attracting skilled workers.
Has IRCA worked? In 1986, an estimated 3 million people were living in the US illegally. Current estimates place the number at 10 million to 20 million. Some employers apparently ignore E-verify, a federal program to determine legal eligibility to work in the US, as evidenced by recent ICE raids at chicken processing plants in Mississippi.
Trump's decision to end the Deferred Action for Childhood Arrivals, or DACA, program will be argued before the US Supreme Court in November. The case centers on the legality of Trump's order to end DACA, not the legality of the decision during the era of President Barack Obama to allow hundreds of thousands of "Dreamers" - people who arrived illegally in the US as minors - to temporarily live and work in the country without facing deportation.
Solicitor General Noel Francisco said in a filing with the Supreme Court, "The cases concern the Executive Branch's authority to revoke a discretionary policy of nonenforcement that is sanctioning an ongoing violation of federal immigration law by nearly 700,000 aliens."
The Supreme Court is expected to announce its decision in June or July.
'Public charge'
In August, New York joined Vermont and Connecticut in a lawsuit aimed at halting Trump's attempt to reject immigrants likely to become a "public charge" - relying on programs such as food stamps, Medicaid and housing assistance, rather than supporting themselves.
When joining the case last month, New York Attorney General Leticia James said: "Under this rule, more children will go hungry, more families will go without medical care and more people will be living in the shadows and on the streets. We cannot and will not let that happen."
Barring intervention from the courts, the new rule will take effect on Oct 15. Reliance on public assistance would then be counted against those applying for permanent residence or citizenship.
Trump has called birthright citizenship "frankly ridiculous" because it confers citizenship on babies born to those who entered the country illegally. Last year, he said he would issue an executive order ending the practice, but did not follow through on this. Some of those opposing Trump's proposal said the Constitution prohibits him from taking such action.
North Carolina Governor Ray Cooper, a Democrat, this month vetoed a bill that would have required local and state police to hold illegal immigrants in their custody until ICE could pick them up for possible deportation. Critics said such action confers rights on illegal immigrants that citizens do not enjoy.
Trump's legal victories
Trump has said his proposals are "pro-American, pro-immigrant and pro-worker", and he has won a few rounds in the ongoing legal fights.
In a 5-4 decision, the Supreme Court ruled that Trump could use about $2.5 billion in military funds to build another 160 kilometers of the wall along the US-Mexico border. In February, Trump declared a national emergency and sought to divert $6.7 billion from the military without congressional approval. Lower courts barred the transfer, but in July the Supreme Court set those decisions aside.
While he did not get the full amount sought, Trump tweeted: "Wow! Big VICTORY on the Wall. The United States Supreme Court overturns lower court injunction, allows Southern Border Wall to proceed. Big WIN for Border Security and the Rule of Law."
While liberal and conservative voters are sharply split on illegal immigration, elected representatives sometimes find common ground.
Senators Kyrsten Sinema, an Arizona Democrat, and Ron Johnson, a Wisconsin Republican, jointly proposed Operation Safe Return, a pilot program that would permit the deportation of immigrants within 15 days if their asylum claims are determined to be false.
"This pilot program would apply to families who aren't claiming 'credible fear'," which is the first threshold in seeking asylum," Sinema said last month when announcing it.
But a few are ignoring the courts and taking the issue to the streets.
On Aug 13, gunshots were fired at the ICE office in San Antonio, Texas, in what the FBI called a "targeted attack". No one was injured, but FBI agent Christopher Combs said at a news conference, "Had the bullets gone two inches (5 centimeters) in another direction, we would be here today talking about the murder of a federal official."
There have also been attacks on ICE offices in Tacoma, Washington, Aurora, Colorado, and Washington, the capital. So far, there have been no arrests.
scottreeves@chinadailyusa.com