An ode to China's enchanting sweet osmanthus flower
Share - WeChat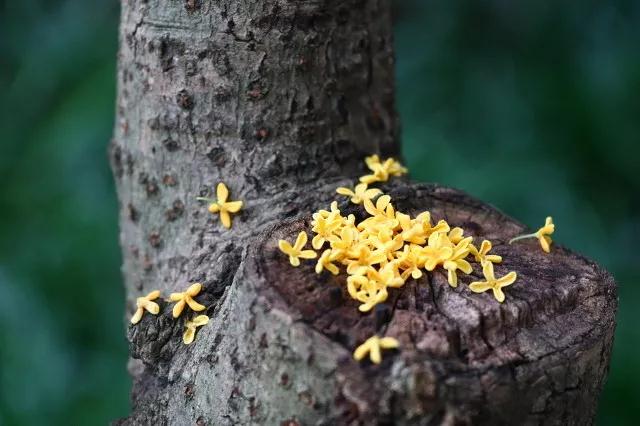 When I think of a golden autumn, my mind often turns to one of the great jewels of the season — sweet osmanthus, a tiny flower that has charmed generations of people every fall with its unforgettable fragrance.
This blossom, which measures only 1 centimeter across and grows in clusters scattered about evergreen branches of the osmanthus tree, truly exemplifies the idea that size and appearance aren't everything. After all, even when painted in the most eye-catching bright orange or buttery yellow hues, it could never rival the more showy peony or rose on looks.
But the osmanthus bloom doesn't have to, because its real strength lies in its honeyed scent, which much like being in love, will leave you feeling a little giddy and lost in the moment, even when standing meters away from the flowers. If dreams had a fragrance, they might just smell like the osmanthus, imbuing a touch of paradise to even the most ordinary of places.
The osmanthus tree in the front yard of my in-laws' home in rural Zhejiang left me wonderstruck one early October morning when its flowers unfurled their magic. The alluring aroma, which had wafted indoors through an open window, enveloped me as I was descending the stairwell.
It brought me to a standstill for a few seconds as I breathed it in, along with this sensation of pure, unfettered happiness. Dreary clouds blanketed the entire sky above me and yet, even to this day, whenever I recall this memory, my mind bathes it in sunshine because of that intoxicating natural perfume that surrounded me. It's that uplifting.
I'm certain this kind of wondrous effect factored into why my father-in-law refused to sell that osmanthus tree to horticultural dealers who would continually come by to inquire about its cost. "It's not for sale," he would simply tell them. Surely he already understood that nobody could put a price on the experience of having such a delicious fragrance right outside your doorstep every year.
And besides, even after the scent of the osmanthus bloom has faded as its petals wither and fall to the ground, it continues to enchant us.
My mother-in-law collects those flowers from under the tree in the front yard, dries them in the sun, and then adds their sweet aroma to a variety of foods, from roasted chestnuts to green tea. Each taste brings with it the gorgeous memory of a golden fall.
Despite its diminutive size, the osmanthus bloom has enraptured me and many others, including celebrated Chinese poets, and I believe it represents a special kind of flower power. I've walked through forests redolent with the luxurious smell of sweet osmanthus and emerged with a renewed sense of joy and possibility.
In the midst of our imperfect lives and the shadows that haunt us, the osmanthus, which affords a feeling of ecstasy to anyone passing by, shines as a symbol of the goodness in the world.
But like all great things, it won't last forever. So, if you have the chance this fall, take the opportunity to get out and experience the osmanthus bloom. It might just give you that extra boost you need to thrive in the throes of life's challenges and, perhaps, allow a little hope to flower.
The author is a copy editor for China Daily. She has written extensively about cross-cultural topics, including for The Wall Street Journal and The Huffington Post. A US native, she has called China home for over nine years and is fluent in Mandarin Chinese.
Most Viewed in 24 Hours
China Views