Weekend's violence, vandalism widely condemned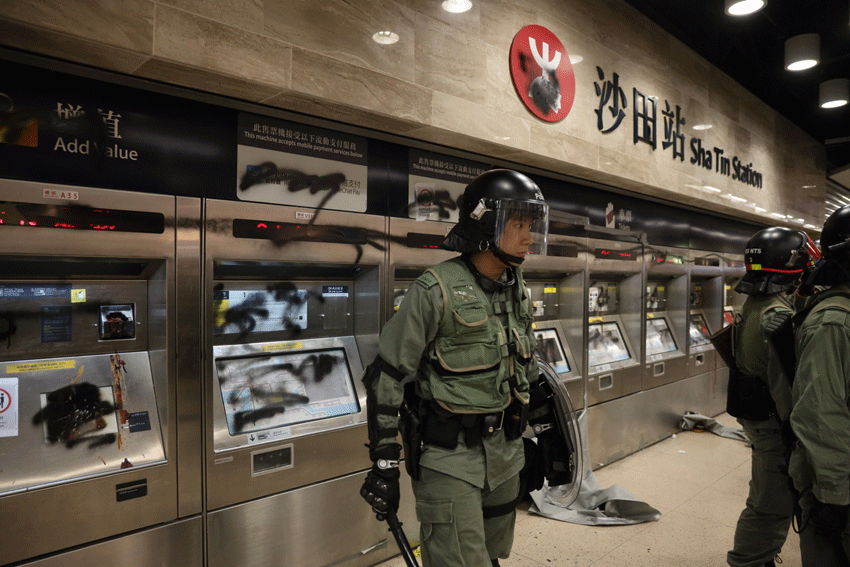 A fresh round of violence and vandalism targeting Hong Kong's MTR stations and shopping malls over the weekend sparked wide condemnation as Hong Kong was roiled by anti-government protests for the 16th week.
Over the past weekend, radicals once again hurled bricks and gasoline bombs at police officers and police vehicles and set fire to barricades. Some radicals even attempted to snatch the revolver of a police officer.
Lau Yu-leung, Hong Kong member of the National Committee of the Chinese People's Political Consultative Conference
Lam Chi-wai, president of the Junior Police Officers' Association of Hong Kong Police Force, strongly condemned such acts that posed a grave threat to the lives of officers and other people present nearby.
"Firearms are the second life of police officers… all police officers were told on the first day of starting service that they should try every means to protect firearms from being snatched, otherwise they'll be in danger."
The officers would have to make the "only" and "necessary" choice if their firearms are snatched, Lam warned.
The mayhem over the weekend also drew criticism from political heavyweights. Lau Yu-leung, a Hong Kong member of the National Committee of the Chinese People's Political Consultative Conference (CPPCC), said he was saddened by the outrageous acts of violence perpetrated in total disregard of the law.
He urged protesters, the majority being young people, to immediately stop resorting to violence. "Hong Kong is our home. Young people are bound to suffer the consequences if the home is destroyed," said Lau.
Sher Tak-chi, another CPPCC member from Hong Kong, said that escalating violence had drifted far away from peaceful expression of opinions, saying such extreme actions would be totally unacceptable in any jurisdiction.
He appealed to all local residents to stand against violence and support police's law enforcement actions.
During the weekend's protests, MTR stations once again become a primary target of radicals. At least eight MTR stations across the city were forced to shut down on Sunday after black-clad protesters went on a rampage.
In a statement issued Sunday night, MTR Corperation Limited, the city's sole railway operator, condemned the latest eruption of violence that severely affected passenger journeys and endangered the safety of passengers and MTR staff.
On Sunday, a group of black-clad and masked protesters also trashed several shopping malls owned by Sun Hung Kai Properties, with New Town Plaza in Sha Tin bearing the brunt of it.
They destroyed facilities and harassed shops employees and customers. Some also desecrated the Chinese national flag at a location near the shopping mall by stamping on it and dumped it in a trashcan before throwing it into a river.
In a statement, Sun Hung Kai Properties strongly condemned the violence.