Open classes on traditional Chinese culture reviewed in Beijing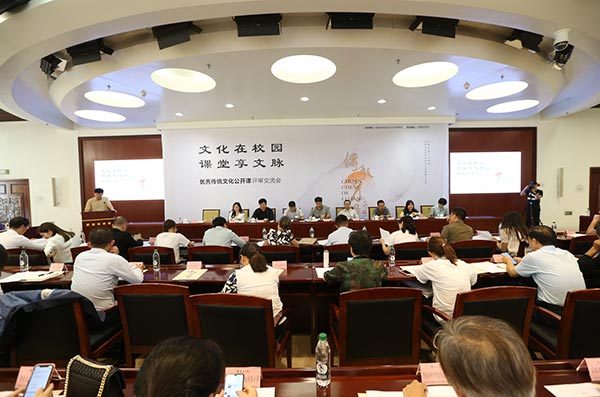 An assessment meeting on traditional Chinese culture open classes was held in the conference hall of the Ministry of Education on Wednesday. The activity, "Power of Inheritance" organized by China Youth Daily, and hosted by the Department of Physical Education, Sanitation and Art Education under the Ministry of Education, was aimed at promoting excellent traditional Chinese culture through physical and art education at school.
The nation's education experts attended the meeting and reviewed some open classes.
From April to June this year, the Ministry of Education collected excellent open classes on traditional Chinese culture from middle and primary schools, as well as colleges around the nation. There were 999 schools that handed in a total of 1,373 open class videos, covering music, fine art, traditional festivals, traditional sports items and intangible cultural heritage items. Some representative intangible cultural heritage inheritors walked onto the podiums, and the campus has become a major channel in passing on traditional Chinese culture.
There were 32 works from 18 provinces or regions entering into the final which were presented on the assessment meeting. Experts shared their views on how to better promote Chinese culture through sports and arts courses on campus during the meeting.
Yang Yu, one of the attendees from Sichuan Normal University, said that a teacher's passion for traditional culture determines the height and depth of his teaching design.
"I believe that, with such activity, and teachers devoted to Chinese culture, excellent traditional Chinese culture will surely be better inherited and innovated," Yang said.