Young people to skip school for global climate 'strikes'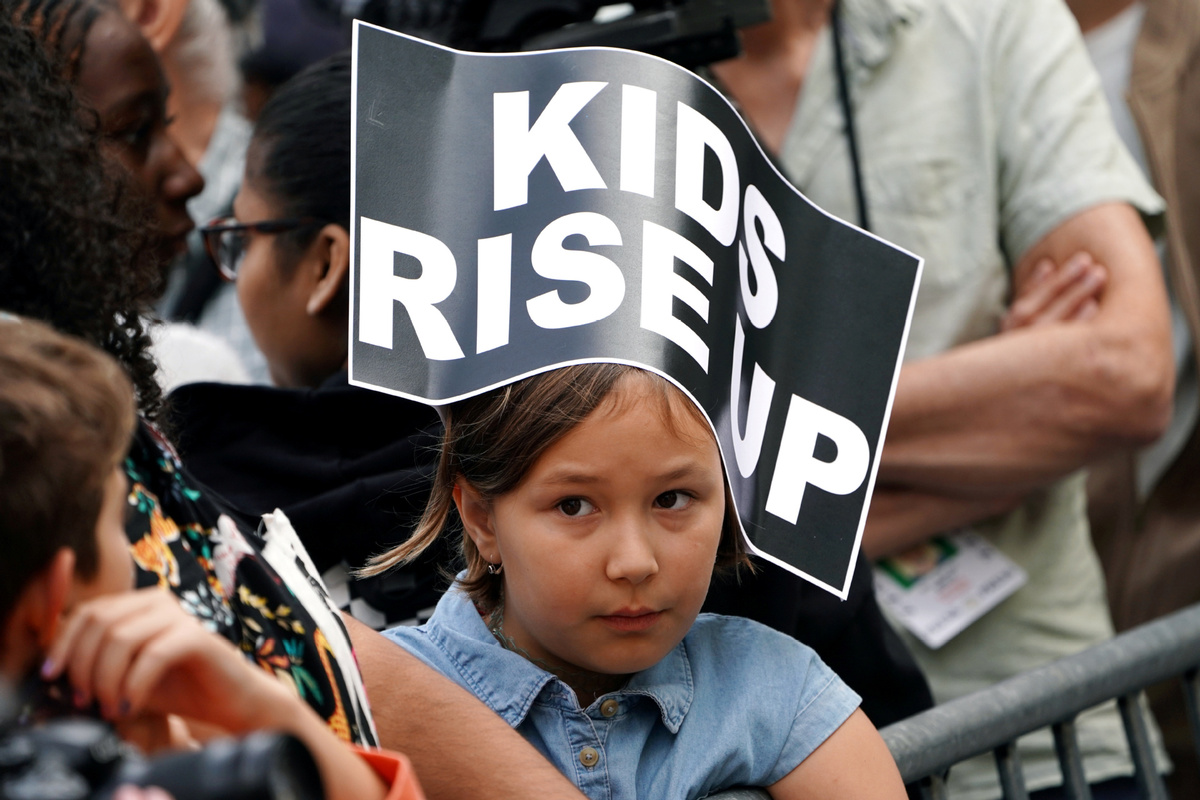 Hundreds of thousands of students – if not millions – will skip school Friday worldwide to take part in a climate-change "strike'' against businesses and organizations that have been inactive on environmental issues.
In New York, all 1.1 million public school students have been given the day off to attend the "Global Climate Strike'' starting at noon at Foley Square in downtown Manhattan. There will also be a rally to Battery Park.
A tweet from the city's public school system, the nation's largest, said: "@NYCschools will excuse absences of students participating in the #climatestrike on Friday 9/20. Students will need parental consent. Younger students can only leave school with a parent."
At least 800 protests are planned in 50 states, and more than 2,000 in 50 other countries.
Students in Washington DC, Boston, Seattle, Miami, Los Angeles and Denver also are expected to demonstrate. Other large US school districts, including Cambridge, Massachusetts, are still deciding whether to give students the day off. All students who attend will need consent from their parents.
Abby Andebrhan, 17, from Stillwater, Minnesota, is one of the students who will attend the strike. She told China Daily: "Since I am not 18 years old yet, I haven't been able to use voting as a way to make a difference. I believe that this Friday will be a monumental day in our movement because we will finally be able to march right down to the capitol and demand change.''
The youth are calling on the world's leaders to help stop global warming, reduce fossil fuels and limit greenhouse gases. Under the terms of the 2015 Paris Climate agreement, they want to limit global warming to 2 degrees Celsius, but the world is not on track to do this.
The global youth protests come ahead of the United Nations' Climate Action Summit on Sept 23. Representatives from several countries will convene at UN headquarters in New York City to discuss what can be done to limit greenhouse gases.
The Global Climate Strike is being led by Greta Thunberg, a 16-year-old climate-change activist from Sweden.
Thunberg gained international attention after she temporarily skipped school on Fridays from August 2018 (with the blessings of her parents) to protest outside the Swedish parliament at its lack of action on climate change.
Ahead of the protest in New York, Thunberg told young people: "If you can't be in the strike, then, of course, you don't have to. But I think if there is one day you should join this is the day."
Thunberg arrived in New York on Aug 28 after traveling from the UK on a boat with zero emissions. She no longer flies on planes in a bid to reduce the carbon footprint. The teenager spoke to Congress on Wednesday urging lawmakers to "wake up," and will be in New York on Friday to participate in the protest.
"The youth who are leading this are incredible for the overall climate movement," Sarah Goodspeed, youth and policy manager for an organization called Climate Generation: A Will Steger Legacy, told China Daily.
"They are really pushing everyone to fight harder and feel more integrity than a lot of folks have felt in the movement for a very long time. They feel a sense of urgency that the decisions we're making today are shaping the world that they are going to inherit in the future," she said.
The youth-led movement, dubbed "Fridays for Future'', has seen many young people, some only 8 years old, in 100 countries follow Thunberg's lead and skip school on Fridays to demand environmental action from leaders.
"Young people across this globe are really coming together and are seeing this as a global movement, something we all are sharing, and affects many parts of the world," said Goodspeed.
The last big environmental protest saw youth from more than 130 countries demonstrating. But this event could be bigger as organizers have planned 2,500 events in 150 countries.
New York Mayor Bill de Blasio has made climate change a centerpiece of his administration. He tweeted last week: "New York City stands with our young people. They're our conscience. We support the 9/20 #ClimateStrike."
But his support came under fire from some, including the New York Post, which accused him of "out-and-out government sponsorship of a particular point of view".
Karol Markowicz, a columnist for the Post, wrote that one mom, who had lived in what was Soviet Union, took to Facebook to say the strike is like "Soviet-style brainwashing and propaganda".
Another mom of a 6-year-old pupil who has been given the day off from a Park Slope elementary school in New York, told Markowicz: "I am all for people supporting causes they believe in, but do not force your causes and beliefs on my first-grader."
On June 1, 2017, US President Donald Trump announced that the US would withdraw from the Paris Agreement on climate mitigation. In March, he retweeted the words of climate change doubter Patrick Moore, who said: "The whole climate crisis is not only Fake News, it's Fake Science. There is no climate crisis, there's weather and climate all around the world, and in fact carbon dioxide is the main building block of all life."
Democrats have attempted to address climate-change issues in a plan called the "Green New Deal''. All the Democratic candidates seeking their party's 2020 presidential nomination have unveiled climate plans.
Grace Roeske, 18, from Minnesota told China Daily: "Climate change is threatening the water we drink, the air we breathe, and the places we live and love. This matters, we all care …"
"With the Green New Deal we are ready to finish the unfinished business the past has left for us. To pass this deal we need mass mobilization to show that climate crisis is an urgent issue."