Sino-Russian ties offer wide benefits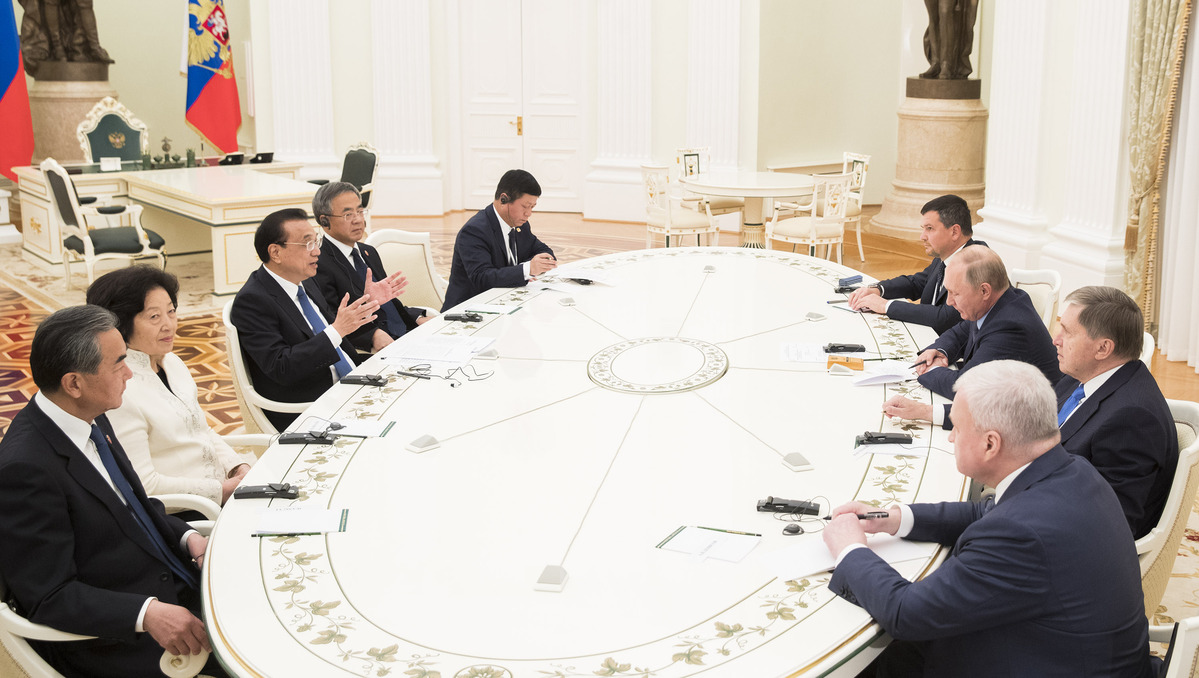 Boost to prosperity, stability of region and world expected as both countries agree to seek deeper, broader cooperation
Broader and deeper cooperation between China and Russia will bring prosperity and stability to the region and the world amid the current international economic and political situation, analysts said as Premier Li Keqiang returned to Beijing on Thursday after an official visit to Russia.
During the three-day visit, Li held talks and co-chaired the 24th regular meeting between Chinese and Russian heads of government with his Russian counterpart Dmitry Medvedev in St. Petersburg and met with Russian President Vladimir Putin in Moscow.
Both countries agreed on the necessity to deepen their strategic communication and pragmatic cooperation as the world is faced with growing instability and rising protectionism.
When meeting with Putin at the Kremlin on Wednesday, Li said the healthy and stable development of China-Russia relations is not only beneficial to both sides, but also conducive to the region and the world.
China is willing to jointly safeguard with Russia an international system with the United Nations at its core and a multilateral trading system based on the World Trade Organization's rules, which is of great significance for promoting the development, prosperity, peace and stability of the world, he said.
Noting that the bilateral ties have been upgraded to a comprehensive strategic partnership of coordination for a new era, Putin said the Russia-China relationship is an important stabilizing factor in international relations.
Li Yonghui, a senior researcher of Russian foreign policy at the Chinese Academy of Social Sciences, said Sino-Russian ties are now at their best in history, with the joint efforts of both sides since the establishment of diplomatic ties 70 years ago.
As permanent members of the United Nations Security Council, China and Russia also bear a responsibility to safeguard multilateralism and free trade as well as promote fair and reasonable rules in global governance, she said.
"Their joint efforts in this regard are injecting positive energy into the international community amid the ongoing resistance to promoting globalization," she said.
She added that the two countries are also putting their mutual political trust into pragmatic economic cooperation so that China-Russia cooperation can go deeper in broader areas including service trade, technology innovation and agricultural products.
In a joint communique signed by Premier Li and Medvedev after their meeting, the two sides agreed to create favorable conditions for closer bilateral cooperation in trade and investment, endeavoring to realize the target of $200 billion in bilateral trade.
They also agreed to deepen all-around integrated cooperation in areas including oil and gas, electricity, coal and nuclear energy.
Efforts will be made to improve their trade structure, foster new growth areas and develop new types of trade including e-commerce and service trade, according to the communique.
When jointly meeting the media with Medvedev, Li said that as China is further opening up with its manufacturing sector fully accessible, Russian companies are welcomed to seize the opportunity and invest in China.
China has been Russia's top trading partner for nine consecutive years and is also Russia's largest source of imports and destination for exports. In the first eight months of this year, bilateral trade totaled $70.59 billion, marking 4.5 percent year-on-year growth.
"Despite the increasing differences between major countries and a sluggish global economy, China and Russia have maintained the highest growth rate of trade volume between major countries in recent years," said Oleg Timofeev, associate professor at Peoples' Friendship University of Russia.
More potential remains to be tapped in new cooperative areas including nuclear energy, aviation, science and technology, and digital economy, he said.
Alexander Lomanov, an expert at the Institute of World Economy and International Relations at the Russian Academy of Sciences, told Russia's Sputnik news agency that Russia and China have in St. Petersburg made the first pragmatic step of developing their comprehensive strategic partnership of coordination for a new era, which was elevated during President Xi Jinping's state visit to Russia in June.
According to Lomanov, the 24th regular meeting between Chinese and Russian heads of government also bears special significance against the backdrop of the ongoing China-US trade tensions.