Task force to probe rare HK train derailment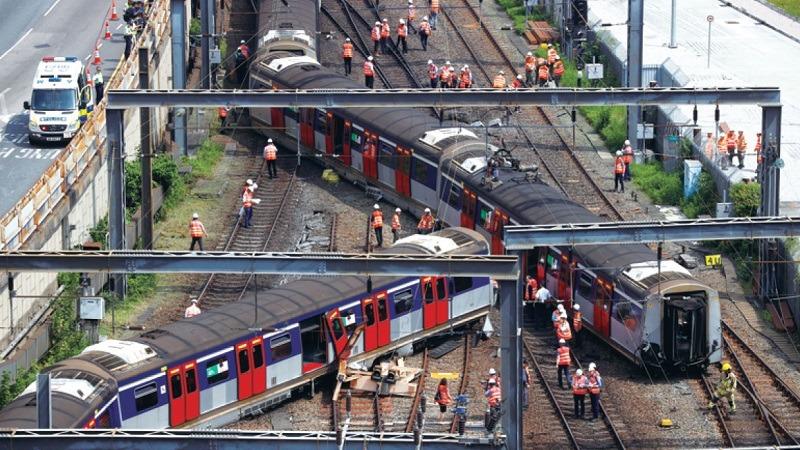 HONG KONG - The government will set up an independent task force to probe the rare derailment of a metro train on Tuesday morning near Hung Hom Station, said Alfred Sit Wing-hang, director of Electrical and Mechanical Services.
Sit said the investigation into the "extremely serious" accident may take three to six months, adding a crack was found on the rail track of the East Rail Line.
During the morning rush hour of Tuesday, a train with passengers heading to Hung Hom Station derailed, with some compartments detaching from the main train. The police and the firemen then arrived and helped trapped passengers leave carriages.
According to the Fire Services Department, eight passengers were injured in the incident and five of them were sent to the hospital.
After inspecting the accident scene, Secretary for Transport and Housing Frank Chan Fan told the media that any suggestions about the cause of the incident cannot be speculated on at the moment until the comprehensive and thorough investigation into the case is completed.
Chan pledged the department will cooperate with the Mass Transit Railway Corporation and other public transport operators in the city to reduce passenger inconvenience caused by the incident, as the train service might not be resumed by the end of Tuesday.
Adi Lau Tin-shing, operations director of the MTR Corporation, the city's sole rail operator, said the repair will take some time.
Apologizing to passengers for the "serious" and "rare" accident, Lau said the derailed train and its detached compartments will be towed back to the maintenance depot for an in-depth inspection. In the meantime, rail tracks and nearby facilities will also be thoroughly checked, Lau added.
Until 4 pm, train service between Hung Hom Station and Mong Kok East Station was suspended.
According to the MTRC, during the morning peak hours, the trains of the East Rail Line run at 2.5 minute intervals and carry about 86,000 passengers per hour per direction between Lo Wu or Lok Ma Chau and Hung Hom.
The incident also affected the service of the Guangzhou-Kowloon Through Train and Beijing-Kowloon Through Train as they share rail tracks with the East Rail Line in Hong Kong. According to the latest notice issued by the MTRC, eight runs between Guangzhou and Hung Hom and one between Beijing and Hung Hom scheduled on Tuesday were canceled.