Ancient Chinese treasures on display in Scotland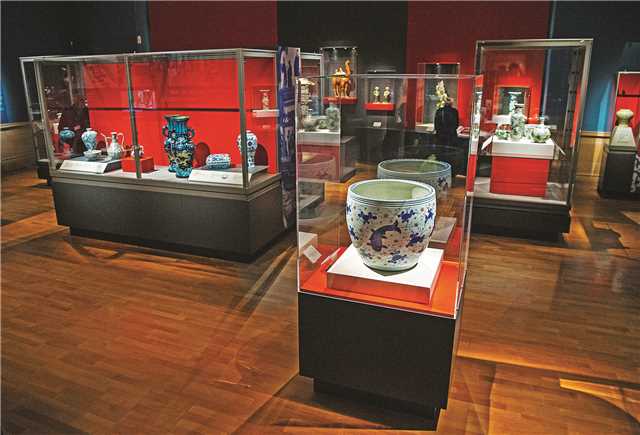 Dozens of ancient Chinese treasures including a rare Ming Dynasty (1368-1644) tankard and a 500-year-old cup that performs a practical joke are now on display at an exhibition in Scotland.
Sixty-three objects make up the temporary exhibit at the Kelvingrove Art Gallery in Glasgow. The items are on loan from the city's Burrell Collection museum that is closed until 2021 for refurbishments.
Among the highlights are tomb guardian figures from the Tang Dynasty (618-907), several 2,500-year-old ritual bronzes, a Ming Dynasty blue-and-white tankard and a booby-trapped Tantalus Cup that pours liquid onto its user from a hole in the bottom once the vessel is filled to the brim.
The Burrell Collection museum in Glasgow houses one of the most diverse and extensive art collections in Scotland. It features more than 9,000 items accrued from around the world by the late shipping merchant and philanthropist William Burrell, who lived from 1861 to1958.
Burrell had a particular interest in Asian artifacts, and more than a-fifth of his collection originated from China.
"It was Chinese art which was the largest part of William Burrell's gift to Glasgow," said Angus Grossart, chairman of Burrell Renaissance. "His supreme standards are reflected in the exceptional ceramics, jade and bronze objects which are on display at Kelvingrove Art Gallery and Museum. Their significance has grown enormously since his death as we have developed wider cultural understanding and curatorial knowledge."
Items in the temporary exhibition were selected by Chinese art expert Jorge Welsh and Chung Yupin, who is curator of Chinese and East Asian art for Glasgow Museums.
"Inspiration and pleasure were key aspects to consider when we were selecting the objects," said Chung. "Burrell's gift of his collection connects audiences to their past, to rich and varied cultures, to inspiring ideas and to places in Glasgow and Scotland where the history of these Chinese objects developed their intercultural context."
The Burrell Collection represents the third-largest collection of Chinese art in Europe. It includes 170 bronzes, more than 1,400 ceramics, and 146 pieces of jade, some dating back to the Shang Dynasty (c.16th century-11th century BC).
"The Burrell Collection's Chinese art is one of the most relevant, world class collections of its field," said Welsh. "The exhibition includes some of the most fascinating examples of bronze, jade and ceramic pieces acquired by one of the most prolific collectors of the time, including some of the most iconic examples, as is the case for what is thought to be the only recorded Meiping (vases) decorated with Persian inscriptions."
Scheduled for completion in the Spring of 2021, the Burrell Collection museum refurbishment will cost an estimated 66 million pounds ($82.2 million). The plan is to almost double the public viewing space in the building, allowing curators to showcase pieces that have remained in storage for decades.