Nashville native looks to make Chinese pop a hit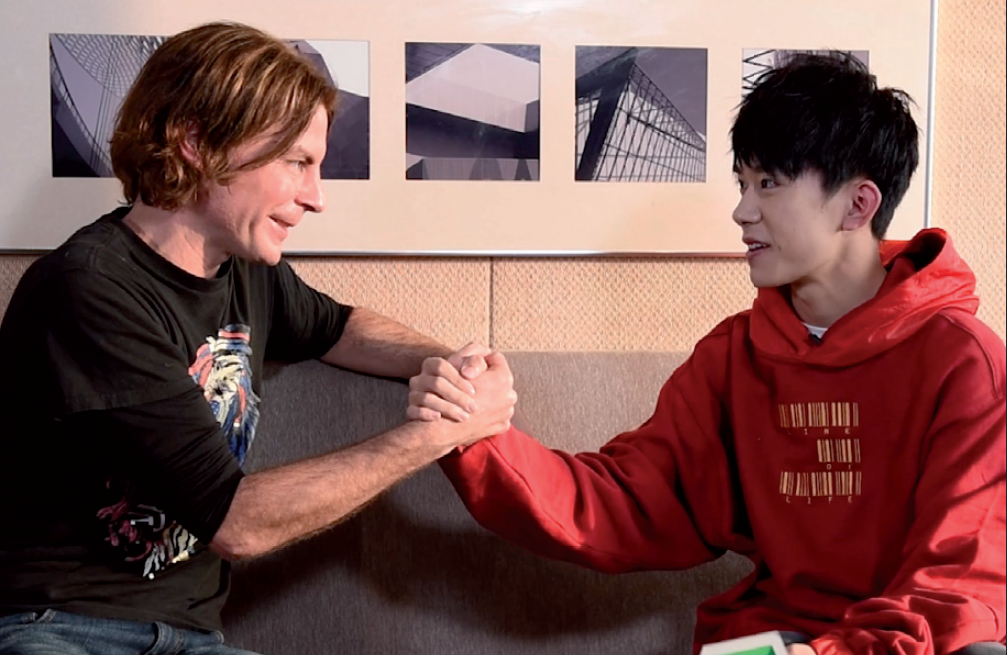 Stokes Neilson has a dream: make Chinese pop singers big in the United States.
He wants to find that Chinese talent who one day becomes as popular as the K-pop band BTS from Seoul.
Neilson was born and raised in Nashville, Tennessee, known as the "Home of Country Music" and "Music City", where the music industry has an economic impact of about $10 billion a year.
A 2000 graduate of Vanderbilt University in Nashville, Nielson dived into the music industry as a singer, producer, recording artist and song writer. He is a BMI-award winning songwriter and three-time Academy of Country Music Award nominee. He has produced original content for many of the leading artists in the entertainment industry, including Tim McGraw, Justin Bieber, Selena Gomez and more.
As the founder of Channel Greatness, a media content provider and online video channel-building company, Nielson also consults for major brands and broadcast media companies.
Five years ago, at the Grammy Awards ceremony, Nielson befriended a music group from Shanghai.
"They asked me if I would be willing to help them exposing Chinese artists in the US. They also suggested that I start to think about making songs available to the Chinese audience as well when I write a song. That started my real collaboration in China," said Nielson.
In the past few years, Nielson has promoted Chinese pop singer Jane Zhang and Jackson Yee of TFBoys in the US through radio stations.
He brought Zhang to the Grammys and set up interviews for her with top 40 US pop stations. "They talked about her music and played her songs," Nielsen said.
Nielson did an interview with Jackson Yee in China, brought it back to the US and had it aired in major pop stations. He also became friends with actor and singer Kris Wu.
"What the Chinese artists really need in the US is being exposed to the US audience. In the US, the audience generally discovers singers through radio. We started introducing these Chinese artists to Americans," he said.
He considers Zhang, Yee and Wu "fantastic" artists.
"Jane Zhang is one of the best pure singers on the planet. Her vocal range is amazing. Kris Wu is very creative. His new song Freedom proves that he is a wonderful lyricist. Jackson Yee is an amazing dancer. Each of them can compete with any on the planet," he said.
However, Chinese artists still need marketing, promotion and exposure to make it in the US. "You have to learn the American market, it's different from China," Nielson said.
After getting himself familiar with Chinese pop music, Nielson believes that he's in an exciting and once in a life time period of growth in China's music industry.
"China's film industry is very mature, the music industry is an emerging economy, and there are a lot of opportunities. A lot of music artists can benefit by having a collaborator in the US where the music industry is very mature," he said.
He believes that in the next four or five years, a Chinese pop singer will connect with American audiences in a major way.
"I want to be part of that story when it happens. I want to find, discover and promote that artist here. When I go back to China in September, one of my purposes is to become more aware of the new artists," said Nielson, who on average travels to China four times a year.
Nielson also wants to make American artists treat China as an equal market. He finds such opportunities abundant in China, particularly in Chengdu and Chongqing.
"We have been hearing news about the tariff issues between China and the US. We need to look at the broader story – these are two great nations that are trying to find out equitable way to work together," Nielson said.
"I want to do as much as possible with my counterparts in China to build a true bridge good for creativity and money. I believe music can build a bridge of understanding for the two cultures," Nielson said.
Recently, Nielson took a group of Chinese listeners of a Shanghai radio station to a Nashville studio, where one of his client artists was recording.
"They learned the lyrics in the studio. We had them sing, and they are recorded in the production. They are part of the song, which is coming out this fall. That's the kind of cultural bridge I am talking about," Nielson said.