Protestors continue violence in Hong Kong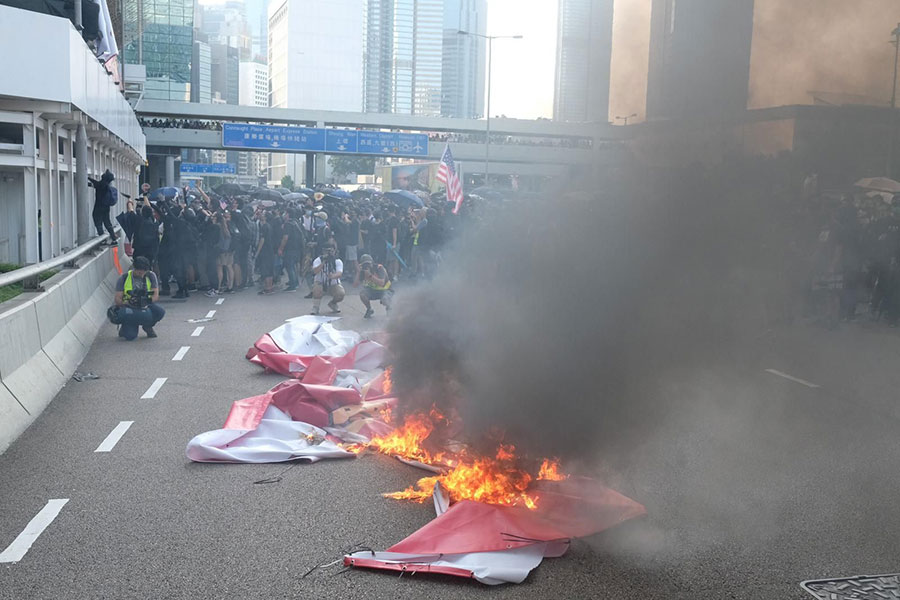 Protesters in Hong Kong on Sunday continued the violence that came to the city in June over a slated extradition bill, despite the bill having been officially withdrawn by government two weeks ago.
On Sunday afternoon, tens of thousands of anti-government protesters defied a police ban to march from the city's major shopping district, Causeway Bay, to Central, the city's business hub.
Protestors hurled bricks and petrol bombs at police and into government headquarters. The nearby Legislative Council issued a rare red alert, which indicates that all people inside are required to leave immediately.
Police fired tear gas and deployed a water cannon vehicle in retaliation. Having to conduct a dispersal operation, the force warned protestors to stop their illegal acts and leave the scene.
Protesters also smashed facilities at two major metro stations: Admiralty and Wan Chai on Hong Kong Island. They set fires at Wan Chai station and roads nearby.
As a result the city's railway operator, MTR, had to shut the two stations, as well as the nearby Causeway Bay station, due to public safety concerns.
Along the procession route, shops and shopping malls had to close earlier than usual, while tram services from Central to North Point were suspended.
The vandalism came as a top MTR official on Sunday said that repairs for damaged metro stations in the past two weeks totalled up to HK$10 million.
Jacob Kam Chak-pui, MTR Corporation CEO, said on a television talk show that the repeated vandalism to more than 90 metro stations has made it more difficult to carry out repairs, with an acute shortage of spare parts a major problem.
Some damaged stations that reopened the next day could provide only minimal services, Kam said. Parts had to be taken from intact stations to repair others that had been seriously damaged, Kam said.
On the same day, a group of anti-government protesters marched to the British Consulate General in Hong Kong, petitioning the British government to take action on Hong Kong affairs.
They shouted slogans and waved the Union Jack and the Hong Kong flag used in the colonial period.
A week ago, protesters gathered near the United States Consulate General in Hong Kong to urge US Congress to step into Hong Kong affairs.
Local analysts denounced such acts.
"These small groups of protesters volunteered to be pawns of Western countries amid the confrontation between China and the US," said Lau Siu-kai, vice-president of the Chinese Association of Hong Kong and Macao Studies, a Hong Kong affairs think tank.
The protesters urged Western countries to impose sanctions on Hong Kong, hoping to shock the city's economy, said Lau. They attempted to make China yield to economic pressure and compromise with them, Lau added.
On the other hand, the protesters expected that central government would be infuriated, and therefore take a tougher stance on Hong Kong, inviting more Western intervention, said Lau.
These protestors' backgrounds should be noted, said Lau, adding that those flying colonial flags either hadn't lived through the colonial era or had only experienced the brief period when the British government undertook softer governance in Hong Kong before the handover.
"Their lack of understanding the reality has glorified colonization," he said.
At the same time, this nostalgia for the colonial period was also aimed to humiliate central government and disgrace the "one country, two systems" principle, said Lau.