MTR to pay up to HK$10 million for damage repair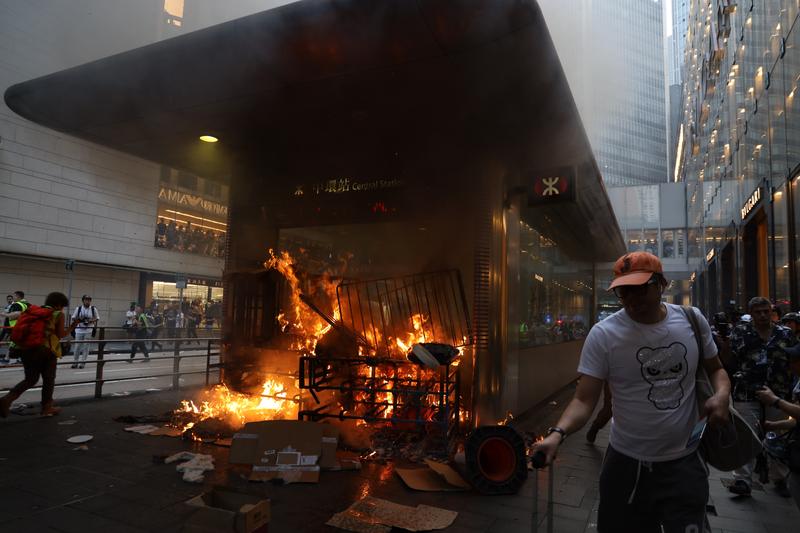 A top official of the city's sole rail operator on Sunday said repair cost for the damaged metro stations totaled up to HK$10 million.
Jacob Kam Chak-pui, chief executive officer of MTR Corporation, said at a television talk show that more than 90 metro stations have been vandalized by radical protesters in the past two weeks.
He added that repairing those damaged metro stations has been made more difficult by repeated vandalism targeting the railway system. The acute shortage of spare parts for repair was one of the main problems, Kam added.
Some damaged stations that reopened the next day were limited to providing only minimal services, Kam pointed out. For example, only two of the six ticket machines at a station were operational on one of those stations. Sometimes, parts were removed from another intact station to be used to repair another station that was seriously damaged.
Radical protesters had smashed the turnstiles and ticket machines, wrecked surveillance cameras and fire fighting equipment in various stations, and harassed MTR staff. On Sept 8, they set fire at the exit F of the Central station in the city's business center.
In addition to the damage repair work, MTR also faces another pressing problem posed by some protesters who were seen jumping over the turnstiles to avoid paying fares.
Kam said they would set up a contingent of some 200 security guards to enforce the Mass Transit Railway By-laws. Violators of the by-laws in fare evasion or breaking the facilities will face punishments ranging from fines to imprisonment.
The police would step in to maintain security in the stations when MTR deemed it necessary in situations that endanger the safety of the passengers and trains, Kam added.
The MTR had recorded a decrease in passenger traffic in recent months, according to Kam. The main reason, he believed, was that many people have cut back on going out to shop and dine in their leisure time because of the frequent demonstrations and violent clashes across the city in the past weekends.