Tourists clamor for a slice of island life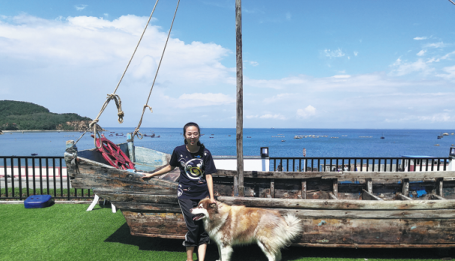 More visitors are coming to Changhai County of Dalian, Liaoning province, for beautiful island scenery, delicious seafood, and even dolphin-spotting.
"We're thinking of opening regular dolphin-spotting tours next year," says Guo Chengjin, who is running a Chinese-style bed-and-breakfast business, or minsu, with her mother.
"In recent years, the dolphins have been seen in the local waters around April and they stay until November. It's not difficult to find them. By taking a boat trip people sometimes see pods of more than 100 dolphins," she says.
With the name of Haide Jijie, or seasons of the sea, Guo's homestay has 30 rooms near the seaside on the Dachangshan Island, one of the biggest of the 252 islands comprising Changhai County.
Changhai is located on the Yellow Sea, facing the east of the Korean Peninsula. It is the closest point to Japan and the Republic of Korea in Northeast China.
Every summer, tens of thousands of tourists vacation on the islands, making the most of local homestays, inns and hotels.
The Haide Jijie ranks highly on Ctrip, China's largest online travel agency.
"My family had a wonderful short getaway. Everyone is satisfied with our stay here. This place is like a northeastern version of Phuket, Thailand," one user writes on the Ctrip website.
"We really enjoyed the delicious and fresh seafood, especially the oysters and scallops," she adds.
Changhai is famous for its authentic and tasty seafood, including trepang (a kind of precious sea cucumber), abalone and sea urchin.
According to Guo, their minsu can provide set meals for guests. They can also order separately or buy fresh seafood from local markets or the fishing port to bring back to cook.
"The seafood here tastes really good. More importantly, it is of high quality and inexpensive," writes another Ctrip user, who went there twice this summer.
It's a seaside paradise, with some visitors digging clams or picking up little crabs and sea snails in the flats at low tide, while others enjoy sea fishing and boat tours.
Some, however, just want to sunbathe on the sandy beach or frolic in the ocean.
For those who prefer their animal entertainment to be based on land, Guo's pets-an Alaskan Malamute and 12 cats-love the attention of the guests at the minsu.
`