Vertical farming labs set sights on China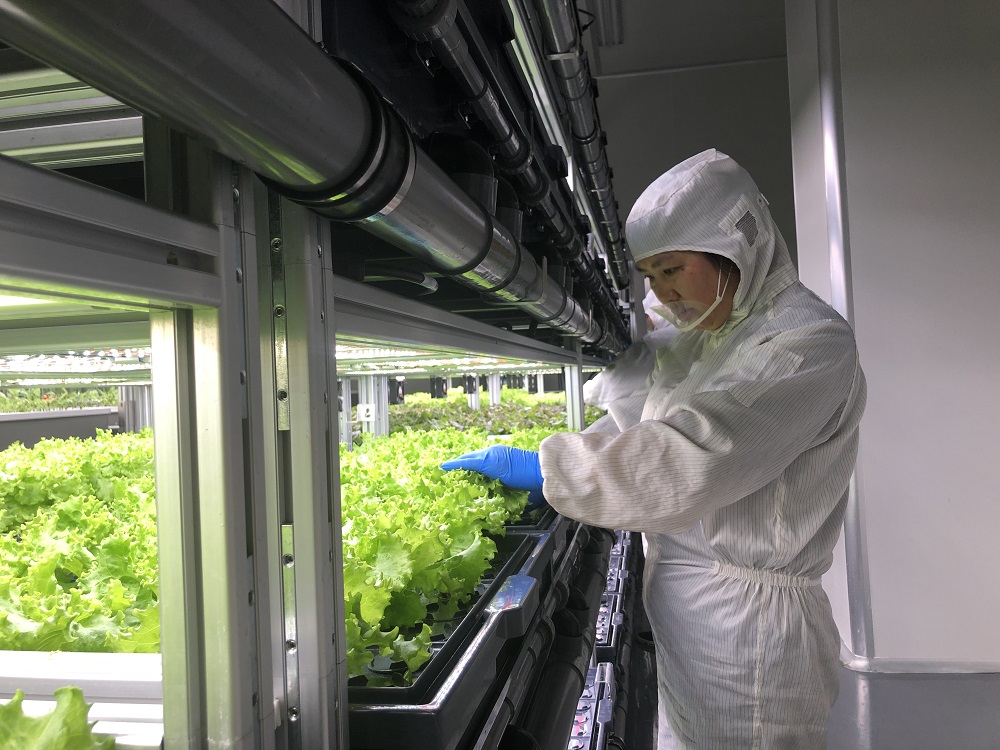 While indoor farming companies race to transform the future of food production, they have set their sights on China to capitalize on the country's growing demand for food production and food safety.
"Vertical farming is going to become important everywhere, and China does have these massive populations inside cities because people are leaving the countryside into the cities," said Roger Royse, a lawyer and founder of AgTech Innovation Network in Silicon Valley.
In vertical farming facilities, plants, such as vegetables, flowers and herbs, are grown in stacked layers with a software-managed system regulating temperature, water, nutrients and LED lighting that replaces sunlight.
"The technology is getting so good that people are able to grow crops in the inner cities. I think that's going to be another big thing," said Royse.
One of the advantages of vertical farming is that the controlled environment won't be affected by adverse natural conditions that conventional farmland often faces, said Wu Zhongbo, vice-general manager of Shanghai Xinghui Vegetables Co, Ltd.
His company purchased an aeroponics system from a US indoor farming company in 2017 and has since been exploring the technology. "We have verified the technology and now we are studying the economic feasibility," said Wu. "The cost for infrastructure and equipment depreciation is still too high, compared to conventional farming."
But to Chinese consumers, safety would be a selling point since the confined indoor space creates a pesticide-free environment, he said.
Despite the challenge of high cost, some Silicon Valley indoor farming startups are geared up to tap into China's growing demand for organic foods as the fast-growing middle class with more buying power is willing to spend more on higher-quality produce.
"A head of organic lettuce sells at 35 yuan ($4.9) in high-end grocery stores in Shanghai. Our targeted customers are those who are price-insensitive," said Wendy Chen, vice-president of AEssenseGrows, an indoor farming company in Silicon Valley.
The company has a growing facility in Shanghai primarily for demonstration of their indoor growing systems, and part of the vegetables produced in the facility is available in local grocery stores.
The lettuce grown in that facility, though not labeled as "organic", sells about 25 yuan ($3.5) per head, said Chen. To appeal to consumers and to increase economic value, they are growing seasonal salad greens or exotic varieties, such as ice plant, she said.
The company has recently partnered with a major state-owned company in Shanghai to build a vertical farming facility covering a space of 5,000 square meters in the city. The project, which is in the process of getting authorities' approval, is expected to enter production next year, said Chen, who didn't disclose further details.
To address the challenge of high cost, Robert Chen, president and CEO of AEssenseGrows, said they are working to increase the layers and energy efficiency. He also plans to employ AI technology to analyze growth data and optimize the growing condition for specific plant varieties.
"I hope the Chinese government can give more support to indoor farming technologies. Like solar technologies and electric vehicles, I think vertical farming will be a trend of the agricultural industry," he said.
Plenty, another Silicon Valley-based agriculture startup, announced last year that it planned to build at least 300 vertical farms in or near major cities across China, and it expected the China market to contribute 25 to 50 percent of their business in the future, according to a Reuters report.
"China is both a good big market and a source of supply," said Royse.