Relocation of rural children gives them a chance to dream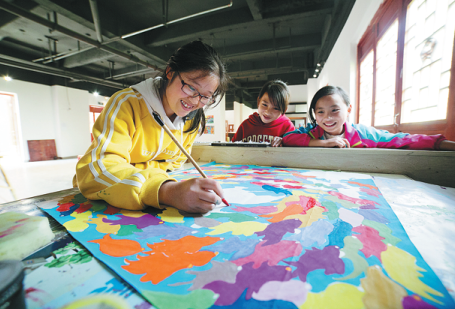 Living in the county allows Zhu to receive professional dance training, and she practices hard in her spare time.
She said she dreams of becoming like Yang Liping, a famous Chinese choreographer and dancer.
"I felt like my dream was closer to becoming a reality after moving away from the mountains and into the county," she said.
Zhu said she likes her new home because she only needs to walk about five minutes to get to school every day and can study in a bright, clean classroom. She previously had to walk about an hour and a half from her old home just to get to school.
Her mother runs a small shop in the community and her father secured a job in the county, giving the family a stable income.
Yang said she has never been happier, because her mother has found work in a wig factory in the community and doesn't need to travel far away anymore. She added that her father has given up alcohol.
Zeng Mao, 26, a volunteer dance instructor for the troupe, said, "moving into the county helps children meet more people and learn new things, which is important when they're growing up".
"Yang was very diffident when she came to the county. She blushed when talking with people, but now she can perform before hundreds of people without having stage fright."
Other young performers in Zhu's troupe, who also once lived in rural areas, have become more confident. They have expressed desires to become dancers, musicians, painters, teachers and flight attendants.
Relocation has been one solution used by China in recent years to help people living in rural areas cast off poverty and have better lives.
In Guizhou, more than 1.8 million impoverished rural residents moved out of the mountains and have been relocated in cities and towns over the past few years. The government provided them with jobs and schools for their children.
In Bijie alone, the central government has invested over 1.9 billion yuan ($265.7 million) and the provincial government over 14 billion yuan since 2016 to put relocation policies into practice.
Xinhua