Old music's new appeal
Share - WeChat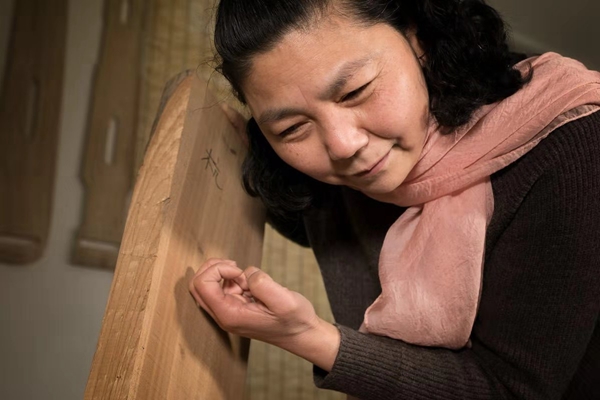 A guqin concert serves as a highlight of a recent culture festival, Zhang Kun reports in Suzhou.
The Suzhou Culture and Tourism Festival, which started on Aug 24, is showcasing 22 performances of 18 theater productions, arts-and-crafts exhibitions that reflect the cultural characteristics of the city, and public and educational events through September.
A guqin (traditional zither) concert will be held at the Jinji Lake Concert Hall on Sept 24. Masters of the intangible heritage will present repertoires developed over centuries.
While the Yangtze Delta region in general is recognized as a center of guqin culture in China, Changshu, a county-level city under the jurisdiction of Suzhou, Jiangsu province, is the official hometown of this music. The art was inscribed by UNESCO as an Intangible Cultural Heritage of Humanity in 2008. Changshu was named by the Ministry of Culture as the hometown of guqin the same year.
Today, guqin is widely taught and played in Changshu, and programs are held in such local schools as the Shimei Primary School. It is popular at educational centers for the elderly, too.
Wang Feng, a veteran guqin educator, performed alongside her students at a summer roundup recital in Changshu on Aug 29. Among her students are children as well as grown-ups.
"Some have come from Yunnan province in southwestern China, and there used to be students from Japan and the United States," she says at the Museum of the Yushan School of Guqin Art in downtown Changshu.
Children usually start at the age of 6 or 7, when their fingers are firm enough to pluck the strings, which are traditionally made of silk and now steel, she says. The strings were changed to steel in the 1960s and helped guqin to produce louder sounds and stronger expressions.
Learning to play helps children to concentrate, and improve patience and discipline. Also, the practice helps to introduce classical Chinese art and literature to children at a young age. Wang says she has found that the number of adult learners is also growing.
Over the past few years, culture clubs have mushroomed all over the country, where tai chi, calligraphy, ink painting, tea ceremonies and other traditional arts and crafts are practiced. Guqin is a popular subject. However, it is difficult for adults to master the techniques.
"They have too many errands to run. They're too busy with work and have too many distractions. They often give up after awhile," Wang says.
The process of creating a guqin is shown at the Yushan museum. The instrument consists of a sound box made using two pieces of wood-usually cedar on the top and catalpa on the bottom. Simple as it sounds, the characteristics of the sound are achieved through the quality of the wood and interior structure.
That is why "you can buy a basic-level instrument mass produced in factories, but instruments handmade by master artisans can cost more than 100,000 yuan," Wang says.