How much money does a student need per month?
Share - WeChat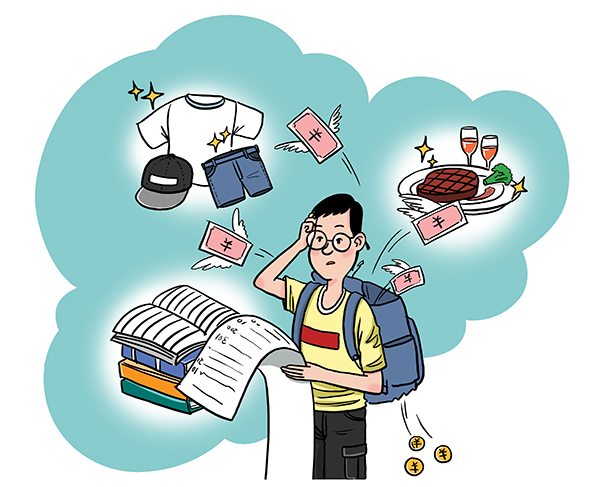 Editor's Note: A first-year undergraduate student in Chengdu, Sichuan province, recently complained online that her mother refused to raise her monthly allowance to 4,500 yuan ($633) even when she said her current allowance 2,000 yuan was not enough to cover her expenses, sparking a debate on how much money a college student needs per month. Two experts share their views on the issue with China Daily's Yao Yuxin. Excerpts follow:
Students should pursue education, not comfort
Even for a college student studying in a first-tier city in China, 2,000 yuan is enough to cover all his or her monthly expenses. In fact, for a college student in Chengdu a monthly allowance of 2,000 yuan is more than enough. According to a survey conducted by a bookkeeping platform, the average monthly expense for an undergraduate in cities other than Beijing, Shanghai and Hangzhou was less than 2,000 yuan in 2019; for Chengdu, it was 1,900 yuan.
Claiming that she can hardly afford new clothing and cosmetics with her 2,000 yuan monthly allowance, the undergraduate student in Chengdu criticized her mother for refusing to raise her pocket money. Her "meager" allowance, she said, prevented her from buying branded goods that her hostel-mates enjoyed. Her attitude suggests she is influenced by fellow students' lifestyle and consumption habits.
By the time a person enters a college, she or he should have developed a healthy consumption habit. And a youth should adjust her/his consumption according to her/his family income.
Yet most youths get to stay alone and enjoy autonomy only when they enroll in a college. So that is when they should learn how to plan their expenses and manage with the money they get from their parents.
On a deeper level, the money they spend in college should depend on how much they value their parents' hard work. As such, students should learn to manage their expenses by developing healthy consumption habits and refraining from indulging themselves.
Besides, some college students could take up part-time jobs to meet their monetary needs if they feel their parents don't or can't send them enough money. In this way they can also learn to meet the requirements of life in the future and develop healthy consumption habits.
More important, they should always bear in mind that education is their top priority in college.
Chu Zhaohui, a senior researcher at the National Institute of Education Sciences
Irrational consumption habits behind students' unhappiness
Obviously, it's unreasonable for the Chengdu student to demand 4,500 yuan a month from her mother despite her family paying her tuition and dormitory charges.
Her complaint shows that her family likely met all her demands as a kid or failed to teach her the valuable things of life such as frugality and self-control.
Several reports in recent years have narrated how college students fell into debt by borrowing huge amounts as loans from loan sharks to meet their excessive consumer needs.
Actually, the irrational consumption habits of some university students can be blamed on their inability to manage things independently, as they are dependent on their parents for almost everything in life. Unlike many parents in the West who teach their kids how to manage their affairs independently-something they have to once they start living alone-Chinese families in general offer financial support to even their grown-up children.
Second, the excessive amounts some college students spend mostly on otherwise unnecessary consumer goods is due to their lax financial management, which can be attributed to their parents' failure to teach them life skill and the grade-oriented education system in schools, from the primary to the higher secondary level.
Some undergraduates cannot make ends meet because they are easily lured by their fellow students' conspicuous consumption habits to spend more on unnecessary goods.
It's hard to say exactly how much money an undergraduate needs as living expense because it should be decided by the concerned family and the average monthly expense in the city where the college is. But 1,500 yuan a month should generally cover the basic expenses of an undergraduate.
Xiong Bingqi, deputy director of the 21st Century Education Research Institute
The views don't necessarily reflect those of China Daily.
Most Viewed in 24 Hours
China Views