Li calls for greater cooperation between China and Japan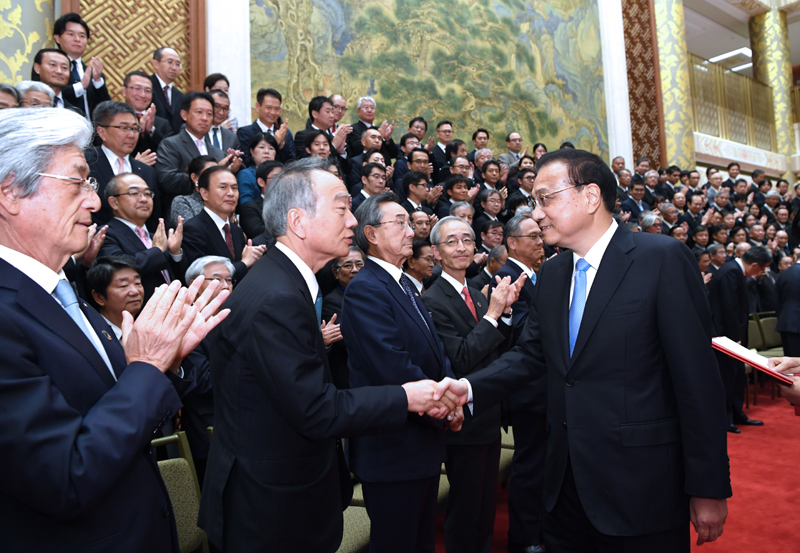 Premier Li Keqiang said on Wednesday that China and Japan should work to jointly increase cooperation amid the downward pressure of the global economy.
Li addressed a visiting Japanese business delegation and said further cooperation between the two countries helps the regional and global economies to improve steadily.
Bilateral trade and economic cooperation have moved forward steadily, with Japanese investment in China registering double-digit growth since last year, he said.
Li spoke highly of efforts by the Japanese business community to improve the healthy and stable development of bilateral relations and promote pragmatic cooperation, especially during the difficult times of bilateral relations.
Economic globalization is an irreversible trend, and trade and economic ties should not be hindered by geographic borders, he said, adding that promoting the healthy development of globalization ensures mankind's progress.
China stands firm in safeguarding the multilateral trade system with the World Trade Organization and in promoting trade and investment liberalization and facilitation, the premier said.
China will unwaveringly promote comprehensive opening-up, with more sectors set to be opened at a greater degree, he said.
Li invited the Japanese business community to increase investment in China, to expand in cooperative areas and to promote more beneficial outcomes from bilateral trade and economic cooperation.
Japanese business leaders voiced their firm support for free trade, saying that they looked forward to a solution to the trade dispute between China and United States through negotiation, according to a press release after the meeting.
They also made clear their intention to increase cooperation with China in areas such as scientific and technological innovation, climate change, coping with an aging society, healthcare, nursing and tapping into third-party markets.