Board gamers set for one smart move ahead
Share - WeChat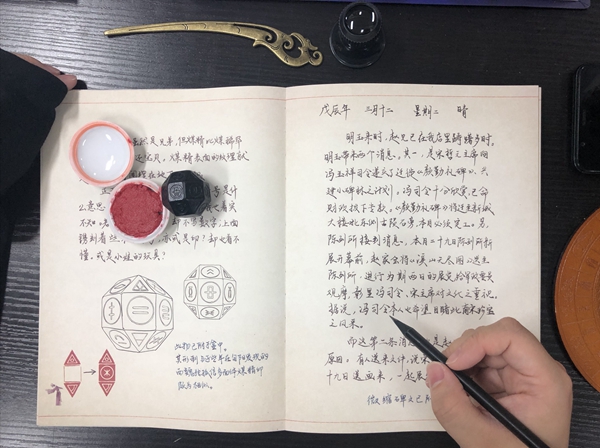 Appeal of non-electronic entertainment grows as more people realize its benefits, Xu Lin reports.
Board games seem a throwback to a different era. A pre-mobile phone era. An era of dice and not a computer mouse. An era not of virtual reality but of imagination when you could be either a rich merchant, an awe-inspiring general, or a successful politician.
The Dice Con 2019, an annual board game convention in Beijing, is a gathering allowing fans to experience the thrill of games that are not electronic and are actually making a strong comeback.
With more than 152 exhibitors from home and abroad, the convention over Aug 23-25 covered an area of 6,400 square meters, two halls of National Agricultural Exhibition Center, and received over 30,000 visitors. There they were able to play various board games at tables before making up their minds whether to buy or not. Some parents took their children to enjoy the board games especially designed for kids and possibly rekindle some of their own childhood memories.
According to market research store Research and Markets, the global board games' market is expected to be worth $12 billion by 2023, growing at a compound annual rate of more than 9 percent over 2017-23.
"Playing board games either with friends or the family is excellent entertainment. It also strengthens mutual understanding," says Beijinger Sun Yumiao, 32, who visited the convention with her friends. She bought two imported board games for about 1,000 yuan ($140).
When she was a child, she fell in love with the Monopoly board game where players trade property. Board games have an added educational aspect as players have to think quickly and they are better at brain development than computer games or just watching TV.
Vincent Dutrait, a veteran French board game illustrator, was one of the keynote speakers in Dice Con 2019. He says: "Illustration for books is generally about decoration, but illustrations for board games are different. They must be functional-to transmit the essence of the game and help players understand the mechanism."
He visited China several times in the 1980s and 1990s, and was surprised by the country's great changes. He attributes his interest in Asian culture and history to his family. His father is a Sinologist and his mother is a reporter, and they've worked together to translate Chinese novels into French.
"To draw illustrations for board games is a unique experience. Because accessories for different games are unique-they vary in shapes and sizes, and some are designed in 3D," he says.
Most Popular