Ancient Chinese art bonsai takes root in Cuba
Share - WeChat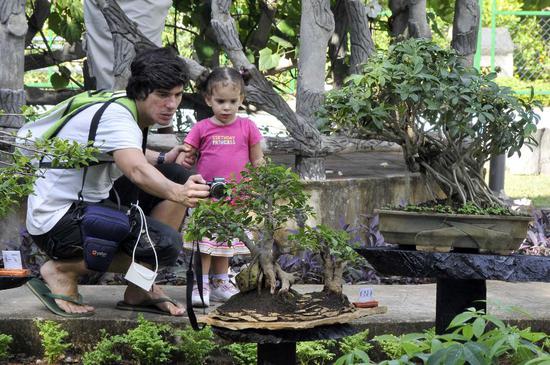 Bonsai clubs have sprouted throughout Cuba, bringing together fans of the ancient Chinese horticultural art form in the cities of Matanzas, Ciego de Avila, Holguin, Santiago de Cuba and in the capital Havana.
Havana's club gathers 24 active members -- whose Biennial Salon to showcase their creations just opened at the House of Chinese Arts and Traditions -- in the heart of Chinatown.
The show features almost 50 miniature trees, from lemongrass to casuarina and many other species collected locally, but trimmed and pruned in keeping with the Asian pastime.
Jorge Guerra, 68, a journalist, was introduced to the art of bonsai by a neighbor.
"He is a person with a lot of theoretical knowledge, but he has never made a bonsai. He lent me the first books I read on the subject," said Guerra.
All the knowledge he acquired from the books prepared him to model his first tree in 1997, and he has not stopped since.
Guerra went on to co-found the Habana Bonsai Group in 2003 and is now its president.
The group organizes two training workshops each year.
"In the course we teach not only how to make a bonsai, but we also give information about Cuban plant life, in order to identify the species we can work with," said Guerra, the coordinator and main teacher of the workshops.
Club members collect trees on the periphery of the city, mainly in coastal areas or wetlands, and cultivate them in a small tray or pot, using techniques such as transplantation, pruning, wiring and clamping.
The main problem facing local bonsai fans today is the lack of tools and trays for cultivation, which they solve by improvising or asking friends to bring from abroad.
In December 2016, Guerra traveled to Shanghai, where the international "Bonsai Without Borders" organization was founded. The Havana group now belongs to it, as well as to the Latin American and Caribbean Bonsai Federation and the Black Scissors Community.
Nobody seems to know how the art of bonsai making reached Cuba, where it has apparently found fertile ground to grow.
Most Popular