Famous violinists take to the stage to honor Sheng Zhongguo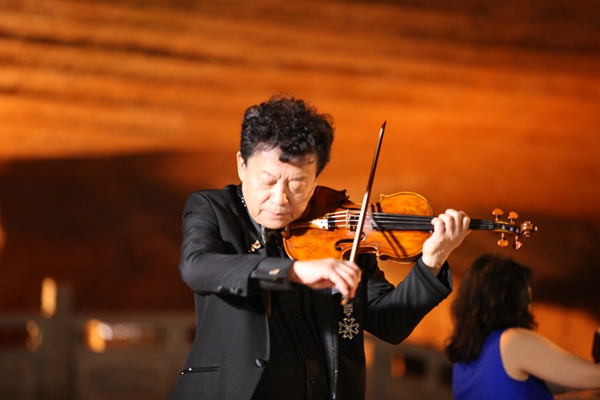 Top Chinese violinists, including Lyu Siqing and Liu Yunzhi, will gather in Beijing to give a concert commemorating the life of their late compatriot, Sheng Zhongguo, who died of a heart attack in Beijing on Sept 9, 2018, at the age of 77.
The concert will be held at the Forbidden City Concert Hall on Sunday.
Sheng, considered one of China's most talented violinists, was known for his interpretation of the Butterfly Lovers violin concerto, composed in 1959 by He Zhanhao and Chen Gang when they were students at the Shanghai Conservatory of Music.
Initiated by Sheng's wife, Japanese pianist Hiroko Seta, the concert, with four sections, will feature repertoires including Sonata in A Major for Violin and Piano by French composer Cesar Franck, Pastoral Song by Chinese composer Han Shakun, and The Spring of Xinjiang by Chinese composers Ma Yaoxian and Li Zhonghan.
Chinese violinist Liu Yunzhi will open the concert with Meditation, the famous violin piece from French composer Jules Massenet's opera, Thais. The concert will close with the Butterfly Lovers violin concerto, performed jointly by all of the violinists.
"My husband believed that musicians are like warriors and the stage is like a battlefield. He took each of his performance seriously and the best way to pay tribute to him is through music," said Seta in Beijing on Thursday, who will perform at the concert alongside the Chinese violinists.
Since 1987, Sheng had been performing at annual concerts held in Japan, where he donated part of the proceeds to medical foundations for overseas students. It was there that he met his wife, with whom he performed at the concerts. During the upcoming commemoration concert, Seta will "share the stage" with her husband through his previous recordings.