UK startups advance in Chinese tech contest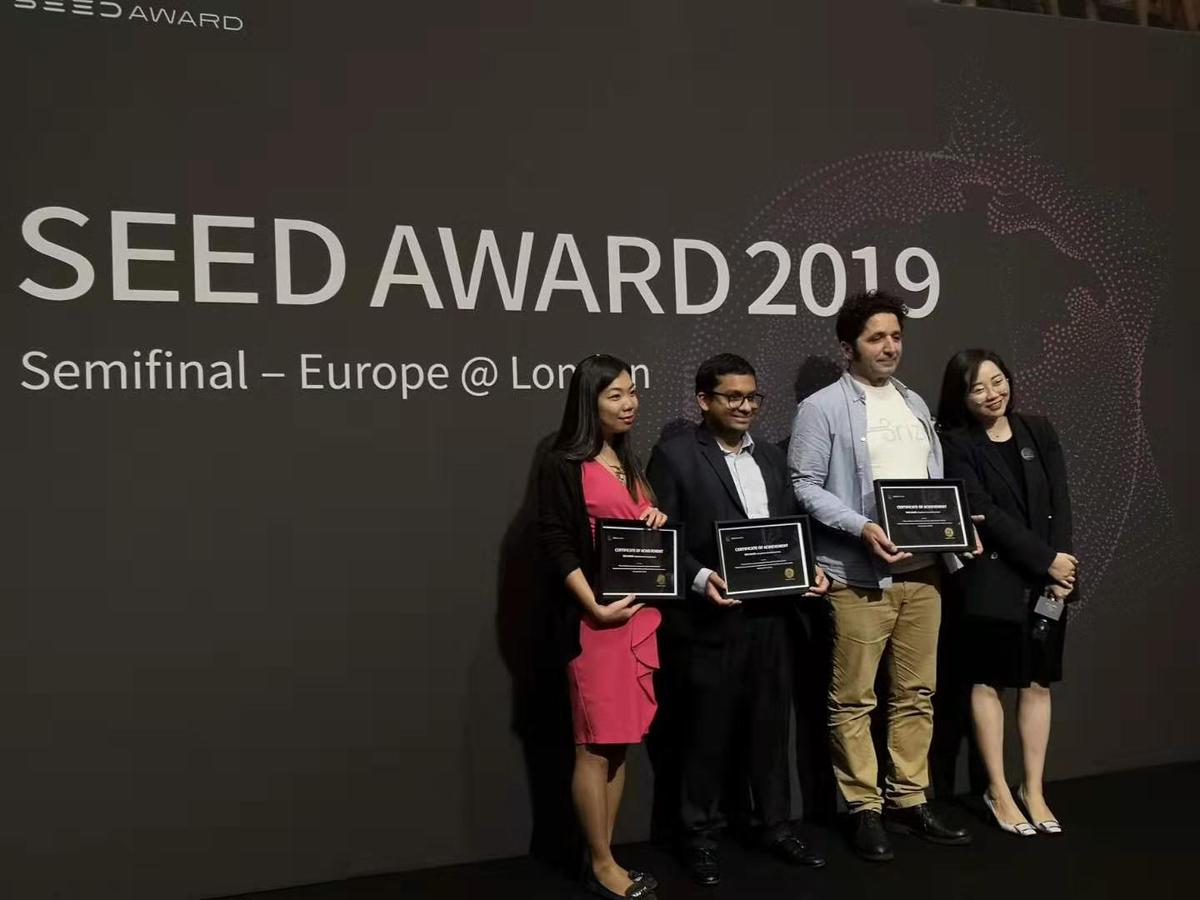 Three British startups have advanced to the final of the Seed Awards, a new China-run global competition for companies that use technology to improve everyday life.
Launched in May this year by Guangzhou-based real estate company Seedland Group, the Seed Awards offer mentoring and cash prizes to young companies.
Early stage funding will go to startups that provide innovative solutions to problems across a wide range of industries including healthcare, transport, infrastructure and logistics.
The contest's third regional semifinal involving European startups was held in London on Thursday evening.
At the event, startup companies AmeryzBio, Brizi and Wootzano all claimed spots in the Seed Awards final, which will be held later this year in China, where the overall winner will take home 1 million renminbi ($140,000), and three runners up will receive 200,000 renminbi each.
"This competition is in the spirit of our company, we like seeding things," said K. K. Ng, chief marketing officer of Seedland Group and chairwoman of the Seed Awards. "We are giving nutrition, water and sunshine to grow these ideas. We believe in applying technology and innovation to daily life. We are looking for creators from all over the world who can provide solutions that make lives better."
Seedland Group put on events to spread the word about the contest earlier in the year at Peking University in China, Oxford University in the United Kingdom and Stanford University in the United States.
More than 1,300 startups from around the world applied to the competition, and shortlisted entrants have gone head-to-head in three regional contests.
The event in London served European startups, and the Asia Pacific and North American semifinals were held over the summer in Guangzhou and San Francisco respectively.
On Thursday, representatives from 10 startups presented to a panel of judges from the world of tech.
UK-based biotechnology company Ameryz Bio was selected for its cancer-detection technology. Using blood samples, the company has developed a system that delivers point-of-care cancer screening that can spot the disease in its early stages.
Brizi was also a winner on the night. The London-based startup develops a device that creates a clean air barrier inside prams, protecting infants from pollution. The device is linked to an app, which can alert parents about the least polluted route to take when out and about.
UK-based startup Wootzano impressed the judges with its electronic skin that provides robots with the ability to sense and feel in a humanlike manner. The company is already testing its technology in warehouses in robots that sort through ripe and unripe vegetables and fruit.
Along with the winners in London, six other startups will present to judges at the finals in China.
Two healthcare startups from the Asia Pacific region will participate, including Israeli company My Cell Therapeutics, which specializes in tissue engineering and 3D-printed organs.
Most methods of organ engineering use cells from a patient to create two-dimensional sheets of tissue that are then placed on an organ scaffold, or matrix, taken from a donor, an animal or a synthetic mould.
That means that the donor organ might induce a harmful immune response in the patient. My Cell Therapeutics has developed a method in which this matrix is generated from a special gel and cells from a patient's fatty tissue, which decreases the probability of organ rejection.
A team of bioengineering students from Tsinghua University is also up for the award for the surgical robot Pinpoint, which take biopsies from lung cancer patients. Surgeons often need multiple attempts to take an accurate biopsy of a target in the lung due to the great complexity of the organ. According to the team from Tsinghua, Pinpoint has performed better than human surgeons in early stage trials.
A team of students from Hebei Engineering University in China also made it through the Asia Pacific semifinals after presenting Dredging Robot, which is a robot designed to clear blocked sewers after flooding or heavy rain.
US-based company Sana Health was one of three companies to advance from the North American semifinal in San Francisco this summer. The company has invented a headset that provides drug-free chronic pain relief by stimulating the brain through light and sound impulses.
San Francisco-based network provider Nodle also advanced with its Bluetooth technology that offers a low-energy connectivity service for the Internet of Things (IoT) by using smartphones as a base station.
The third finalist from the North American regional contest is Ampaire, a US aerospace company specializing in low-emissions air travel. The company has already begun flight tests on a hybrid plane that uses both a combustion engine and an electric powertrain, and hopes to one day produce an all-electric commuter aircraft.