Infrastructure, trade top agenda as Kenyan President meets special envoy from China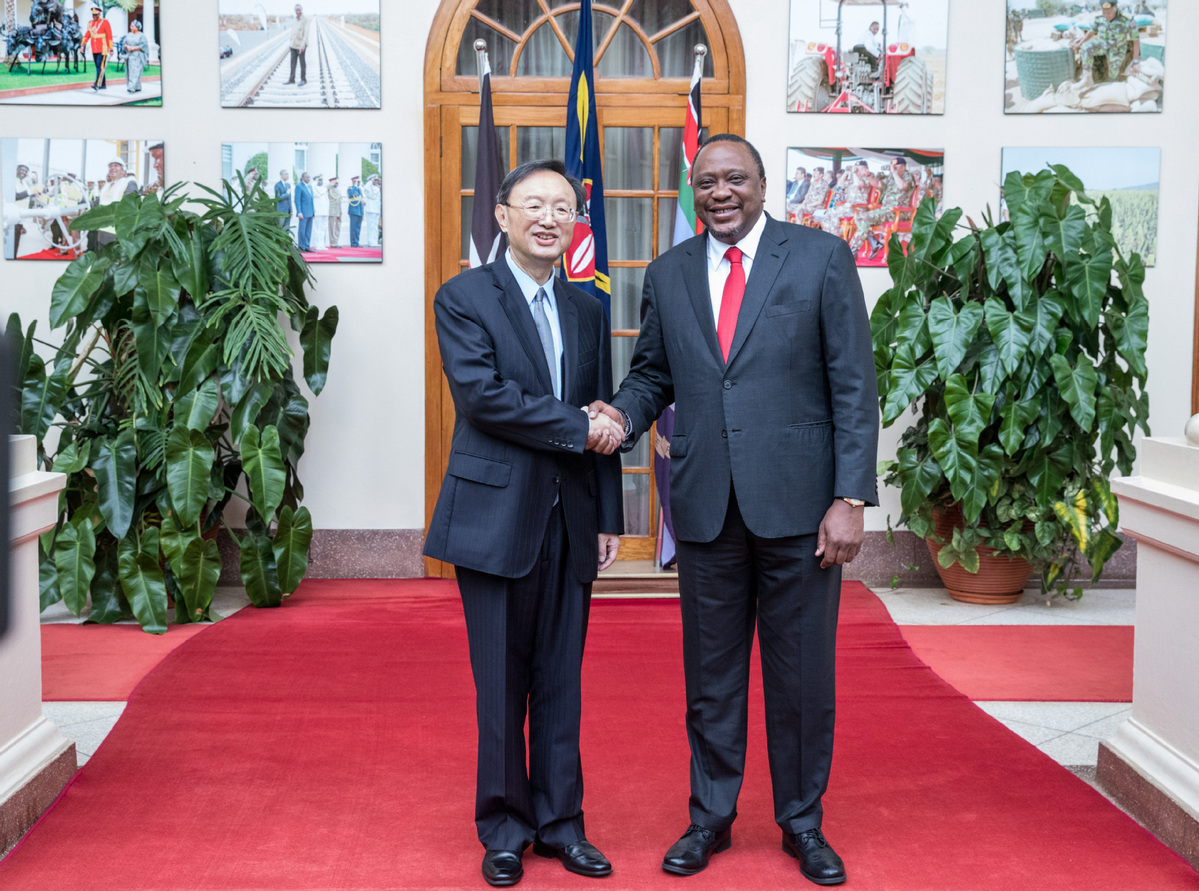 Kenyan President Uhuru Kenyatta on Wednesday met with a special envoy sent by President Xi Jinping at the State House in Nairobi where they discussed infrastructure and trade between the two countries.
Kenyatta and special representative Yang Jiechi, also a member of the Political Bureau of the Central Committee of the Communist Party of China and director of the Office of the Foreign Affairs Commission of the CPC Central Committee, discussed bilateral ties between China and Kenya.
The president said Kenya's partnership with China has enabled the country make great strides in development, and is helping Kenya and the region open up for more trade.
He added that infrastructure projects jointly undertaken by China and Kenya are driving regional integration, attracting foreign investment and generating more jobs.
Kenyatta noted the cordial relationship between the two countries and emphasized the need to stimulate private investment.
"We need to really now focus on how we can work together to get our private sector to work closer together – how we can attract Chinese investors, manufacturers, industrialists and other business people to Kenya," said the president.
Yang Jiechi said that China is committed to continue helping Kenya achieve Vision 2030 and the Big Four Agenda, under the framework of the Belt and Road Initiative and by implementing agreements made at the Beijing Summit of the Forum on China-Africa Cooperation.
He said the pragmatic partnership between the two countries has achieved remarkable results. The Mombasa-Nairobi Standard Gauge Railway (SGR) has been running well and phase one of the Nairobi-Malaba SGR is near completion.
"With the railway, we can have industrial parks stimulate comprehensive trading activities. With the railway, access has been improved in addition to enhanced efficiency in trade either in Africa or in China or in other countries," said Yang.
On the trade imbalance between the two countries, the visiting Chinese official assured Kenyatta that his country was working on opening up the Chinese market to more Kenyan products.
He added that China is willing to strengthen coordination and cooperation with the Kenyan side in international and regional affairs and jointly safeguard multilateralism, international fairness and justice and the common interests of developing countries.
Yang earlier met the Kenyan foreign affairs cabinet secretary, Monica Juma, at her office.
PSCU (Presidential Strategic Comunication Unit) contributed to this story.