Tobacco association says industry ignoring sales rules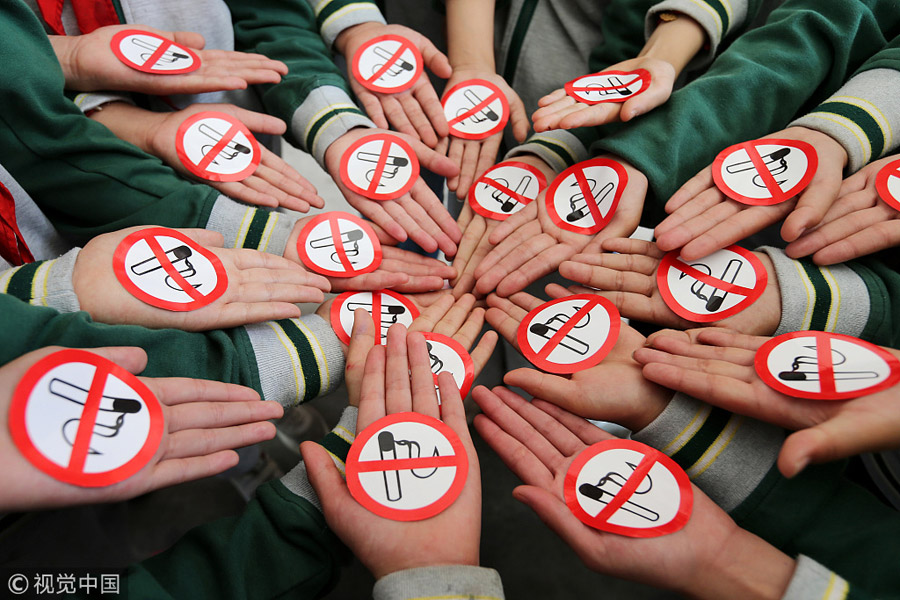 Chinese are increasingly exposed to cigarette advertising and promotional activities from a tobacco industry that often ignores sales regulations to seek higher profits, the China Association on Tobacco Control said on Tuesday.
A recent survey shows that about 65 percent of retail stores selling cigarettes openly advertise tobacco products, up by nearly 20 percent from a similar survey in 2016.
About 25 percent of such shops - including convenience stores and groceries selling cigarettes as well as tobacco and liquor shops - also employ promotional tactics, such as vouchers, markdowns, free gifts and samples to attract more customers, compared with 4 percent in 2016.
Both surveys were conducted by the association, with the latest one having examined 641 shops across eight provincial-level regions and the earlier survey having looked into 1,236 shops in 11 provincial-level regions, according to Xu Guihua, a researcher at the association.
"These results are alarming and point to poor implementation of the Advertising Law in China, which prohibits any form of advertising in public spaces or through mass media," she said.
Xu added that the Law on the Protection of Minors in China also bans tobacco companies from selling products to juveniles and requires each store that provides cigarettes to display signs conveying the sales ban, but data from the recent survey shows that more than 58 percent of stores fail to place such signs.
"It is imperative that the State Tobacco Monopoly Administration tighten supervision and raise penalties on sellers of cigarettes who flaunt the laws," she said. "New regulations should also be in place so that businesses and individuals that provide minors with access to cigarettes are blacklisted in the national social credit system."
China aims to reduce the percentage of smokers who are 15 years or older to 20 percent by 2030, a goal that many experts have deemed unattainable given the sluggish pace of smoking bans in public places coupled with aggressive marketing from the tobacco industry.
Xiao Lin, a researcher at the Chinese Center for Disease Control and Prevention, said advertising and promotion of cigarettes play an important role in drawing nonsmokers into trying smoking.
"Foreign research has already revealed that 34.4 percent of initial attempts to light up cigarettes are tied to related advertisements or incentives," she said. "And teenagers are particularly susceptible to boastful and misleading claims put forward by tobacco companies."
"One feasible and fundamental approach to help us achieve the 2030 goal is to shrink the population of smokers," said Liao Wenke, deputy head of China Association on Tobacco Control. The number of regular smokers in China currently stands at 300 million.
"It is thus crucial to sever the young generation's access to tobacco products by enforcing oversight over advertising so they will not fall into smoking," he said.
wangxiaoyu@chinadaily.com.cn
(China Daily 09/04/2019 page4)