King of the court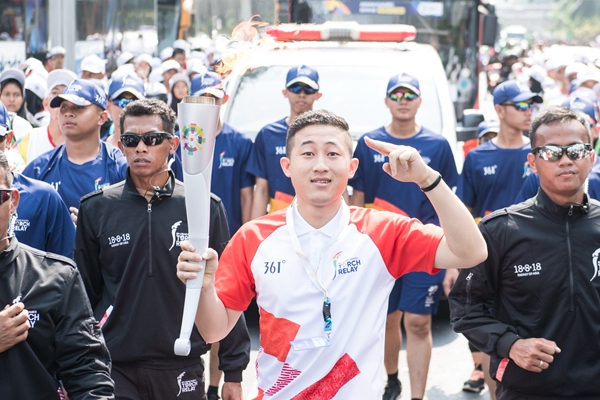 Despite childhood hardships, basketball fan Luo Xiangjian scores in the game of life, Chen Nan reports.
Basketball is a game of net gains and on the court of life Luo Xiangjian continues to score slam dunks. Luo, 25, lost a leg when he was a child but he has established himself as a household name in the second season of the reality show, Dunk of China, which "tipped off" on Aug 25.
The reality show, produced by video streaming platform Youku, involves 120 basketball players from professional teams and universities, as well as talented amateurs. They compete in groups led by four celebrities, including former Chinese basketball player Sun Yue and Nick Young from the United States.
Luo is one of the competitors in the one-on-one format. After he scored an impressive three-pointer, the spectators and competitors awarded him a standing ovation.
"Basketball is more than a sport to me," says Luo. At 1.78 meters tall the amateur basketball player, who is based in Kunming, Yunnan province, exudes a joie de vivre. "It gave me confidence and an opportunity to meet people while also seeing the world.
"Whenever I play basketball, people look at me because I only have one leg, but I never feel intimidated. I am proud of my accomplishments."
He works with Yunnan Construction and Investment Holding Group as an architectural designer, but his passion has always been basketball, and the sport has given him a focus. Last year, he was chosen as a torchbearer for the 2018 Asian Games in Jakarta, Indonesia.
Luo became a keen viewer of the reality show during its first season, which aired in 2018. Joining the show this year, he wanted to share his passion for the game.
"It is the first time that I have participated in a reality show. Some of the competitors knew my story and they encouraged me. This enhanced my love for the game," Luo says. His right leg was amputated below the knee, when he was 5, after he stumbled on a piece of unexploded ordnance while playing with his friends in the mountains along the Vietnam border near Malipo, a small village in Yunnan province where he was born and grew up.