Germany's right-wing AfD soars in two eastern states elections
Share - WeChat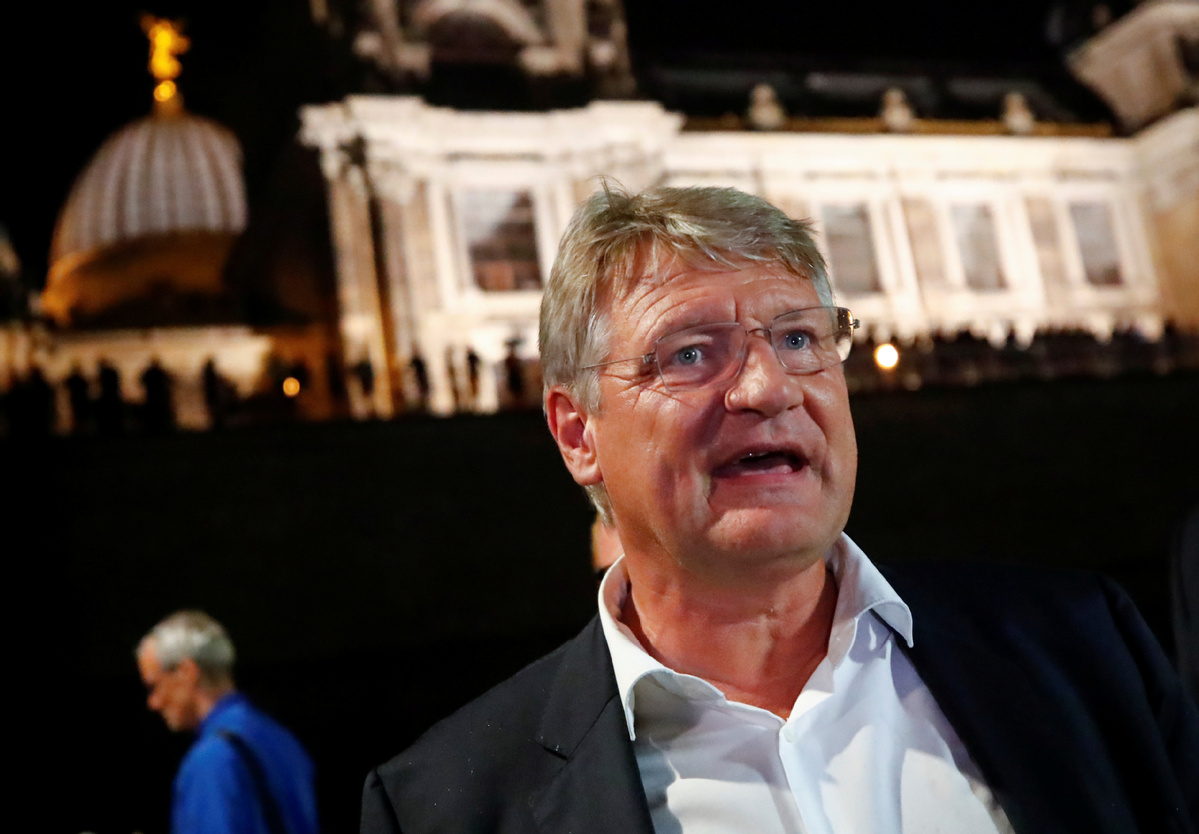 BERLIN -- Germany's far-right party Alternative for Germany (AfD) made big gains on Sunday in state elections in Brandenburg and Saxony, according to initial results published by local media ARD.
AfD won 22.5 percent of the votes in Brandenburg and 27.5 percent in Saxony, a sharp increase from 12.2 percent and 9.7 percent respectively in the two states five years ago.
Alice Weidel, co-leader of AfD in the national parliament, declared Sunday's result "a great success" claiming AfD as "people's party."
HARNESSING ANGER, FEAR
The anti-immigrant and anti-EU party is now by no means only popular in the eastern region. It has taken seats in every state parliament and is the third largest party, also the main opposition party, in the German federal parliament Bundestag.
During the election campaign, AfD has manipulated voters' anger over refugee issues and the planned closure of the coal mines which might threaten the livelihood of the pitmen in the two states.
The strategy caught the drift as the attitudes towards immigration in Germany after the 2015 migrant crisis are not clear-cut. Some 52 percent of the Germans, even higher percentage in the eastern area, agreed that "there is too much immigration", according to a study published by Bertelsmann Foundation just two days before the elections.
Furthermore, a report by local television ARD showed that people in the region feared the the loss of tens of thousands of jobs from governmental plans to phase out coal mining by 2038, and many are feeling left out by the economic and social changes after Germany's reunification.
Most of these people having this feeling are the followers of AFD or the Left Party, according to the report.
SENDING SHOCKWAVES
Both Chancellor Angela Merkel's Christian Democratic Union (CDU) and the Social Democratic Party (SPD) slided in the elections compared with the 2014 results, despite the fact that SPD maintained its leading position in Brandenburg -- with 27.5 percent of the votes, while CDU stood fast at the top in Saxony with 32 percent, according to the exit poll.
The environmentalist Greens garnered 10.2 percent of the votes in Brandenburg and 8.6 percent in Saxony. The gains were seen as rather modest.
As all mainstream parties have pledged not to collaborate with AfD, the two states might face a tricky situation when forming a new state government.
If the projections were right, the current party alliance in office will all lose their majority after the election.
Dietmar Woidke, Minister President of Brandenburg and a member of SPD, said the surging AfD "made him worry."
The ruling CDU and SPD, although managed to cling to power, has constantly taken heavy blows in several state elections and the European Parliamentary election after Merkel set up her fourth cabinet in 2018.
Some analysts feared that the inner struggles inside CDU and SPD would unsettle Merkel's political coalition and forced her early departure as chancellor.