HK protesters defy court bans to try cripple airport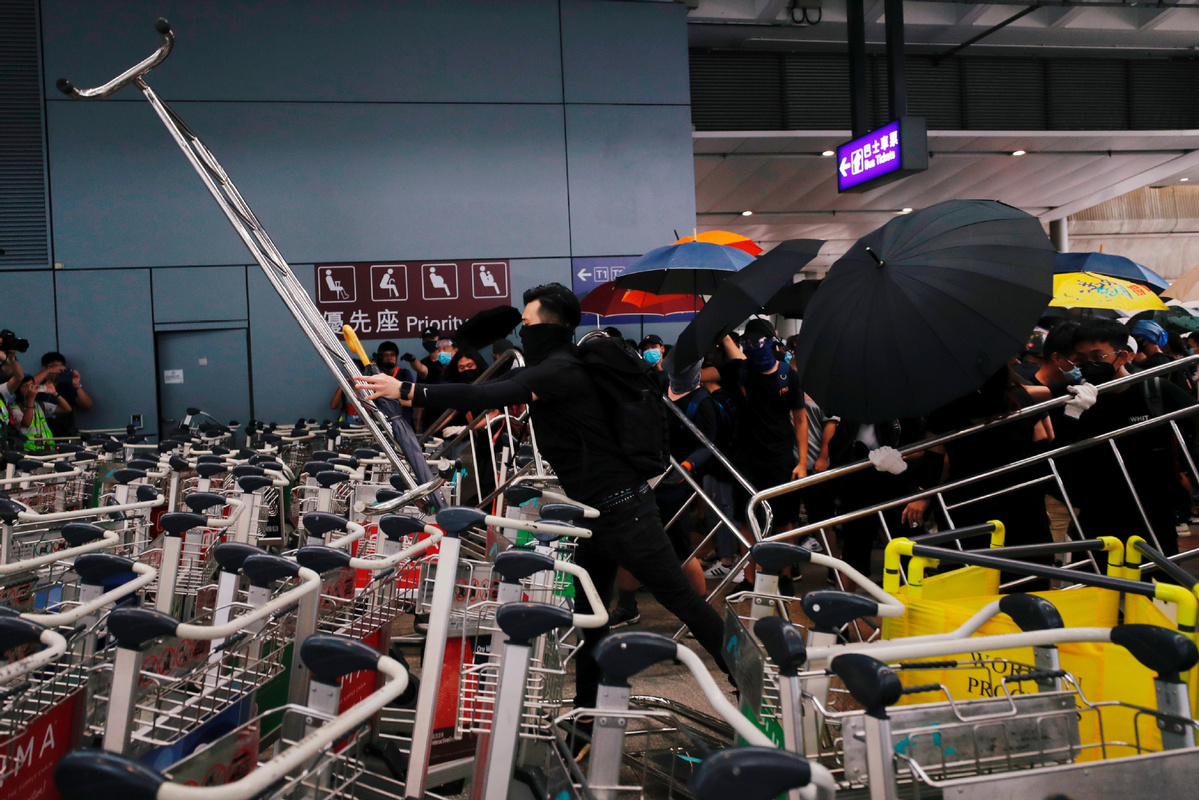 Hong Kong protesters defied court bans on Sunday as they moved to again paralyze the city's airport by clogging major transport links serving it.
A large group of protesters have since 1 pm gathered around bus stops at Hong Kong International Airport.
An hour later, they started to charge police cordons formed by water-filled barriers, pointed laser beams at airport staff, and blocked roads with trolleys and barriers.
They also hurled objects at police officers and airport staff onsite.
In a statement issued around 3 pm, police said that the protesters concerned are participating in an unauthorized assembly.
In a warning to all protesters to stop their illegal acts, police said they may be liable for contempt of court since an injunction is in force.
The Hong Kong Special Administrative Region High Court on Aug 23 extended an interim injunction order banning protesters from impeding airport operations.
The order was obtained by the authority after the city's aviation hub ground to a halt for two days in August during a mass sit-in by black-clad protesters, leading to around 1,000 flight cancelations.
The injunction stipulated that any actions obstructing the traffic whether within or near the airport area may constitute interference with the airport's operations.
Any person who fails to comply with the court order may be held in contempt of court and is liable for imprisonment or a fine.
Protesters on Sunday afternoon also stormed into the Tsing Yi MTR station, a key interchange station leading to the airport, and vandalized turnstiles and ticket vending machines and defaced surveillance cameras.
These protesters might have violated another court injunction that bars anyone from impeding the operations of MTR stations and trains.
The high court on Aug 30 also indefinitely extended an interim injunction to MTR.
The MTR's Airport Express service between the Hong Kong Station and AsiaWorld-Expo Station has been suspended, with the AsiaWorld-Expo Station closing at around 2:30 pm.