Xi encourages progress on S. China Sea
Share - WeChat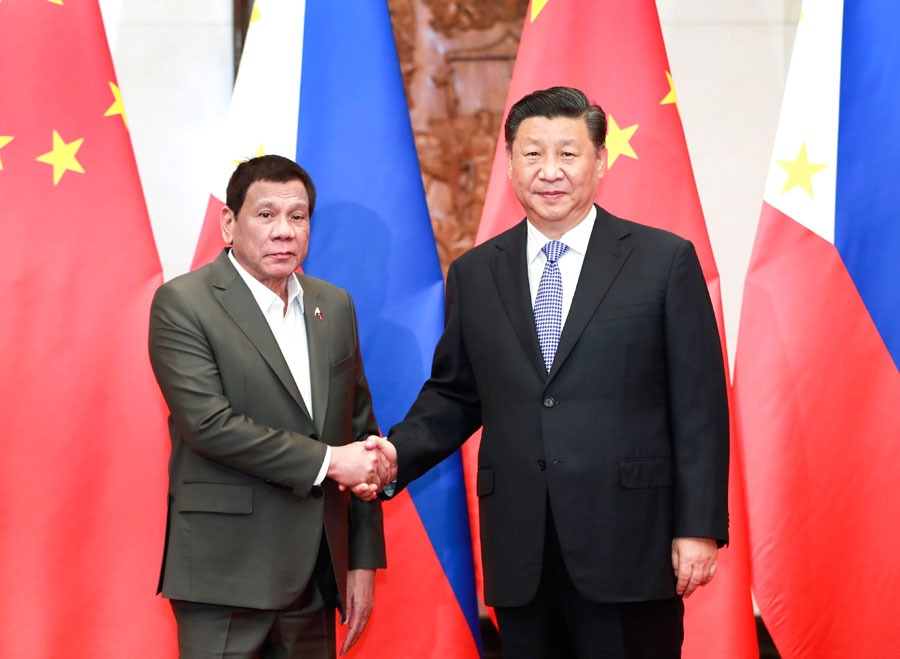 President, Duterte pledge efforts on code of conduct, sign deals on cooperation
President Xi Jinping said on Thursday that China and the Philippines should commit themselves to push forward the Code of Conduct in the South China Sea so it can be finished as early as possible.
Xi made the remark when meeting with Philippine President Rodrigo Duterte, who is on a five-day visit to China that started on Wednesday, at the Diaoyutai State Guesthouse in Beijing.
Xi described the code of conduct as a creative way to set rules for the resolution of the South China Sea issue. He called on the two countries to make joint efforts to put aside differences and exclude external disturbances in order to focus on cooperation and development to safeguard regional peace and stability.
He underlined the need for both countries to take bigger steps in the joint exploration of the oil and gas resources in the South China Sea.
The two countries announced on Thursday the establishment of an intergovernmental joint steering committee and an inter-enterprise work team on the joint exploration for oil and gas in the South China Sea to strive for substantial progress at an early date.
They also concluded six agreements, which involve areas such as customs, higher education, science and technology and economic and social development.
On the bilateral relationship, Xi told Duterte he stands ready to work with him to guide the sound development of Sino-Philippine relations to bring benefits to the two nations and two peoples, and also to add positive energy to regional peace and stability.
He called on the two countries to strengthen synergy between the China-proposed Belt and Road Initiative and the Philippines' "Build, Build, Build" program and to do a good job implementing cooperation projects in areas of infrastructure construction, industrial parks, telecommunications and energy.
Duterte said he supports the peaceful resolution of the South China Sea issue through cooperation instead of confrontation.
He said that upholding friendly cooperation, peace and stability is in line with the interests of various parties in the region, adding that the Philippines stands ready to work with China to step up joint exploration of oil and gas resources in the South China Sea and his country remains committed to conclude the code of conduct at an early date.
Regarding Hong Kong, Duterte said his country fully respects Chinese law and its right to uphold the rule of law.
China is the biggest trading partner of the Philippines and also its top import source. Bilateral trade reached around $55.7 billion last year representing a year-on-year increase of 8.5 percent, and Chinese investment in the Philippines increased by over 80 times from 576 million yuan ($80.5 million) in 2017 to 48.7 billion yuan in 2018, according to the Ministry of Commerce.
This is Duterte's fifth visit to China since he took office in 2016. He planned, along with Xi, to attend the opening ceremony of the 2019 International Basketball Federation World Cup to be held in Beijing on Friday.