15 officers injured in escalated violence: Hong Kong police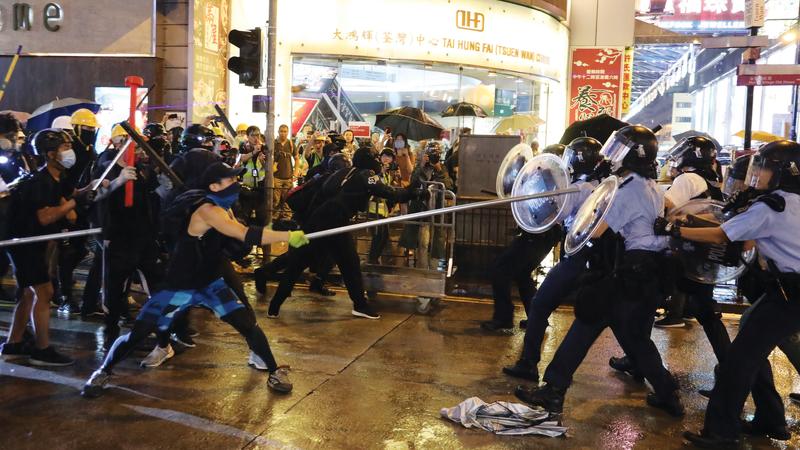 HONG KONG -- A total of 15 police officers were injured and sent to the hospital for treatment during escalated violence incidents by protesters on Sunday night, Hong Kong police said.
Some radicals obstructed roads, vandalized shops and tunnel facilities, hurled petrol bombs, bricks and miscellaneous objects at police officers, the police said in a statement on the government website in wee hours of Monday, stressing that it severely condemned the protesters who purposefully harmed officers.
Hong Kong police earlier issued the Letter of No Objection for the public procession held in Tsuen Wan on Sunday. However, some extremely violent protesters deviated from the original route and turned the demonstration ugly.
At around 7:40 pm local time, a large group of radicals vandalized shops and entertainment venues at Yi Pei Square, Tsuen Wan. When several police officers arrived at the scene to keep order, radicals hurled hard objects at them, attacked them with different weapons, including long metal rods, and even chased them down the street. One of the police officers under attack fell onto the ground.
In the dangerous situation, six police officers withdrew pistols and stayed on guard, and one of them fired a warning shot to the sky without any other choices, Hong Kong police said.
"Only when there were violent acts or illegal behaviors which endangered the safety of people at scene, Police would stop them by proportionate use of force to prevent the incidents from worsening."
The protesters' violence disregarded the law and order and the police severely condemn such violence which was outrageous and have overstepped the bottom line of a civilized society, the police said.
During the incidents, 29 men and seven women, aged 12 to 48, were arrested for offenses including unlawful assembly, possession of offensive weapon and assaulting police officers.