Business chances abound as night falls
Share - WeChat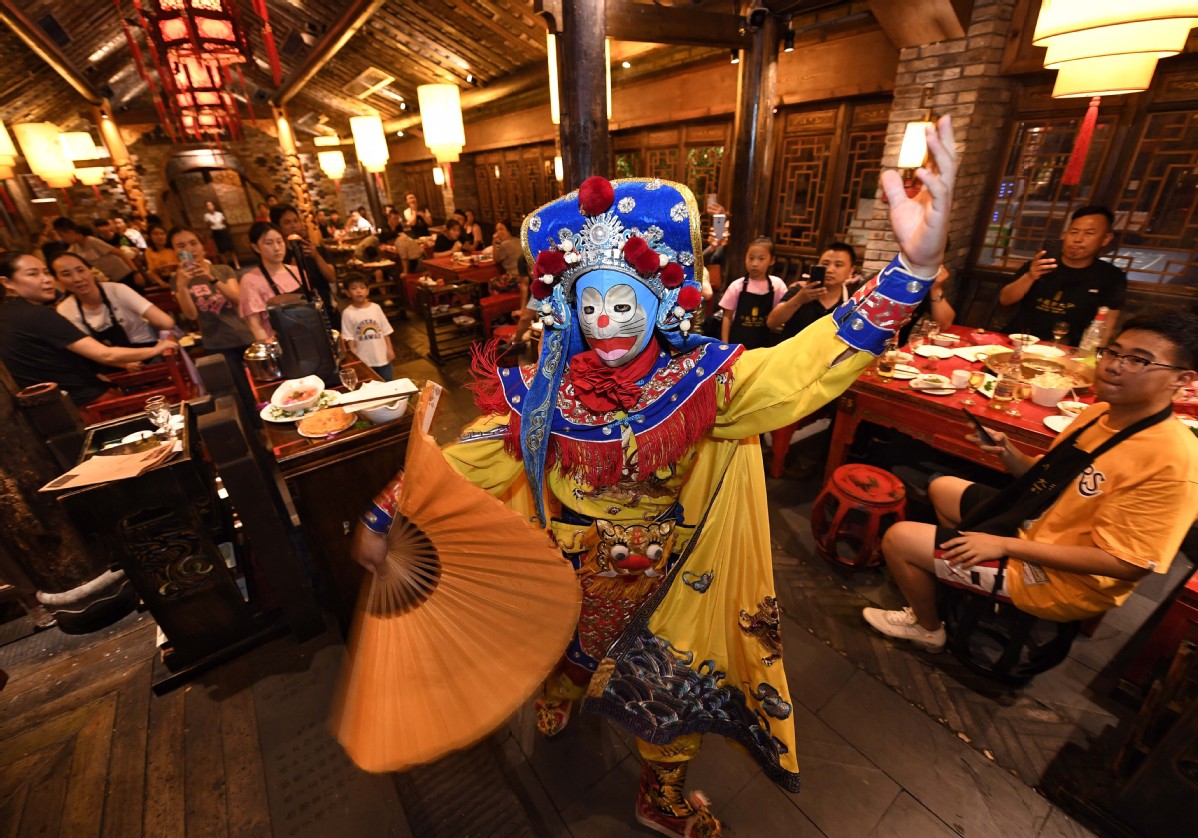 Observers see great potential and more opportunities
Living in Belgium, where shops and grocery stores close as early as 7 pm and restaurants shut their kitchens by 9 pm, Claudia Vernotti misses her active night life in China.
Vernotti, director of ChinaEU, a business-led association in Brussels, said that in China she enjoys being able to shop and visit karaoke lounges with friends after work and eat barbecued meat at midnight. She is also attracted by the night views of the cities she has visited, including Hangzhou and Wuzhen in Zhejiang province.
"The charm of these places in the evening is incredible," she said. "It is beautiful to enjoy light shows or concerts. Chengdu, Sichuan province, is also amazing, with its alleys off Jinli Pedestrian Street that are full of food and gift shops, lit up at night by traditional Chinese lanterns."
While restaurants and bars in large Chinese cities have a long history of doing business at night, other sectors, including tourism and culture, still have plenty of room to grow if they are to equal the standards set by international cities such as London or Amsterdam, Vernotti said.
Jiang Hao, partner at global consultancy Roland Berger, said China's nighttime economy has great potential. As the country has risen to become the second-largest economy in the world, people's consumption capacity and willingness to buy are constantly increasing. In the fast pace of city life, many people go shopping only after working during the day.
"The night economy gives people more time to buy and increases their choice, which will bring more business opportunities and become a new growth driver for China's economy," he said.
According to market consultancy iiMedia Research, 60 percent of consumption in China occurs at night. In the past three years, the country's nighttime consumption has grown by 17 percent on average.
Authorities nationwide recently unveiled plans to "light up" cities after dusk. In Beijing, a series of policies were rolled out last month to encourage after-dusk economic activities, including extending the operating hours of several subway lines every Friday, Saturday and Sunday, and later closing hours at tourist spots, museums, sports grounds and art galleries.
Longer hours
This month, Shanghai announced a list of cultural activities and tour routes, with 105 scenic spots, art galleries, museums and memorials across the city extending their business hours, or presenting special late-night shows or night-tour programs.
Convenience store chain Bianlifeng, which was established in December 2016, has already benefited from 24-hour operation at all its more than 800 outlets.
Zhou Zhou, director of the company's daily distribution operations, said nighttime consumption has great potential, and all Bianlifeng outlets have performed well after dusk. He cited a store near the Third North Ring Road in Beijing, whose post-10 pm sales account for about 30 percent of those for the entire day.
"In areas such as Zhongguancun, where there are many internet enterprises, convenience stores act as late-night canteens for company employees who frequently work late," he said. "In some stores, the number of consumers at about midnight will account for 25 percent of the peak in the daytime. A majority of them are born after the 1990s."
However, Zhou said that while nighttime consumption in the bustling business district is strong, in some communities, people are still not aware of the benefits of buying after dark.
Jiang said China has obvious advantages in developing its nighttime economy, with high security levels in cities at night and a large number of consumers. But such development is still in the early stages.
"The country's nighttime economy is mainly about eating and drinking, and is no longer able to meet multilevel and diversified demand from consumers," he said. "There are still limited cultural resources, digital entertainment and supporting transportation available at night."
The first 24-hour Mingyuedao bookstore in Qingdao, Shandong province, was launched five years ago by the Qingdao Xinhua Bookstore, with the aim of creating a cultural space for book lovers at night.
Covering about 200 square meters, and with more than 10,000 books, Mingyuedao has developed into a 24-hour reading, catering and leisure venue that displays books, sells creative products, offers food and drink, and holds cultural "salons".
Zhang Lei, deputy general manager of the Qingdao Xinhua Bookstore, said: "Qingdao is an eastern tourist city, and the temperature in winter drops to below zero, so when we first started 24-hour operations, many people doubted whether readers would need us at night. But we are delighted that every night we have some customers, even on Spring Festival Eve."
Mingyuedao was able to make a profit within a year, and its nighttime revenue now accounts for about 20 percent of the total, Zhang said.
She added that running a 24-hour business is not easy, and many bookstores in China had tried and failed at this. But as the authorities have started to promote nighttime business activities, this offers a good opportunity to develop such bookstores.
"Bookstores are the spiritual landmarks of cities and are indispensable to citizens. To make 24-hour bookstores universal requires the joint efforts of society, and will take time," she said, adding that she hopes more cities in China will cater to people who want to read in bookstores at night.
In recent years, nighttime tourism has developed much faster than other sectors, and many cities have launched nocturnal projects. For example, Xi'an, capital of Shaanxi province, has launched more night fairs, cultural performances and entertainment outlets.
Xu Xiaolei, chief brand officer for China Youth Travel Service, said that in the past, the tourism industry placed the emphasis on daytime activities and "undervalued" nighttime operations. But consumers are now demanding high-quality nighttime activities, with nearly half of the company's customers asking for such itineraries to be arranged, whether they are traveling in China or abroad.
"I think it is especially good that the Chinese authorities have rolled out measures to boost after-dusk activities, which is a response to people demanding higher-quality lives," he said.
Xu added that Chinese cities are "too similar" in promoting nighttime activities. Most of the time, night travel is still about tasting local food in "snack streets".
"Every city should think about developing unique tourism resources that would enable it to stand out from others," he said. "Many people the world over would like to see a Broadway musical while visiting New York, but performances in China are mostly high-priced and out of reach for most."
The historic water town of Wuzhen has been transformed by Xu's company from a shabby destination, with 30 to 40 percent of consumption now taking place at night, Xu said.
"We defined Wuzhen as a historic cultural town, so we didn't use bright-colored lights at night. Most of the lights we use are pale yellow, to create an atmosphere to make people feel warm and at home," he said.
"But lighting up the town is not enough. We also need to offer good content to tourists. In Wuzhen, tourists can sit on wooden boats at night, listening to the sound of the oars hitting the water under the lights. They can also experience a range of cultural activities, including the Wuzhen Theater Festival."
Xu said most shops in Wuzhen close at about 11pm, so tourists spending the night in town can have a good sleep, but there are bars, karaoke lounges and other entertainment venues that remain open until later.
Transportation problems
Wu Jiangang, a research fellow at the China Europe International Business School at the Lujiazui International Finance Research Center in Shanghai, said that to boost the nighttime economy it is important to make sure that a city has plenty of "public space". This includes 24-hour libraries and gyms, and enough support facilities and public services, including bus and subway routes, public security, health facilities, environmental protection, finance and internet services.
According to iiMedia Research, subways operate for 16.35 hours a day in most Chinese cities, with Beijing having the longest operating time of 17.28 hours.
Wu said that getting home late at night from popular areas is a common problem, citing the nightlife center of Sanlitun in Beijing as an example.
Moreover, "Dirty Street" in Sanlitun, a bar area that used to be popular among locals and expatriates, has been cleaned up due to some illegal construction work. Many shops that people loved to visit have since disappeared, which is a pity, Wu added.
"A naturally growing street reflects the needs of urban people and also has its own unique vitality. While introducing transformative projects to boost the nighttime economy, authorities should not look to one-size-fits-all solutions, but make a more balanced decision to renovate a city while protecting its features."