Artists and authors discuss their unique notions of 'homeland'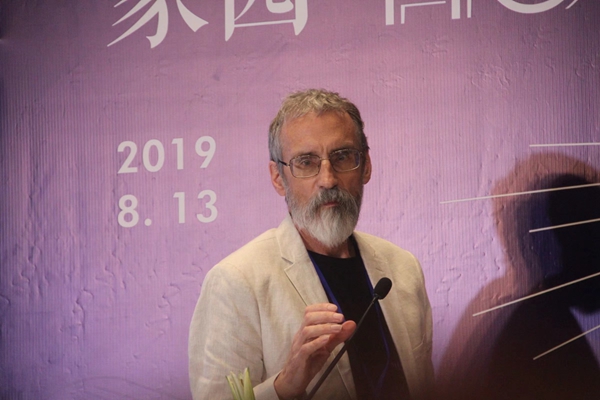 Thirty authors, poets and scholars from 10 countries and regions participated in Shanghai International Literary Week this year, appearing at dialogues, workshops, book launches and other events from Aug 13 to Monday.
Shanghai International Literary Week has been a part of the Shanghai Book Fair for the past nine years. The opening forum of the festival, which this year was themed "Homeland", took place at the JIL Bookstore in Hongkou district on Aug 13.
John Howe, an artist from Canada, launched his book A Middle-earth Traveler: From Bag End to Mordor-John Howe's Sketches of Middle-earth, during the event. Howe illustrates many of J.R.R. Tolkien's works including The Hobbit, The Lord of the Rings and The Silmarillion. He was also one of the conceptual designers for Peter Jackson's movie trilogy The Lord of the Rings.
His book was published in Chinese by the Shanghai People's Publishing House and Wenjing Book. An exhibition of his original sketches and lithograph prints is currently being held at Sinan Mansions through Aug 31. A total of 105 pieces are on display, including some widely popular scenes from The Lord of the Rings.
During the event, the 61-year-old artist spoke about his family history and how his grandparents migrated from Britain to Canada. Howe, who lives in Switzerland with his Iranian wife, then shared his perception of "homeland", referring to the Welsh concept of hiraeth, which means "the longing for home".
"Homeland for me speaks of a longing for a home you might never return to, a home which may never even have existed at all," he says. "It is a notion tied to the collective and the personal past, a nostalgia for what was or should have been.
"This longing for the fantastic and the sublime is like an unbreakable thread that connects one with images outside of us, outside of the world we live in. Homeland is where the imagination lives."
Ma Yuan, a renowned Chinese novelist, shares his experience of settling down in Xishuangbanna, Yunnan, after he was diagnosed with a malignant tumor. In 2008, he settled in Guniangzhai in the Nannuo Mountains in Xishuangbanna, which is famous for its Pu'er tea.
"Eight years ago, I chose this place as my destination. I became an honorary villager of Guniangzhai and six years later I completed my new novel Guniangzhai. I am completely a part of this place and I will become a handful of dust in the mountains. Guniangzhai will be my ultimate homeland, and where my story ends," says the 66-year-old novelist.
Xu Zechen, who recently won the prestigious Mao Dun Literature Prize for his novel Going North, also speaks about people's growing detachment from the land and how the identity of one's homeland can be lost.
In his dialogue with Japanese author Keiichiro Hirano, the Beijing-based writer says: "I hope that a city, despite its growth, can retain the passage where we can return to the past. It should not cut off the past completely and leave us hanging mid-air, becoming modern orphans."