Protests disrupt city's stability and operations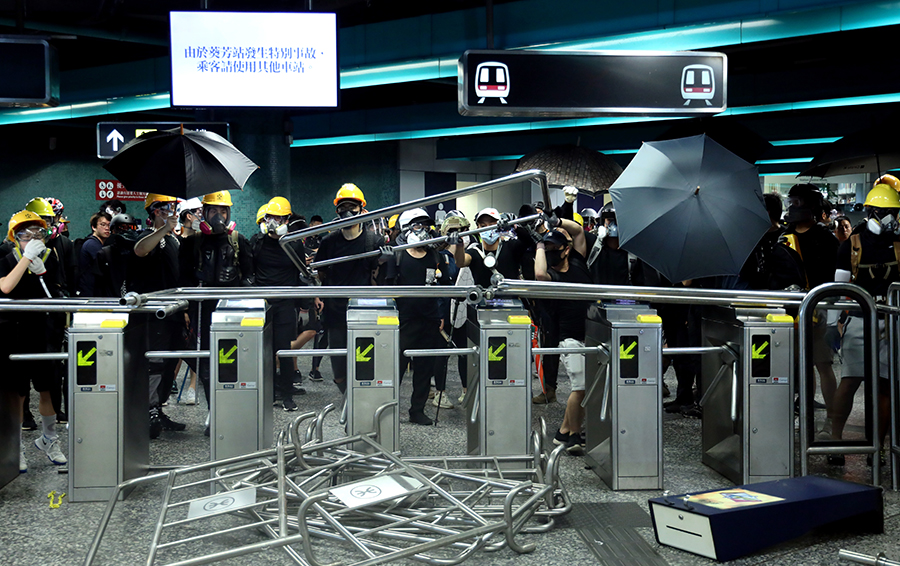 The past two months have seen a series of clashes in Hong Kong between police and large numbers of protesters
Since June, Hong Kong's opposition and some radical forces have used the pretext of peaceful demonstration to engage in protests that have sometimes become violent.
Though the Hong Kong Special Administrative Region government has said on many occasions that it has completely halted the amendment of two ordinances concerning the transfer of fugitives, protesters continued to escalate violence and cause mayhem in the city.
Here is a timeline of the activities that challenge the rule of law, disrupt social order, and undermine national sovereignty and the "one country, two systems" principle.
Challenges
The demonstrations repeatedly became violent clashes under the instigation of individuals with ulterior motives. Some repeatedly mounted attacks on police. They surrounded Hong Kong Police Headquarters, disrupted government agencies and ransacked the Legislative Council building.
· On June 9, demonstrators started to protest against the proposed amendments. In the small hours of June 10, well-organized protesters started attacking the LegCo building, blocking roads and assaulting police officers. They clashed with police, with some attempting to rob officers of their guns. Eight policemen were injured.
· On June 12, an illegal rally started around Admiralty, and some radical members stayed around the LegCo building until midnight. Well-organized protesters assaulted officers with bricks, homemade spears and even petrol bombs, injuring 22 police officers. Though police exercised restraint, the protesters continually assaulted their lines and forced police to use appropriate force to disperse demonstrators.
· On June 21, even after the HKSAR government announced that it had halted the amendments, violence continued. Extremist protesters surrounded police headquarters and wreaked havoc, and blocked the public from using services at Revenue Tower and Immigration Tower. Then they blocked Hong Kong government offices and the High Court.
· On June 26, some people instigated demonstrators to storm police headquarters for the second time. They repeated similar savage behaviors. Opposition lawmakers were once again present to provide support. The personal details of some police officers were illegally leaked online.
· On July 1, rioters blocked roads and threw corrosive liquids at police officers. They ransacked the LegCo building and assailed police with toxic chemical powder. They extensively damaged the council chamber, defaced the HKSAR regional emblem, tore up the Basic Law, waved a colonial-era flag and even called for the establishment of a so-called interim government.