G7 braces for summit in France
Share - WeChat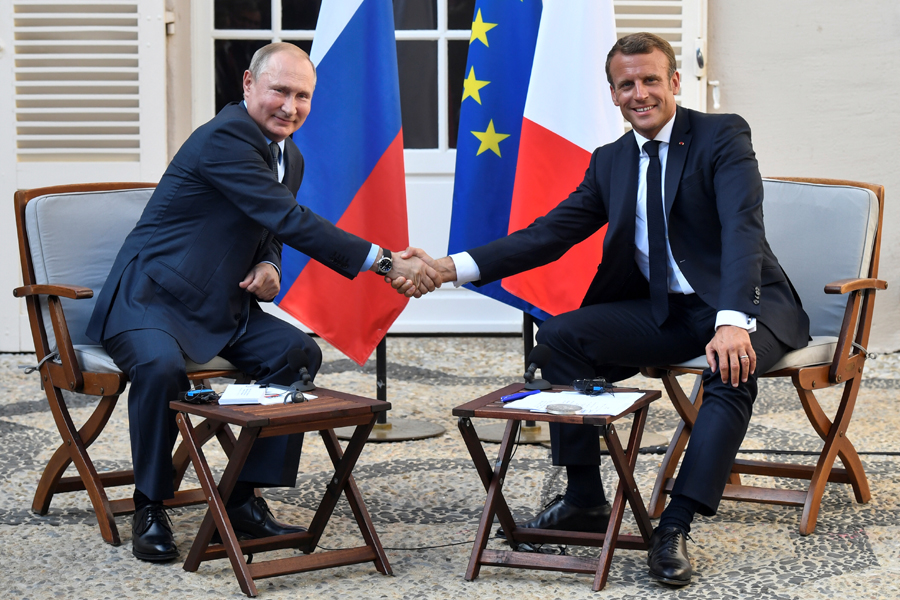 Climate change, trade conflict, Iran, Brexit and Russia among topics
Leaders of the G7 countries will meet in Biarritz, France, on Aug 24-26, with an ambitious focus on tackling inequality and climate change. They will also discuss a wide range of other issues from the economy to foreign policy and security, such as relations with Iran and Russia.
But experts believe that the sharp differences among the members - the United States, Japan, Germany, United Kingdom, France, Italy and Canada - will make their smiling group photos look less real.
The European Union, which is also represented at G7, said in a news release that the summit will be an opportunity for the EU to defend the rules-based order and its organizations as the best approach for global governance.
The EU and its key G7 members, Germany, France and the UK, are at odds with US President Donald Trump on a long list of issues such as multilateralism, climate change, trade and Iran.
Outgoing European Commission President Jean-Claude Juncker will miss the summit this weekend after a gallbladder surgery, the commission's deputy chief spokeswoman Natasha Bertaud said on Monday. It will leave EU's representation to the outgoing European Council President Donald Tusk.
Jeffrey Sachs, an economics professor at Columbia University, said Europe must oppose Trump at the G7. In a column published by Project Syndicate on Monday, Sachs said Europe must confront Trump on Iran, trade and a whole host of issues.
"Europe's leaders would endanger European and global security by acceding to Trump's bluster and threats vis-a-vis Iran, Venezuela, China, and others," Sachs wrote.
He said Trump is actively trying to break any country that refuses to bow to his demands. "The American people are not so arrogant and intemperate, but some of Trump's advisers surely are. National Security Adviser John Bolton and Secretary of State Mike Pompeo, for example, both epitomize a uniquely arrogant approach to the world, amplified by religious fundamentalism in the case of Pompeo," he wrote.
The US and the EU are facing a possible trade war. They have already threatened tit-for-tat tariffs over airline subsidies. Trump has also threatened to impose tariffs on French wines if France goes ahead with the digital taxation, targeting US tech giants such as Google and Facebook. Trump said on Aug 2 that additional tariffs on European cars are never off the table.
"By opposing Trump and defending the international rule of law, including rules-based international trade, Europeans and Americans together can strengthen world peace and transatlantic amity for generations to come," Sachs wrote.
Besides the transatlantic tensions, Brexit will also be a major issue when new British Prime Minister Boris Johnson attends the G7 summit for the first time.
On Monday, Johnson appealed to Tusk directly, asking that the EU consider a solution for the Irish border that doesn't involve the so-called Brexit backstop - a mechanism to avoid border checks between EU-member Ireland and British-ruled Northern Ireland. But EU leaders have repeatedly said that they will not reopen the withdrawal agreement reached with former British prime minister Theresa May.
Trump's endorsing of Brexit and his attacks on EU as an entity have long upset EU leaders.
Russia is also expected to be a key issue at the summit. On Monday, French President Emmanuel Macron, the host of this year's G7 summit, met Russian President Vladimir Putin. Macron said there was a "real opportunity" for peace in Ukraine following the election of Ukrainian President Volodymyr Zelensky. Russia was kicked out of the G8 after its annexation of Crimea in 2014 and has been under US and EU economic sanctions ever since.
Trump also does not see eye to eye with EU leaders on how to deal with Russia. Most EU leaders opposed Trump's termination of the Intermediate-range Nuclear Forces Treaty.
Larry Elliot, an economics editor at The Guardian, lamented that the many differences among G7 leaders won't show up in the traditional group photo.
"But the smiles for the group photo will be fake," he wrote in a column.
Euronews and Politico contributed to the reporting.