Making drama out of a holiday
Share - WeChat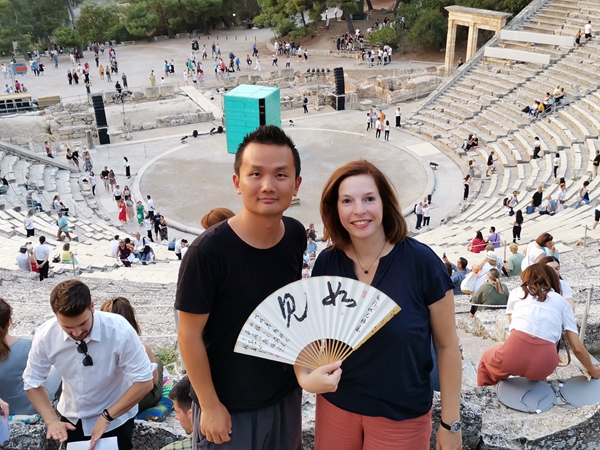 Children perform in the birthplace of Greek theater and unleash their creativity, Chen Meiling reports.
The stage was set and history provided a stunning backdrop as Chinese children mastered the intricacies of Greek theater at a recent summer camp, the first venture of its kind between the two countries.
The seven-day program, held this month in the southern Peloponnese region, involved half a dozen "actors "aged between 8 and 15 from Shenzhen and Chengdu. They attended Greek theater classes and performed in workshops, learned about Greek music, history and mythology in lectures and visited historic sites as well as local theaters.
Two highlights marked their journey to the cradle of Western civilization. The group staged their version of the Greek drama, The Birds, by ancient playwright Aristophanes, at the Trianon Theatre in Nafplio. And, after they visited the Archaeological Museum of Nafplio, they performed a self-scripted 15-minute drama on the grand stage of the Ancient Theatre of Epidaurus. This venue, constructed at the end of the 4th century BC, is famed for its acoustics and aesthetics and is normally only open to professional performers.
Greek theater, dating back about 3,000 years, has had a profound influence on Western drama. "However, Greek drama is still a novel concept to many Chinese people, who are more familiar with Shakespeare's plays," says Miao Bin, founder of the Muse Academy, one of the organizers of the summer camp. "When Chinese think of Greece, as far as I know, they may be more familiar with its mythology or philosophy, rather than drama."
Other organizers of the trip were Study in Greece, a nonprofit organization under the Greek education authorities targeting international students, and the Theater Studies Department of the University of the Peloponnese.
"The program aims to introduce Greek theater to Chinese people by inviting them to an on-site experience, and it turned out to be a success," Miao says.
The young participants are still excited about their experience, he says. One of them is Peng Zixuan, 10, who has been learning drama at an institute in Shenzhen, Guangdong province.
"It is fun! I can devote myself to playing the role of someone else," Zixuan says, adding that he felt no difficulty studying at the summer classes. An added bonus was the cuisine, especially "the dry bread and salad with feta cheese at dinner".
Zixuan's mother, Huang Lihua, also a theater fan, says the event aroused Zixuan's passion for drama, and spurred his interest in ancient Greek civilization.
"Sometimes he became anxious if he couldn't express himself well in English or his lines were too short," Huang recalls of her son's experience at the summer camp.
"I told him that nobody is supposed to be the main character all the time and it needs teamwork to finish a play."