China slams Canada's remarks on HK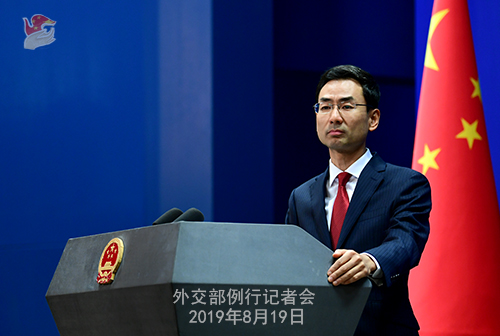 China is strongly unhappy with and firmly opposed to Canada's "indiscreet remarks" over Hong Kong, Foreign Ministry spokesman Geng Shuang said on Tuesday, after Canadian Foreign Minister Chrystia Freeland issued a statement on Hong Kong on Saturday.
Canada has repeatedly "pointed fingers at" Hong Kong affairs and interfered in China's domestic affairs, disregarding China's solemn position, the international law and the basic norms of international relations, Geng said at a daily news conference.
Hong Kong affairs are purely China's domestic affairs, in which no country, organization or individual is allowed to interfere, Geng reiterated. "Canada has no right to make presumptuous comments over Hong Kong affairs," he said, adding that any attempt to create chaos in Hong Kong will fail.
Canada should act cautiously over issues concerning Hong Kong to avoid further deteriorating its ties with China, which it has already damaged by detaining Huawei's chief financial officer Meng Wanzhou, Geng said.