DPP warned over harboring violent protesters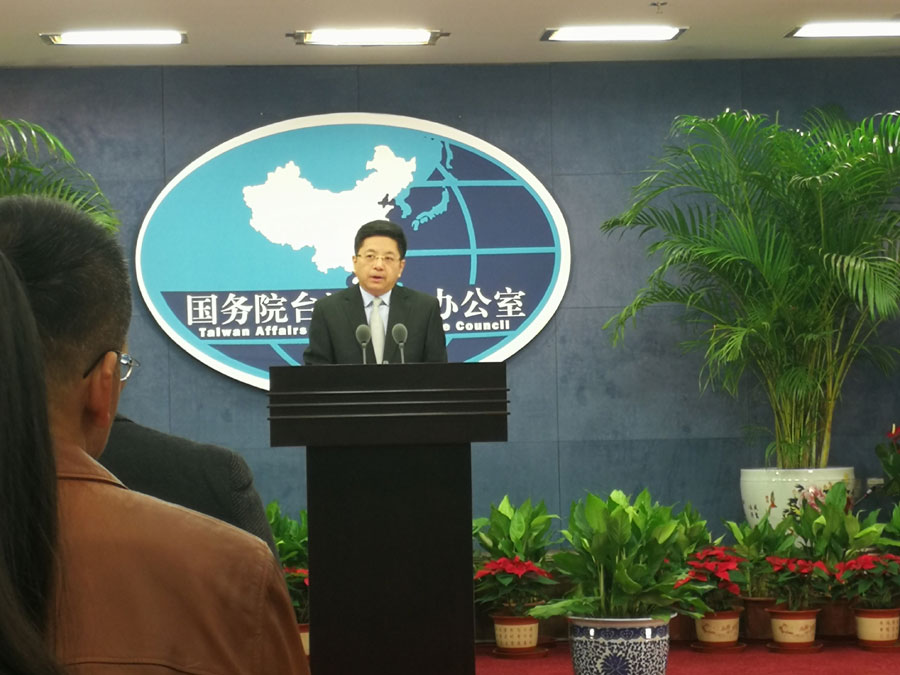 Ma Xiaoguang, spokesman for the Taiwan Affairs Office of the State Council, warned the Democratic Progressive Party of Taiwan on Monday to stop harboring violent Hong Kong activists fleeing arrest.
Ignoring the facts and confusing right and wrong, DPP authorities have been covering up the crimes of some violent activists in the Hong Kong Special Administrative Region and emboldening them to harm Hong Kong, he said.
"They also openly claimed to shelter criminals and make Taiwan a 'safe haven' for lawbreakers. How about the safety and well-being of Taiwan residents?" he asked, adding that no one has the right to be above the law.
Ma warned the DPP authorities to stop undermining the rule of law in Hong Kong, interfering in Hong Kong affairs and protecting criminals in any way.
The island's leader, Tsai Ing-wen, and other authorities have recently said that "humanitarian assistance" should be given to some Hong Kong residents.
Ma said in a statement last week that the DPP has played a disgraceful role in recent chaos in Hong Kong. He made the remarks after Cho Jung-tai, DPP chairman, slandered the principle of "one country, two systems".
"He was trying to stir up trouble in Hong Kong. He also wanted to smear the mainland and the principle of 'one country, two systems' so as to gain votes for the coming election. Such attempts are doomed to fail," Ma added.
With the firm support of the central government, the HKSAR government and all sectors in the city are fully capable of stopping the violence, restoring order and maintaining long-term prosperity and stability in Hong Kong, he added.
Tung Chee-hwa, vice-chairman of the National Committee of the Chinese People's Political Consultative Conference, the nation's top political advisory body, said on July 31 that Hong Kong is facing an unprecedented crisis.
Tung made the remark at a luncheon held by Our Hong Kong Foundation, a leading think tank in the city, adding that the chaos in Hong Kong makes it reasonable to believe that there is some driving force behind it or an outside force involved, and all signs point to Taiwan and the United States, he said.
Unemployment rate rises
Hong Kong's unemployment rate edged up to 2.9 percent over the past few months after remaining virtually unchanged for over a year, as softer consumption and a weaker export sector began to take a toll on the labor market, according to the Census and Statistics Department of Hong Kong.
Movement in the unemployment rate in different industry sectors varied, with a relatively notable increase observed in the food and beverage sector.
"The manpower situation in most sectors remained largely stable. But as consumption stayed soft, the unemployment rate of the retail, hotel and food services sectors taken together went up from the preceding three-month period," Law Chi-kwong, secretary for labor and welfare, said in a statement.
"Also, the import and export trade sector has been facing increasing pressure amid shrinking trade flows, with the unemployment rate generally on the rise since early this year," Law added.
On Monday, more people in Hong Kong expressed opposition to violence and called for the return to law and order.
Hong Kong property magnate Gordon Wu Ying-sheung, chairman of Hopewell Holdings, expressed his resolute stance against violence and support for the city's police force.
In a full-page advertisement in a local newspaper, he rejected the advocacy of Hong Kong "independence", noting that "one country, two systems" is the foundation of Hong Kong and the rule of law is the cornerstone of Hong Kong society.
Lui Che-woo, founder of casino operator Galaxy Entertainment Group and property developer K Wah International Holdings, said riots do no good for Hong Kong.
"Problems Hong Kong is having now call for dialogue among the young, the middle-aged and seniors. We should sit down and have a good talk to make Hong Kong great again," he said.