Duke Kunshan University begins work to expand campus
Share - WeChat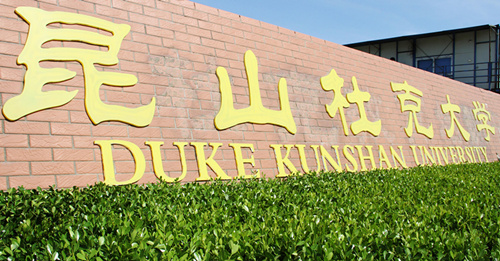 Duke Kunshan University broke ground on the second phase of its campus, the latest milestone in the China-US joint-venture university's rapid development.
The project will more than double the size of the existing campus in Kunshan, Jiangsu province, and will feature state-of-the-art spaces for living and study, including a library, sports complex and residence halls for graduate and undergraduate students.
Local government officials, the university leaders, faculty and students, participated in the groundbreaking ceremony on Friday. The officials and school leaders included Michael Schoenfeld, vice-president for government relations and public affairs at Duke University; Fei Li, vice-president of Wuhan University; Chengbin Wang, deputy head of Jiangsu province's Department of Education; Chunyun Lu, vice-mayor of Suzhou city; and Xiaogang Du, Party secretary of Kunshan city.
Covering nearly 47 acres, the project is scheduled for completion around the end of 2021. As with phase one, sustainable development lies at the heart of the expansion, according to the university.
"DKU aims to become a world-leading model of sustainable development. All of the buildings in phase two are consistent with sustainable and flexible design principles," said Bai Ning, general manager of the phase two project at DKU.
"Once completed, the new buildings are expected to receive LEED certification from the US Green Building Council – one will get platinum, four gold and the others silver – and should receive China's own green building label," Bai said.
In addition to phase two, of which the green coverage ratio will be 35 percent, work has also officially started on Duke Kunshan Gardens, which will cover 71.3 acres and include a picturesque lake and wetland.
Designed to capture the spirit of a traditional Kunshan water town, the garden is expected to open in June 2021 and provide students, faculty and visitors with a sense of serenity and inspiration.
"We're building something unique at DKU," said Chancellor Feng Youmei. "As with the first phase of construction, these new buildings will be aesthetically impressive and distinctive, but more importantly they will serve our mission to create dynamic spaces for students, faculty and staff to interact and engage."
Once phase two is completed, the university will have 26 new classrooms and 18 to 22 new laboratories. The campus will also be able to accommodate 2,000 undergraduate students, 500 to 800 graduate students and 800 employees.
As well as improving the university's advanced library and sports facilities, the project will include the WHU-Duke Research Institute, a visitor center and a community center.
The groundbreaking ceremony came one day after DKU welcomed its second class of undergraduate students.
"The onset of phase two construction is testimony to the fact that DKU has achieved full liftoff and is well on its way to becoming a high-caliber global university," said executive vice-chancellor Denis Simon.
"Students and faculty members will find the infrastructure to be not only cutting-edge in terms of technology but also highly user-friendly in terms of providing great spaces for team exercises, collaborative learning and interactive dialogue about critical issues," he said.
Zhi Yuan contributed to this story.