Businesses bear brunt of HK protests
By Zhang Yunbi in Beijing, Luo Weiteng in Hong Kong and Liu Yinmeng in Los Angeles | China Daily Global | Updated: 2019-08-16 15:05




Share - WeChat City's role in nation's economic landscape being 'marginalized', researcher warns
Businesses and individuals from across the globe have called for ending the violent protests and chaos in Hong Kong at a time when the special administrative region is suffering remarkable loss and has seen its image tarnished and its economic prospects dampened.
The Hang Seng stock index in Hong Kong has plunged more than 10 percent in the past 30 days. The benchmark figure closed at 25,495.46 on Friday, compared with 28,554.88 on July 15.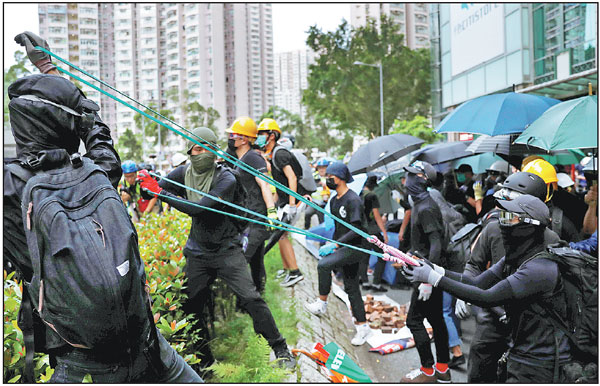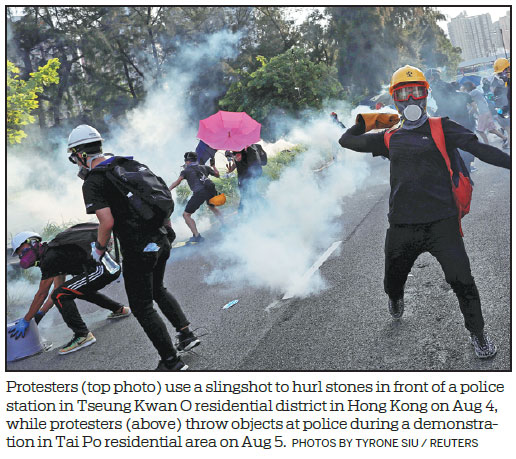 More than 340,000 small and medium-sized enterprises in Hong Kong account for over 98 percent of business units and employ about 45 percent of the workforce in the private sector, and they are bearing the brunt of the effects of the protests.
Joe Chau, president of the Hong Kong General Chamber of Small and Medium Business, said on Friday that some local companies have seen their business shrink by 30 percent and are tottering on the brink of bankruptcy.
Local retailers have not fared much better. Bankee Kwan Pak-hoo, a board member of the Hong Kong Retail Management Association, said the city's retail industry has recorded a high single-digit drop in July and is expected to post a high double-digit decline in August.
Similarly, Yoshinoya, a popular Japanese diner chain in the city, suffered a year-on-year sales drop of more than 10 percent in July, Japan's state broadcaster NHK said on Aug 9.
Over the past two months, many retailers have operated in the red, and this could eventually lead to a wave of job losses, Kwan warned.
Mei Xinyu, a researcher at the Chinese Academy of International Trade and Economic Cooperation, warned that as the protests continue, Hong Kong's status and role in the whole country's economic landscape "is being marginalized".
Samuel Kang, mayor of Duarte, California, said Hong Kong is a "very beautiful, vibrant" city, it's the financial capital of Asia and it drives huge economic effects globally.
"For these young people to turn to violence, and waving flags of other countries ... you will never ever see Americans waving a Chinese flag or waving a British flag, and say 'I want to be China'. I don't see why the young people over there should do that," Kang said.
"They should be proud of who they are," he said, adding that the central government of China greatly helps Hong Kong and bolsters the Guangdong-Hong Kong-Macao Greater Bay Area.
Paul Chan Mo-po, financial secretary of the Hong Kong SAR, said the government has cut its forecast of the city's GDP growth to between 0 and 1 percent year-on-year for 2019, from its forecast at the beginning of the year of 2 to 3 percent growth.
The forecast was downgraded mainly due to the negative impact brought by the prolonged protests and violent clashes in the city, as well as the escalation of Sino-US trade conflict since August, according to Chan.
Hong Kong recorded year-onyear GDP growth of 0.6 percent for both the first and second quarters of this year.
Chaos and violence have shaken the confidence of many who planned trips to the key financial hub in the Asia-Pacific region.
Tokyo Governor Yuriko Koike announced on Aug 9 that she had canceled her planned visit to Hong Kong and Shenzhen, Guangdong province, in late August.
She "has taken into consideration situations such as the turmoil triggered by protests at Hong Kong International Airport", Japan's Kyodo News Agency reported.
Thailand and New Zealand have considered plans to evacuate their citizens, given the constant protests in Hong Kong and cancellation of flights, according to Russia's Sputnik news agency and New Zealand news website Newstalk ZB.
Meanwhile, as some protesters and media accused Hong Kong police of abusing force in tackling violence, an overseas forensic expert said resolute law enforcement actions should be taken, if necessary, to deal with similar radical protests.
Henry Chang-Yu Lee, a leading forensic scientist and retired former head of the state police crime lab in the US state of Connecticut, said small violent rallies in the US are handled by local police, who might photograph protesters and arrest any lawbreakers at the scene or afterward. Larger violent protests might be handled by state police, he said.
In extreme situations, the US National Guard might be called in and could use tear gas, and curfews might be announced, Lee told Xinhua news agency.
French police have dealt with protests of the "yellow vest" movement in the past 30 weeks, which escalated to clashes with riot police and other violence.
In February, France's Parliament passed a bill aimed at curbing violent protests.
It bans protesters from hiding their faces and gives police greater powers to remove potential troublemakers from demonstrations, Reuters reported.
French police have taken tough measures but also exercised restraint as much as possible to avoid bloodshed or casualties, Xinhua said.