Beijing's first dedicated bike lane eases traffic congestion
Share - WeChat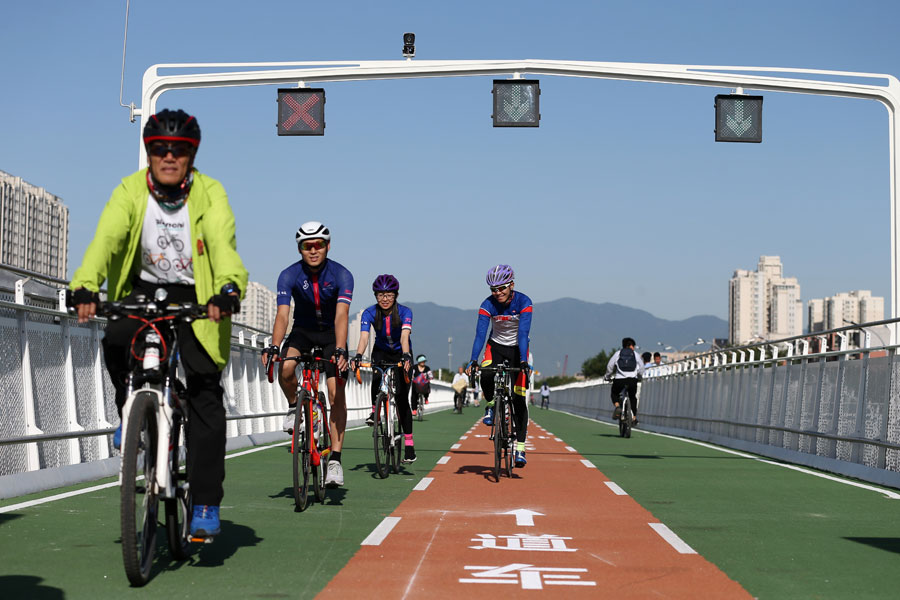 Beijing's first dedicated bike lane opened on May 31, and to date traffic volume of has exceeded more than 550,000 users so far, according to a senior official from the city's transport commission on Wednesday.
Liu Changge, chief engineer of the city's transport commission, said the 6.5-kilometer lane has carried as many shared bikes as personal bicycles on the road since opening. It largely helps ease traffic congestion between Huilongguan, a densely populated community in the capital's northern Changping district and Shangdi, where a large number of high-tech companies are located.
Some parking spots have been set up along the bike lane, with an integrated parking lot with 650 bike spots provided. A total of 8,600 shared bike parking spots are equipped in Huilongguan and Shangdi.
In addition to the special bike lane, the city's municipal government also upgraded some routes to improve bicycle efficiency in the Tiantongyuan and Huilongguan communities, reputed to be the largest communities in Asia.
Some heavily congested sites on subway Line 13, a major rail transit line to carry passengers from the capital's northern area to the downtown region, also will be expanded to accommodate more passengers, according to the city's municipal transport commission.
The two communities' infrastructure facility construction will be improved so 12 new kindergartens will be constructed there and a culture and sports center, 53, 000 square meters in size, will be set up soon, the city's education commission said.