Nighttime economy to help drive growth
Share - WeChat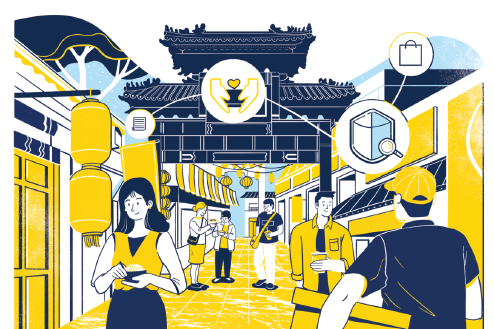 Spending on after dark dining rose 47 percent last year, with Beijing and Shanghai leading way
Authorities nationwide have beefed up measures to develop the nighttime economy, with steps to encourage post-dusk business activities and later closing hours at museums and art galleries.
The moves follow reports that China's economic growth slowed to 6.2 percent year-on-year in the second quarter, its weakest pace in at least 27 years, with consumption contributing more than 60 percent of GDP growth.
A number of cities, including Beijing, Shanghai, Tianjin and Jinan, the capital of Shandong province, have recently rolled out measures to shore up the nighttime economy, also known as after-hours economic activity, with longer operating hours for public transport.
The Beijing Municipal Bureau of Commerce unveiled a string of policies last month to support growth of the nighttime economy and better meet demand for more high-quality, diversified and convenient consumption options.
The moves include later closing hours at tourist spots, museums, sports grounds and art galleries. The city will extend the operating hours of several subway lines every Friday, Saturday and Sunday, and 25 night bus lines in key areas will operate more frequently. Seven new bus lines will also open to facilitate night travel for large residential communities in the city's north.
Zhao Ping, who researches the consumption economy at the China Council for the Promotion of International Trade, said there was a great deal of potential for different areas to promote growth of nighttime business activities.
"Local authorities have an important role to play," she said. "The most important thing is to ensure good planning and innovative development. They must give play to local strengths and create an enabling environment for consumers."
Zhao said the scope of the nighttime economy extended far beyond night markets.
"The catering sector is only the starting point," she said. "There is still so much to explore in aspects of culture and tourism."
The authorities in Shanghai unveiled a list of cultural activities and tour routes on Thursday to boost the city's nighttime economy. The Municipal Culture and Tourism Bureau said 105 tourist spots, art galleries, museums and memorials across the city had taken measures to meet the growing demand for nighttime leisure activities from Shanghai residents and tourists.
A report by Meituan Dianping, China's largest provider of on-demand online services, said spending on nighttime dining around the country rose 47 percent last year, higher than the daytime growth, with Beijing and Shanghai ranking first and second.
The report also showed that 16 of the 20 cities with the highest spending on nighttime dining were in South China, and that people between the ages of 20 and 40 accounted for most of the spending.
Meanwhile, the State Administration for Market Regulation has called for greater efforts to ensure food safety as local authorities encourage growth of the nighttime catering sector.
An unidentified administration official told Xinhua News Agency it would implement identical oversight of nighttime and daytime catering service providers.
"Food safety is the foundation for nighttime catering services," the official said. "Only through safe eating can we ensure consumers have a good experience and the city displays the charm of its late-night cuisine culture."
Fu Yifu, a consumption analyst at Suning Institute of Finance, said growth of the nighttime economy will help boost domestic consumption and create more jobs.
"Encouraging nighttime business activities will unleash the consumption potential of city-dwellers who are busy at work during the daytime," he said. "It will also promote the growth of related sectors and spur cities to refine their infrastructure and urban transport."