Continuing, rising violence in HK will only invite stronger response: China Daily editorial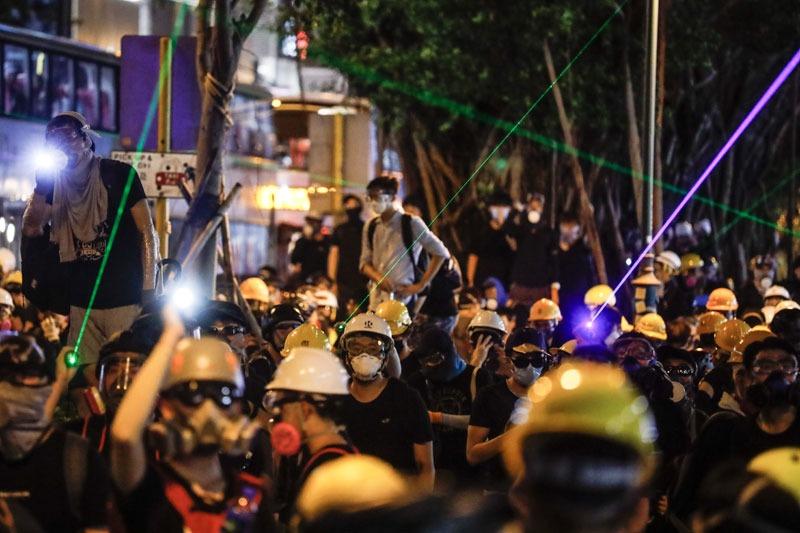 All flights in and out of Hong Kong, except those departure flights that had completed the check-in process and arrival flights that were already heading to Hong Kong, were canceled on Monday after demonstrators descended on the city's airport to denounce what they claim is police violence.
Demonstrators in the special administrative region have been decrying what they say are heavy-handed police tactics. Yet the police actions are in response to serious public order challenges and violent crimes.
Demonstrators have not only wantonly destroyed public property and disrupted traffic in some major thoroughfares with their antics, disrupting daily life for everyone in the SAR, but the more radical among them have also escalated the violence. On the weekend, "flash mobs" attacked police officers in various districts of the city with bricks, iron bars and sharp objects.
More worryingly, as the authorities noted, petrol bombs were used for the first time. Such extreme violence may indicate more sinister forces are at work that may represent a threat to national security.
Yang Guang, spokesman for the Hong Kong and Macao Affairs Office of the State Council, said on Monday afternoon that the use of such weapons by radical protesters in attacking police officers in the past few days shows signs the demonstrations may be evolving in the direction of terrorism.
Should that be the case, the central authorities will have to act. Hong Kong law states that the PLA troops stationed in the SAR cannot interfere in local affairs, but it does allow for their deployment at the request of the SAR government to "maintain public order". The Basic Law also stipulates that should the Standing Committee of the National People's Congress decide the turmoil endangers national security and is beyond the control of the SAR government, it can issue an order applying the relevant national laws in the SAR.
No matter whether terrorism or other threats, the central government takes a proactive approach to maintaining social stability and law and order. It has offered its full support to the SAR authorities, urging them to take decisive measures to quell any destabilizing forces. The central authorities will not sit back with folded arms should the SAR need assistance.
On its part, the Hong Kong Police Force has sought to learn from the experiences of developed countries that have been rocked by rioting, learning from their tactics. On Monday, it displayed water canon that could be employed if the violence continues.
The authorities have exercised restraint so far, it is to be hoped these more aggressive tactics are not needed.
Most Viewed in 24 Hours
China Views