Opposition camp condones violence so as to paralyze Hong Kong
Share - WeChat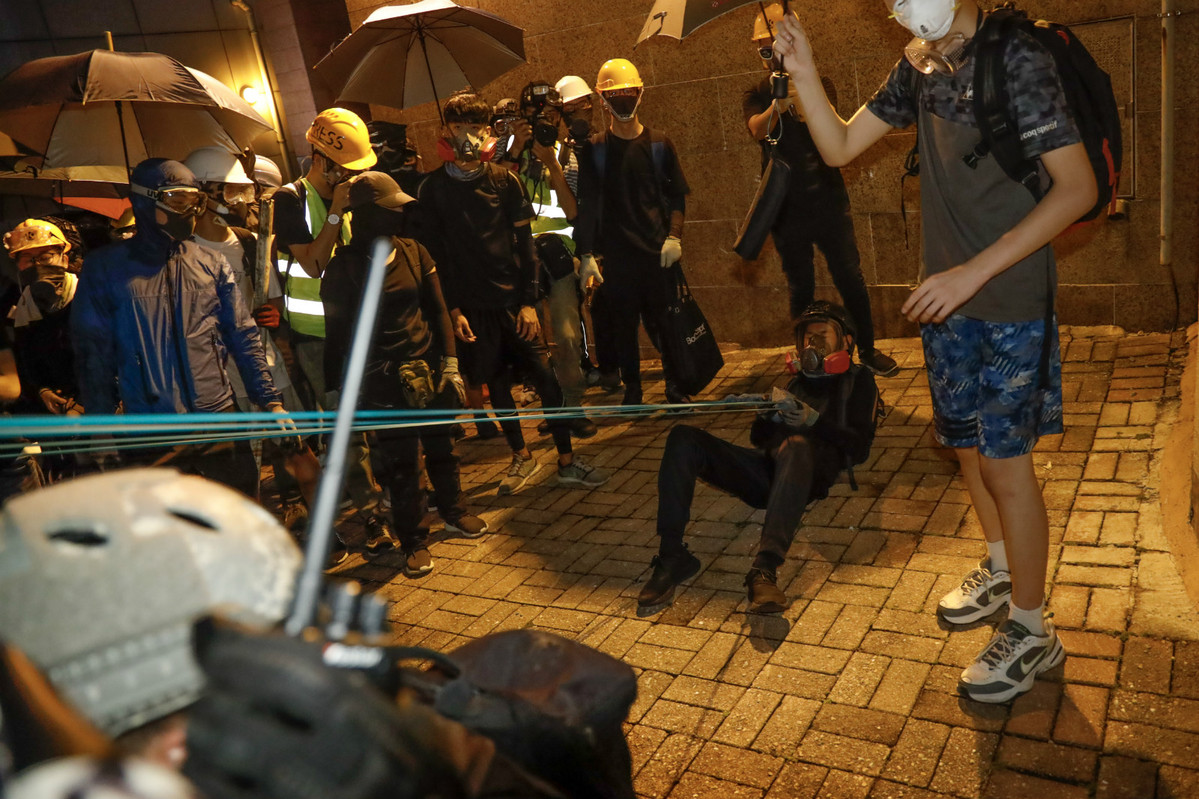 The opposition camp and radical protesters held a "general strike" and protest rallies in multiple districts on Monday. Some of the radical protesters staged "non-cooperation" acts at a number of MTR stations during morning rush hour and illegally stopped train services on several MTR lines. Many bus routes were suspended for hours or forced to make temporary detours in Kowloon and Hong Kong Island. In addition to paralyzing traffic everywhere, radical protesters also initiated countless physical altercations all over the city.
Apparently the opposition camp and radical protesters' acts so far have gone well beyond opposing the extradition law amendment legislation. Their real objective is paralyzing Hong Kong and bringing the SAR government to its knees. Some of them called it an "revolution of our times", which has "Hong Kong independence" written all over it. Staging strikes is one of their civil rights and freedoms, but what the opposition camp and radicals are doing is depriving local residents of the right to work by illegally stopping traffic. This is anti-freedom and anti-democracy. Such revolting behavior should be condemned and punished according to the law.
Opposition lawmakers have been playing an extremely despicable role ever since the anti-extradition law amendment bill campaign began. While declaring publicly every now and then that they do not favor violence, they have never failed to stand between police officers and radical protesters, using their legislator status to obstruct police officers and shield the offenders. The public cannot but suspect that their real intention is to facilitate violent attacks by radical protesters. Meanwhile, in order to hoodwink more youths into aggressive attacks on police and anyone standing in their way, the opposition camp has been steadfastly defending radical extremists' anti-government, anti-rule of law, anti-public order and increasingly violent behaviors. It has also been encouraging unlawful acts including wanton violence, fully exposing its betrayal of Hong Kong's core values as well as basic moral principles. It is seriously harming Hong Kong's rule of law, public order, prosperity and stability and should be dealt with according to the Public Order Ordinance.
For example, opposition lawmaker Claudia Mo Man-ching (HK First) not only cheered radical protesters on as they waged violent attacks on Mong Kok Police Station on Saturday but also urged residents to support rioters disturbing the peace in their neighborhoods, saying: "We truly have to thank those masked, helmeted young people" and "we must not sever our ties (with them)".
Fellow opposition legislator Kwong Chun-yu (Democratic Party) urged onlookers to protect rioters, describing them as "brothers in arms". Another opposition lawmaker, Cheung Chiu-hung (Labour Party) said: "We must continue our rebellion." As for the "three strikes" — work, business and school, they deprived many Hong Kong residents of their right to go to work on Monday. This caused a series of violent clashes between the participants of the "three strikes" and their victims. As members of the Legislative Council, these opposition politicians, instead of upholding the rule of law and persuading radical protesters to stop violence, have followed their mantra of always opposing everything and ensuring the riots are not to be interrupted.
What started as an anti-extradition law amendment legislation campaign has now caused tremendous damage to Hong Kong economy, aggravating the suffering of the retail, tourism and advertising sectors. The "three strikes" and intensifying violent attacks on the police also directly threaten numerous jobs that sustain the livelihood of millions. Many of the protesters are unemployed but somehow believe they can stop anyone from going to work.
Right now Hong Kong's top priority is to stop the violence immediately — and those advocating it. Our first step should be restoring order and the rule of law so we can then resolve other issues facing Hong Kong. Currently the mainstream wish is to restore peace and order soon and to start repairing the city's damaged social harmony. If the opposition camp refuses to stop escalating the protests, whitewashing and supporting violence, this means it is determined to be a public enemy and therefore cannot escape justice.
The author is a veteran current affairs commentator. This is a translated exerpt of his commentary published on Tuesday in Hong Kong Commercial Daily.
Most Viewed in 24 Hours
China Views